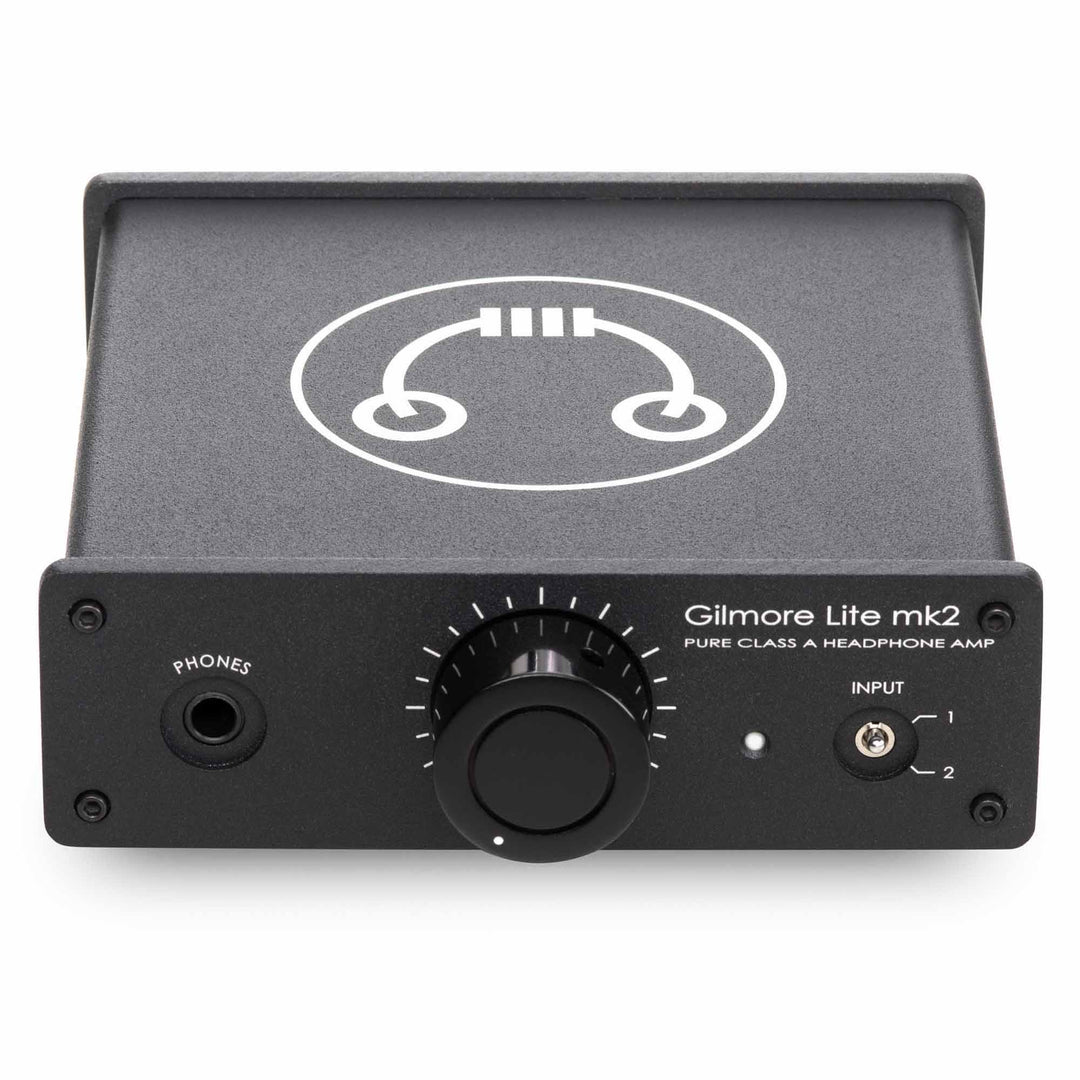 HeadAmp Gilmore Lite MK2 | Class-A Headphone Amplifier
---
Get clean, neutral power to your headphones with the affordable Gilmore Lite Mk2 from HeadAmp

Features Standard power supply unit with worldwide compatibility

Same super low noise/distortion circuit as its flagship brother GS-X Mk2
Pre-amp output & (x2) switchable RCA inputs
Pairs great with easier to drive headphones
True HeadAmp original with classy fit & finish
Bloom's Take

With the understanding that a good reference amp needs to be neutral, transparent, and able to drive all but the most difficult planar magnetic headphones, HeadAmp hits the mark with the Gilmore Lite Mk2. It is extremely capable and delivers the clean, clear power your headphones need at an affordable price with a few bells and whistles along the way.

From HeadAmp
The Gilmore Lite MK2 marks HeadAmp's return to the affordable yet high-end class-A headphone amplifier space started over 15 years ago. This amplifier boasts more power and a more sophisticated look and feel than their previous model, and it promises to be a great pairing for headphones like the Focal Clear, high-end Sennheiser HD models, Audeze LCD series, and HiFiMAN HE-series among others.
**Those looking to drive more demanding, hard-to-drive headphone loads such as Audeze's LCD-4 or the HiFiMAN Susvara should look at the GS-X MK2 for it's higher output power and balanced drive.**
The Gilmore Lite MK2 has a sophisticated but discreet look and small size that will allow it to blend seamlessly into any desk, workspace, nightstand, or audio rack. The separate power supply keeps electrical noise away from the amplifier and reduces the amp's overall footprint.
Mk2 Features
The Gilmore ships with a worldwide compatible power supply (100-240VAC, 50-60Hz) and uses the same super low noise/distortion amplifier circuit as HeadAmp's flagship dynamic amp, the GS-X MK2, at a very affordable, everyday price. It drives dynamic and planar magnetic headphones with up to 1.5W of pure class-A power from its fully discrete amp segment.

This amp has all the attention to detail and finishing touches that make it a true HeadAmp original. The volume knob outclasses the competition, and the bronzed engraving and amber LED give it a unique aesthetic.

The Gilmore Lite MK2 has a pre-amp output for controlling speakers along with two switchable RCA inputs.
Specifications
Electrical
Power Supply: Universal 100-240V 50-60Hz AC compatible, IEC inlet
Type: Low noise JFET input; Pure Class A bipolar transistor output
Frequency Response: 10Hz-90KHz +/-0.2dB
THD+N: <0.006%
Total Drive Power: Max 1.5W
Gain: 7.5X (16.5dB)
Input Impedance: 50K Ω
Output Impedance: 1Ω
Line Voltage: 100V, 115/120V, 230/240V
Power Consumption: 10W
Mechanical
Volume Control: Alps Blue Potentiometer
Inputs: 2 sets RCA jacks
Outputs: 1 6.5mm headphone jack, 1 set RCA active-preamplifier jacks
Dimensions – Amplifier: W 5.75" (146mm) x D 6.75" (171mm) x H 2" (51mm)
Shipping Weight: 4lb (1.8Kg)