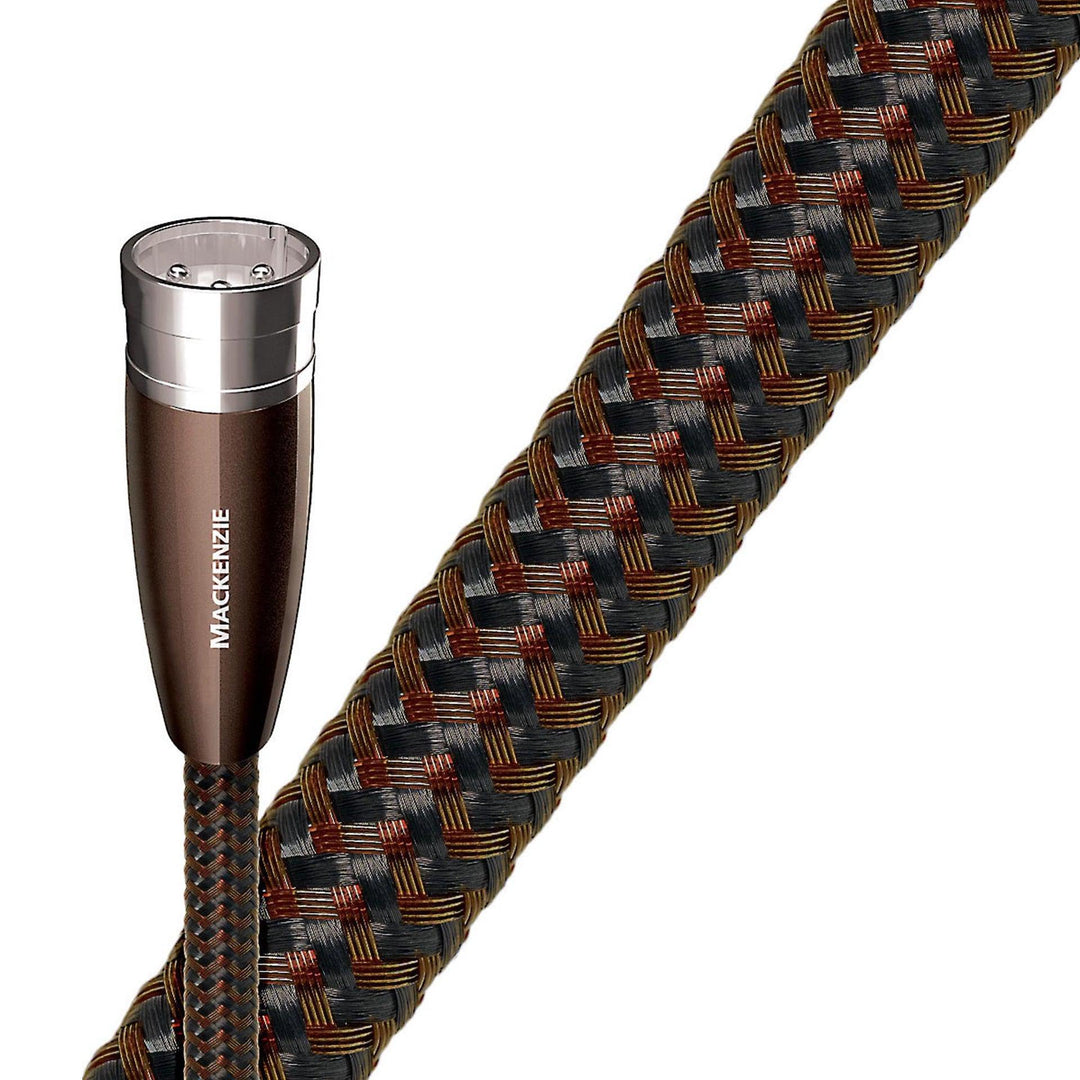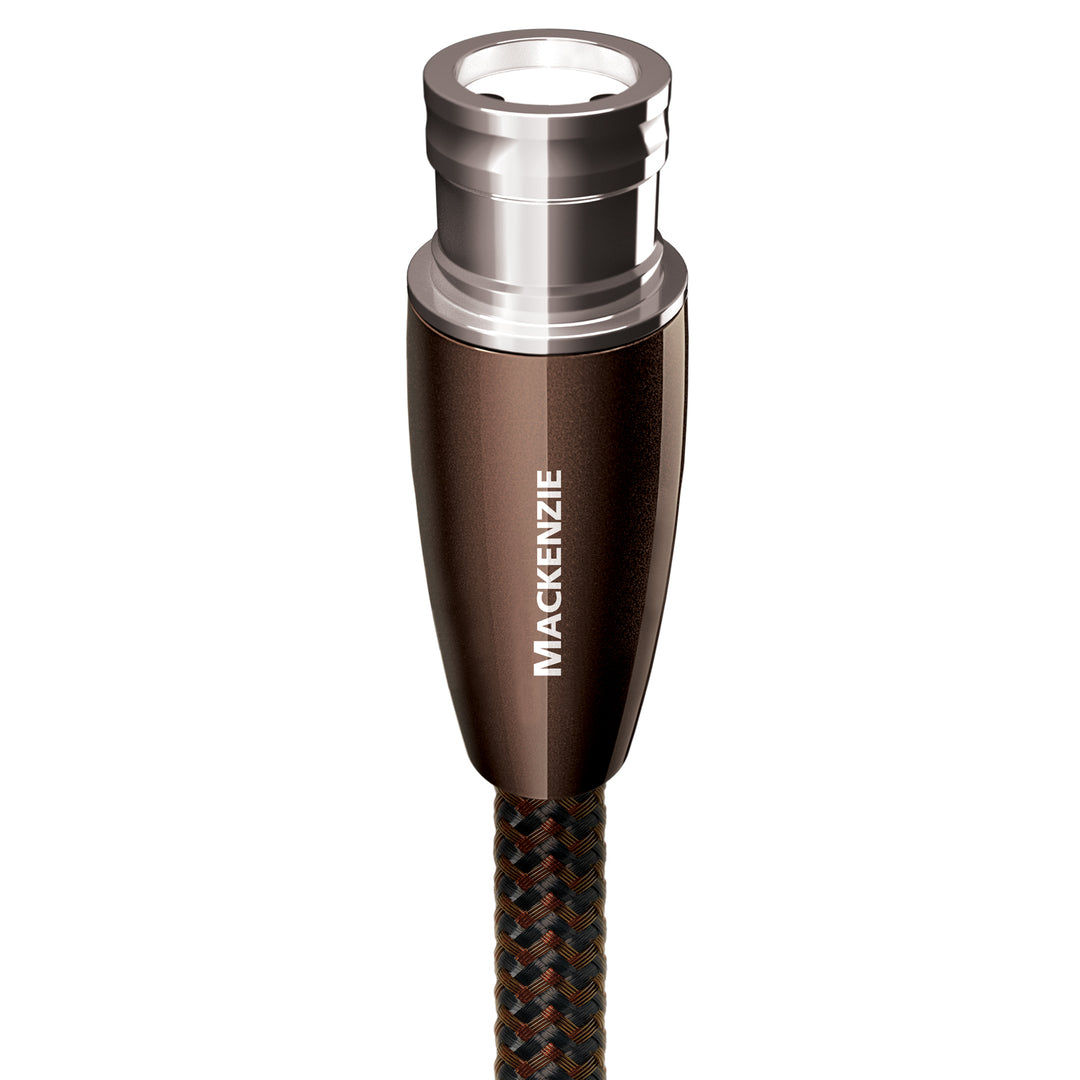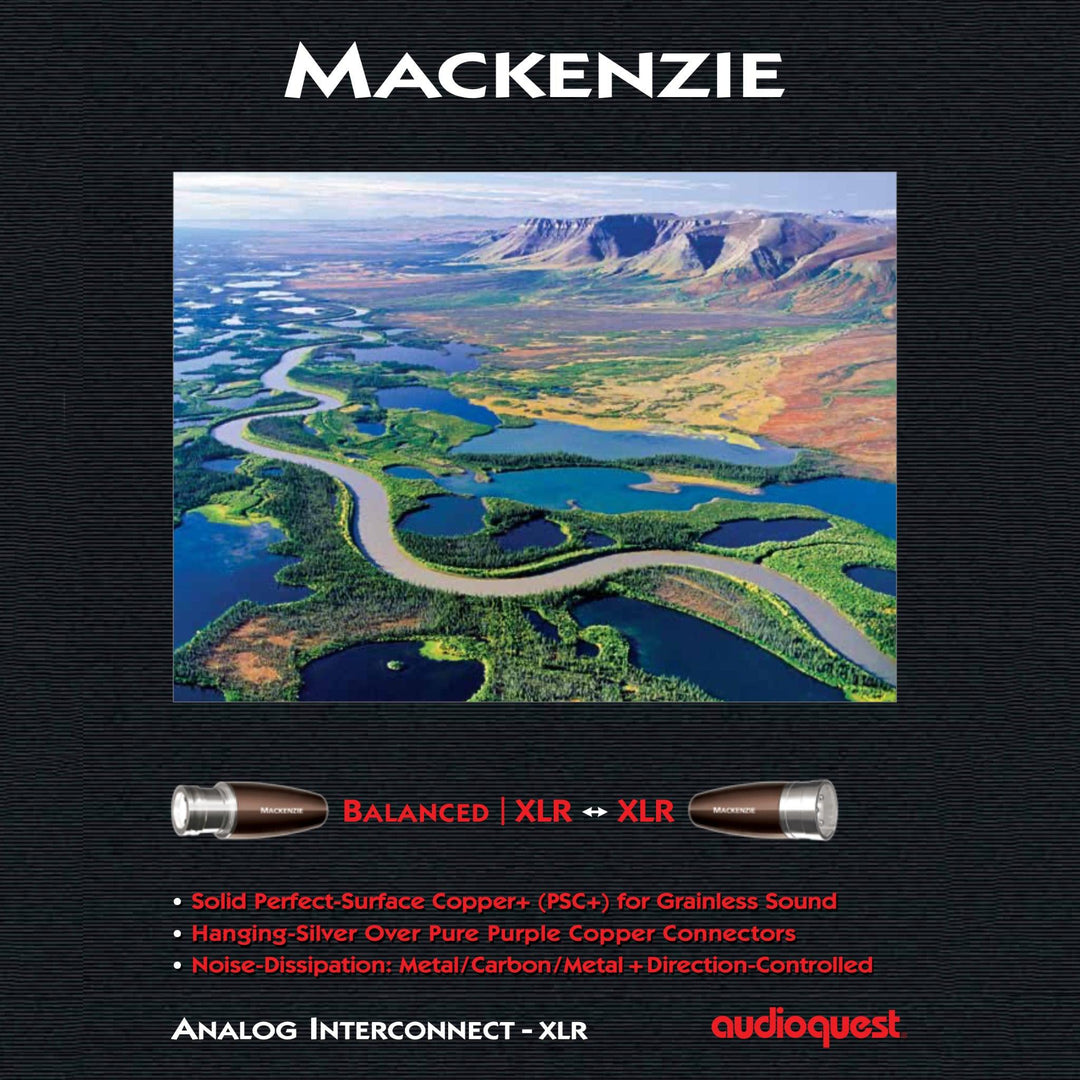 AudioQuest Mackenzie | XLR Analog Interconnect Cables
---
**Special Orders: We can special order any cable in any length or termination that you need from the AudioQuest Retail Catalog. You can call, email, or message us to place a special order.
Upgrade your XLR analog interconnects with our AudioQuest ELITE Level
Mackenzie

Cables
Pair (x2) audio interconnects with XLR terminations (Female to Male)
Solid 'Perfect Surface Copper PLUS' (PSC+) for ultimate Analog performance
Separate Ground-Reference conductor in addition to signal conductors
Carbon Mesh-Network Noise-Dissipation design for RFI prevention
Hanging-Silver over Purple Copper, Cold-welded plugs (no solder) to minimize distortion
Hard-Cell Foam Polyethylene reduces distortion and maintains consistent impedance
Bloom's Take
For high-quality, noise-free audio, the superiority of your interconnects are important, specifically how well they lower distortion & noise and deal with RFI properly. Electrical and magnetic interaction between cable strands is one of the greatest sources of distortion often causing harsh, dirty sound. Solid conductors, high-quality components, noise-dissipation technology, and rigid quality control are required to get it right.
AudioQuest has been the most significant cable supplier to the high-end specialist market for years. Their portfolio has sold in several thousand outlets in over sixty countries, and we feel they deliver excellent value and performance to maximize and highlight your listening experience.
The Mackenzie line represents our Elite Level upgrade for your XLR Analog interconnects.
Check out our Premium Level Red River XLR Analog Interconnects.
Solid Perfect-Surface Copper+ (PSC+) Conductors
Solid conductors prevent electrical and magnetic strand-interaction. PSC+ Solid-Copper minimizes distortion caused by grain boundaries and maximizes linear RF Noise-Dissipation.
Carbon-Based 3-Layer Noise Dissipation System (NDS)
It's easy to accomplish 100% shield coverage. Preventing captured Radio Frequency Interference (RFI) from modulating the equipment's ground reference requires AQ's Noise-Dissipation System (NDS). Traditional shield systems typically absorb and then drain noise / RF energy to component ground, modulating and distorting the critical "reference" ground plane, which in turn causes a distortion of the signal. NDS's alternating layers of metal and carbon-loaded synthetics "shield the shield," absorbing and reflecting most of this noise / RF energy before it reaches the layer attached to ground.
Triple-Balanced Geometry (Separate Ground-Reference Conductor)
AQ's Triple-Balanced Geometry uses a separate ground-reference conductor, so the cable's shield is never used as an inferior conductor. Whether prepared with RCA or XLR plugs, the cable's three conductors ensure that the positive and negative signals have equally superior, low-distortion conducting paths.
Cold-Welded, Hanging-Silver Directly over Pure Purple Copper Terminations
This plug design, improving upon the Red River line with silver over pure purple copper which has improved conductivity, allows for a connection devoid of solder, a common source of distortion. Instead of solder, the process employs a high-pressure technique. Because the ground shells are stamped instead of machined, the metal used can be chosen for low distortion instead of machinability.
Hard-Cell Foam Insulation
Hard-Cell Foam (HCF) Insulation ensures critical signal-pair geometry. Any solid material adjacent to a conductor is actually part of an imperfect circuit. Wire insulation and circuit board materials all absorb energy. Some of this energy is stored and then released as distortion. Hard-Cell Foam Insulation is similar to the Foamed-PE used in our more affordable Bridges & Falls cables, and is nitrogen-injected to create air pockets. Because nitrogen (like air) does not absorb energy and therefore does not release any energy from or into the conductor, distortion is reduced. In addition, the stiffness of the material allows the cable's conductors to maintain a stable relationship along the cable's full length, producing a stable impedance character and further minimizing distortion.
Specifications
Metal:

Solid Perfect-Surface Copper+ (PSC+)

Ground Reference: Separate ground-reference conductor (x2) individual XLR signal conductors
Dielectric: Hard-Cell Foam (HCF) Polyethylene
Noise-Dissipation: Carbon Mesh-Network
Jacket: Brown/Black Braid
Terminations: Cold-Welded, Hanging-Silver over Purple Copper