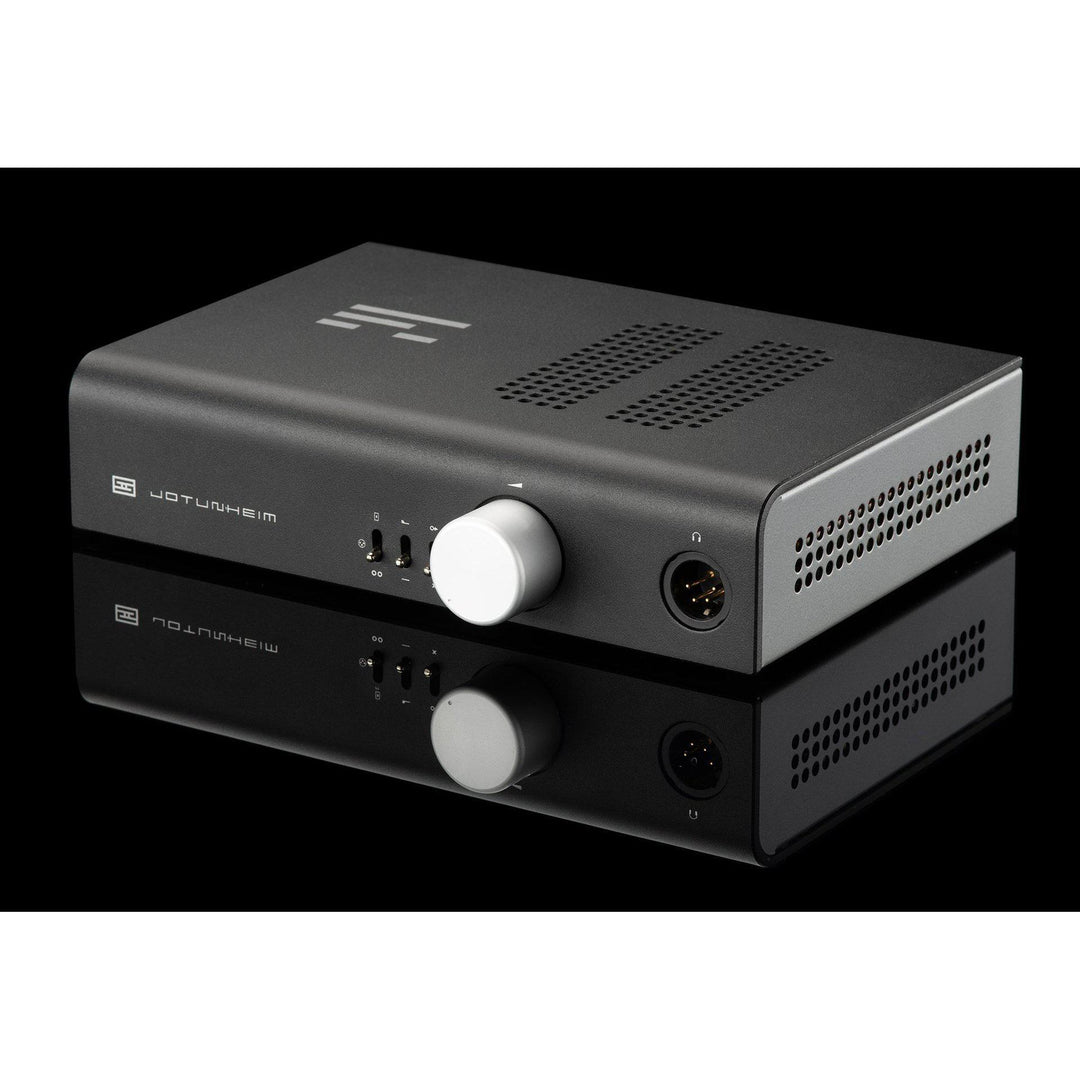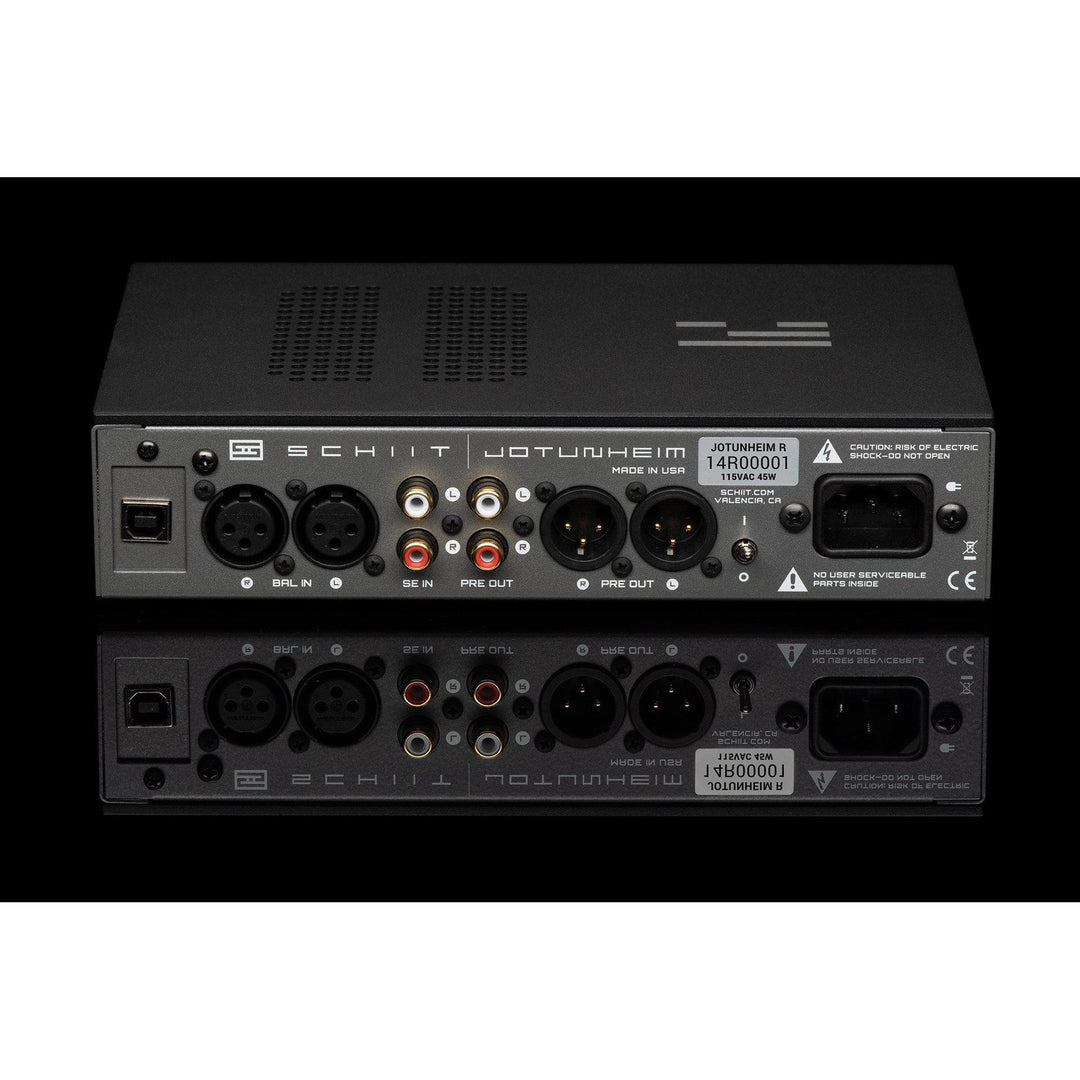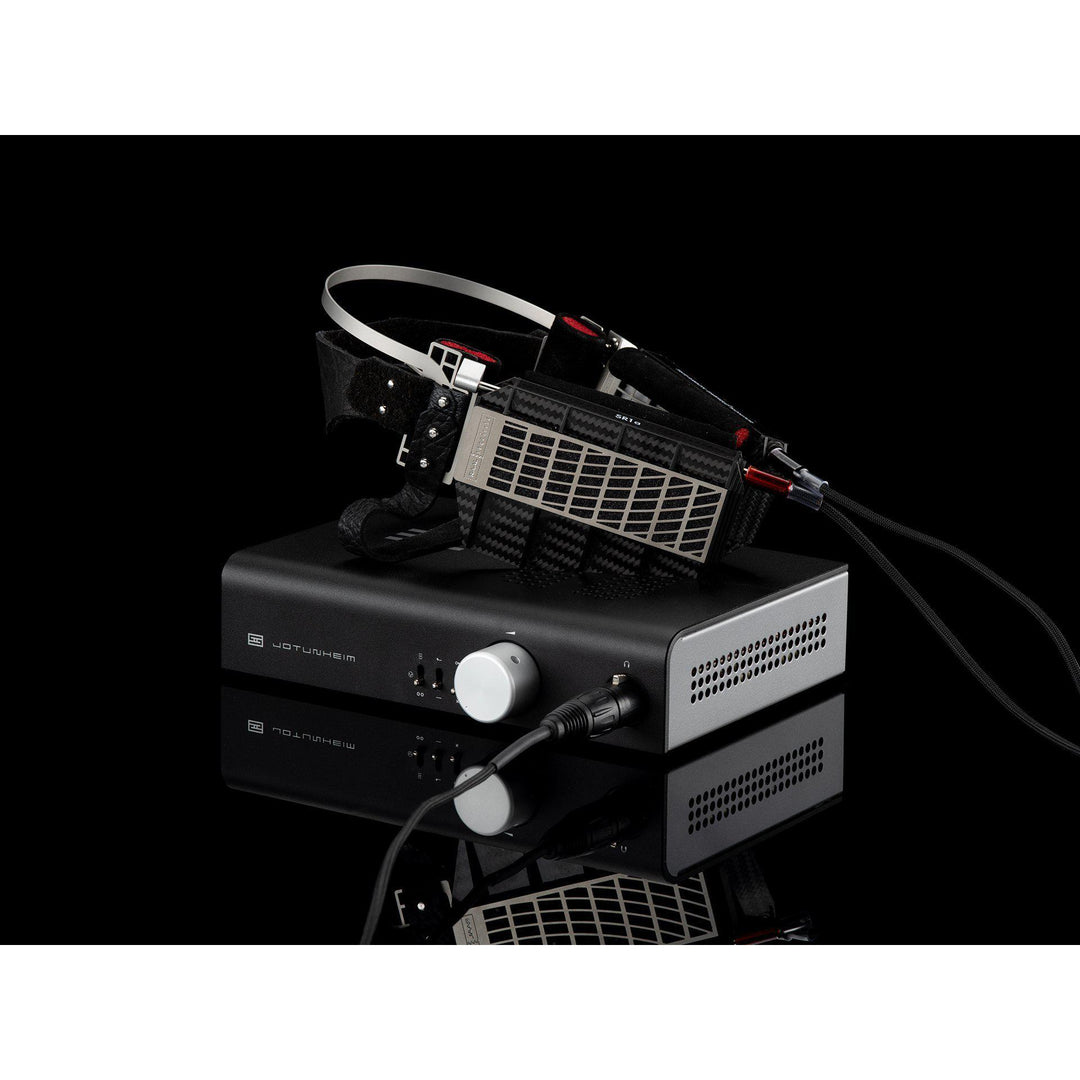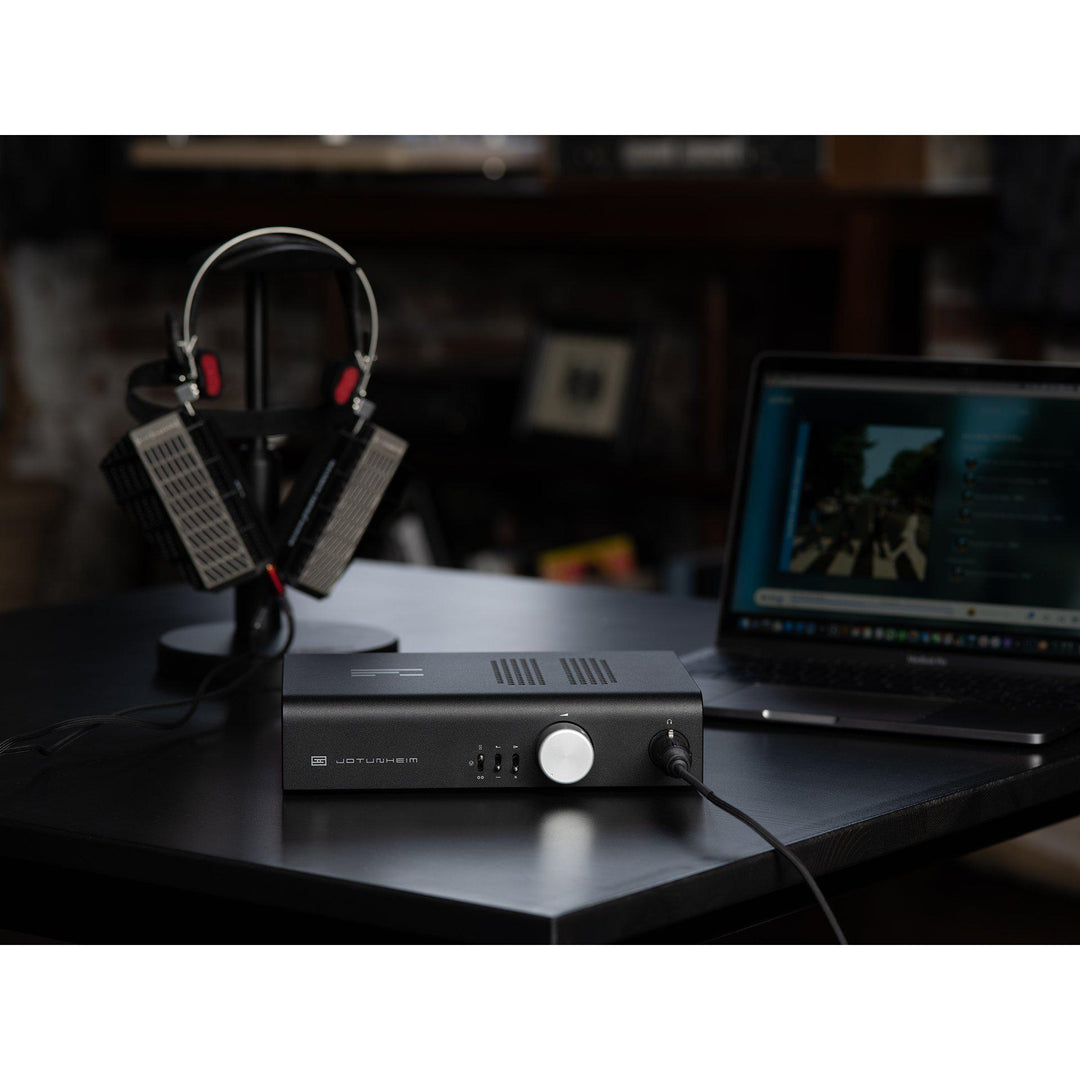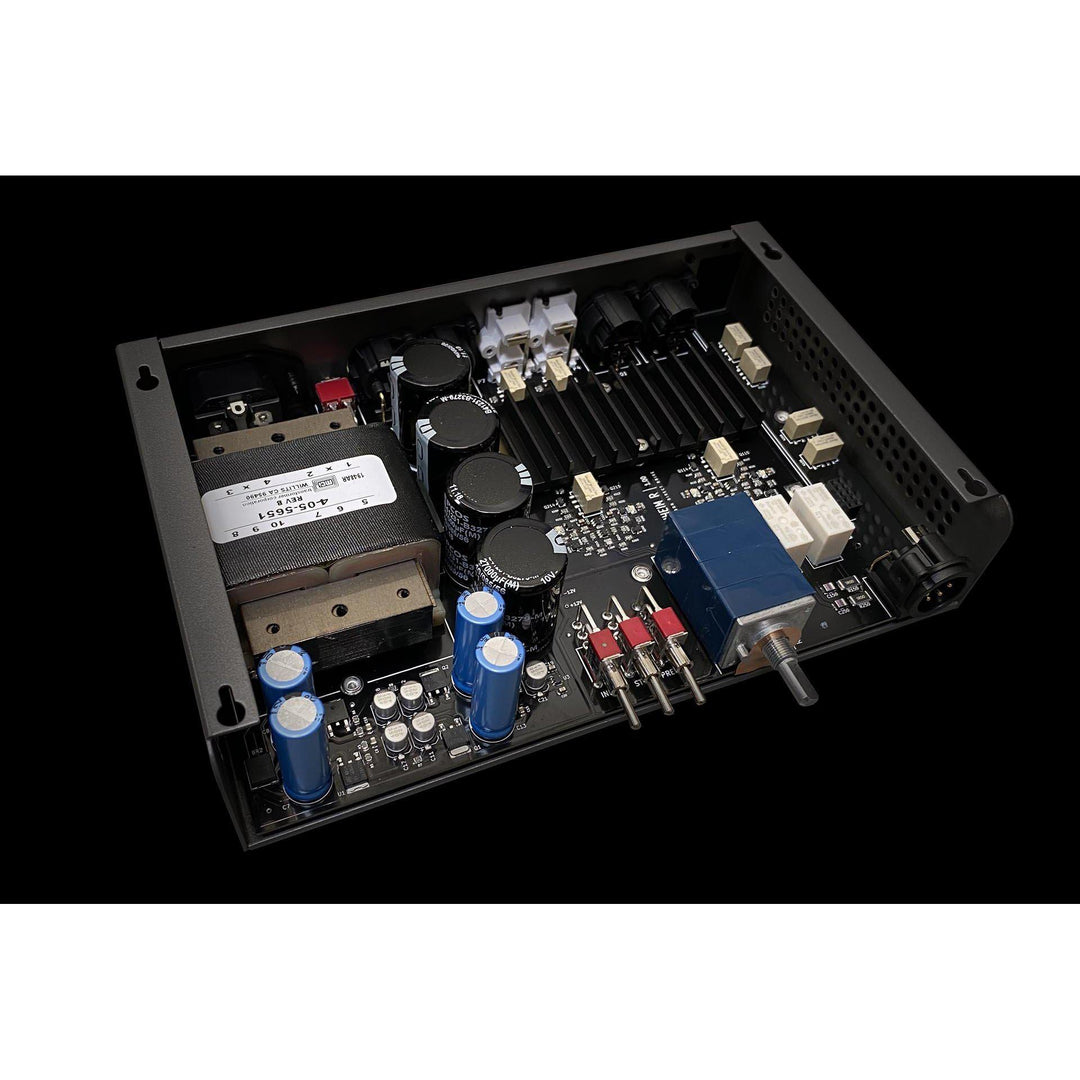 Schiit Jotunheim R | Direct-Drive Amplifier for SR1a
---
From Schiit
Do you have Raal/Requisite headphones? Do you want to ditch the speaker amp and interface box for something smaller and simpler? Do you want a true one-box solution you can carry with you wherever you go? Then you want Jotunheim R—the only direct-drive ribbon headphone amp on the planet.
Designed Especially for Raal/Requisite Headphones
Let's be clear. If you have other kinds of headphones, this amp isn't for you. This amp was designed for one kind of headphones only: the Raal/Requisite ribbon headphones. Delivering up to 13A (amps…yes, amps) per channel into the Raal's extremely low impedance load, and including the baffle compensation needed for the SR1a, the Jotunheim R is completely unique. It means you can leave your speaker amp behind, forget the Raal/Requisite interface box, and, if you buy it with the optional True Multibit™ DAC, you have a one-box system that's easily transportable.

Configure To Your Needs
Select Jotunheim R as "just an amp," or add an internal or external DAC to tailor the system to your needs.

No DAC. If you already have a DAC, or don't need one, choose Jotunheim R without a DAC module or external DAC, for $799.
True Multibit DAC module (internal). Choose the optional Multibit DAC Module to get Schiit's unique digital filter and multibit DAC architecture, for $200 more.
Flexibility and Convenience
Jotunheim R provides switchable baffle compensation, to ensure compatibility with future ribbon headphone models, as well as switchable passive preamp outputs, and both balanced and single-ended inputs. No power bricks or external power supplies are required; it plugs straight into the wall for maximum convenience.
Unique Nexus™ Discrete Gain Stage with Ultra-High-Current Output
Jotunheim uses our unique Nexus™ gain stage that debuted on the flagship Ragnarok 2 integrated amplifier. This inherently balanced, differential, current feedback topology accepts both balanced and single-ended input without the need for splitters and summers.
Designed and Built in California
By "designed and built in California" this is what we mean: the vast majority of the total production cost of Jotunheim—chassis, boards, transformers, assembly, etc—goes to US companies manufacturing in the US. Our chassis are made minutes from our facility. Our PCBs are done just over the hill from us, or done in NorCal. Our transformers are also made in California. You get the picture.
5-Year Warranty
Jotunheim R is covered by a 5-year limited warranty that covers parts and labor.
Specs
Amplifier:

Frequency Response: 20Hz-20Khz, +/-0.1db, 2Hz-500KHz, -3dB, baffle compensation off into SR1a load
Maximum Current, SR1a load: 13.2A per channel, both channels driven, at clipping (10% THD)
THD: <0.0005% at 32 ohms, 1V (not a ribbon headphone load, for reference, note max output at 1% THD into 8-32 ohms is about 5V RMS)
THD at 0.2A output into SR1a: <0.014%
THD at 1A output into SR1a: <0.026% 
IMD: <0.02% at 0.2A output current, <0.04% at 1A output current into SR1a 
SNR: >110dB, referenced to 3A output
Crosstalk: >-65dB, 20 Hz-20KHz, when loaded with SR1a 
Output Impedance: Less than 0.015 ohms
Input Impedance: 50K ohms
Gain: 2 (6dB) 
Inputs: Balanced XLR and Single-Ended RCA, selectable via front switch
Outputs: Balanced Raal headphone (4-pin male XLR), balanced passive preamp, single-ended passive preamp
Optional Inputs: True Multibit™ DAC
Gain Stage: Proprietary Schiit Nexus™ fully discrete differential current-feedback topology
Power Supply: One 48VA transformer with 6 stages of discrete or integrated regulation and over 120,000uF total filter capacitance
Protection: Hall Effect current sensor for overcurrent conditions, triggering at 31A, plus integrated thermostat triggering at 95 degrees C
Optional Multibit DAC:
USB Input Receiver: C-Media CM6631A
D/A Conversion IC: Analog Devices AD5547
Digital Filter: Schiit Time- and Frequency-domain Optimized DSP filter
Input Capability: up to 24/192
Analog Output: fully differential, active summing and filtering
Frequency Response: 20Hz-20KHz, +/-0.25dB, 2-100kHz, -3dB
THD: <0.005%, 20Hz-20KHz, full scale
IMD: <0.006%, CCIR
S/N: >109dB, referenced to 2V RMS, unweighted
Power Consumption: 45W maximum
Size: 9" x 6" x 2"
Weight: 7 lbs