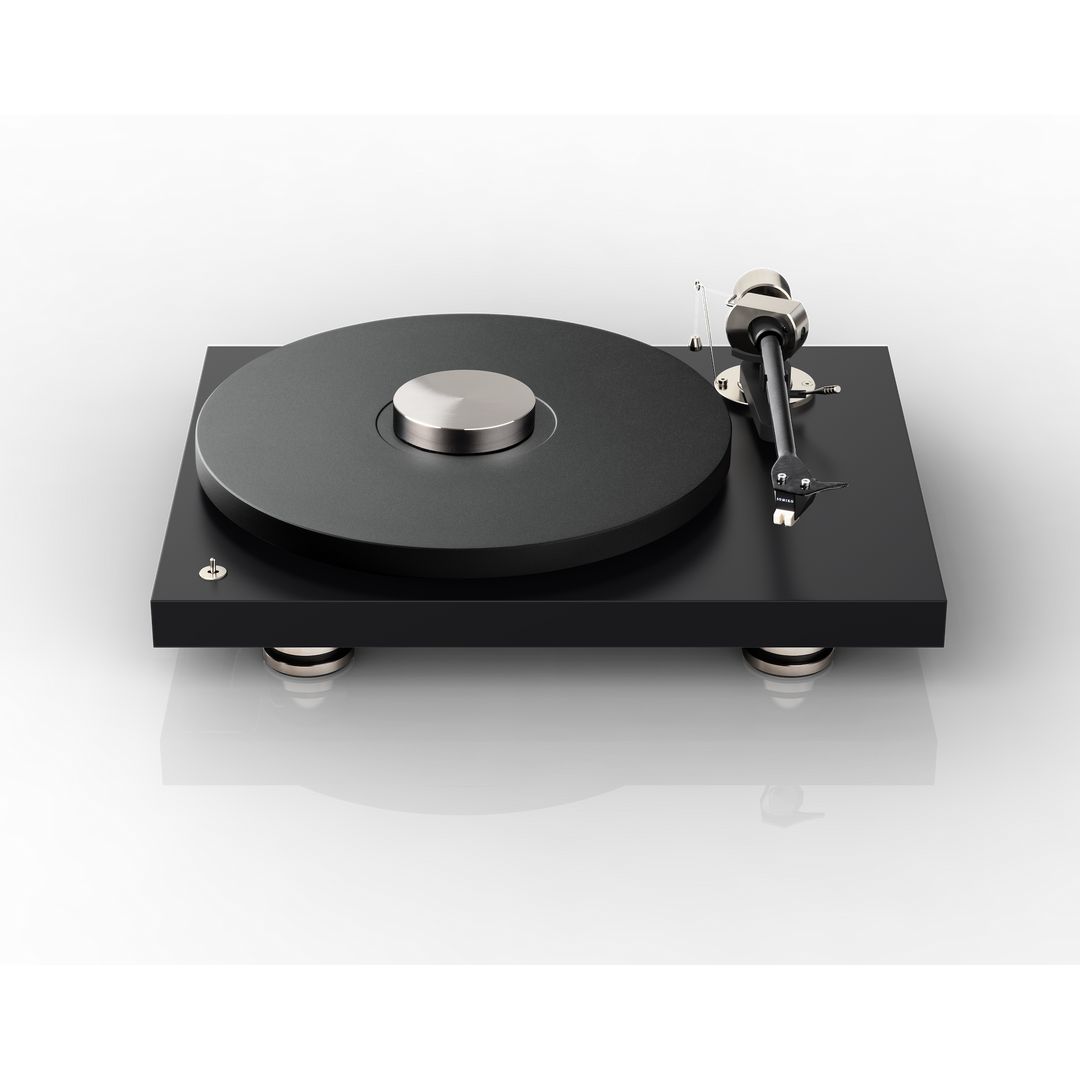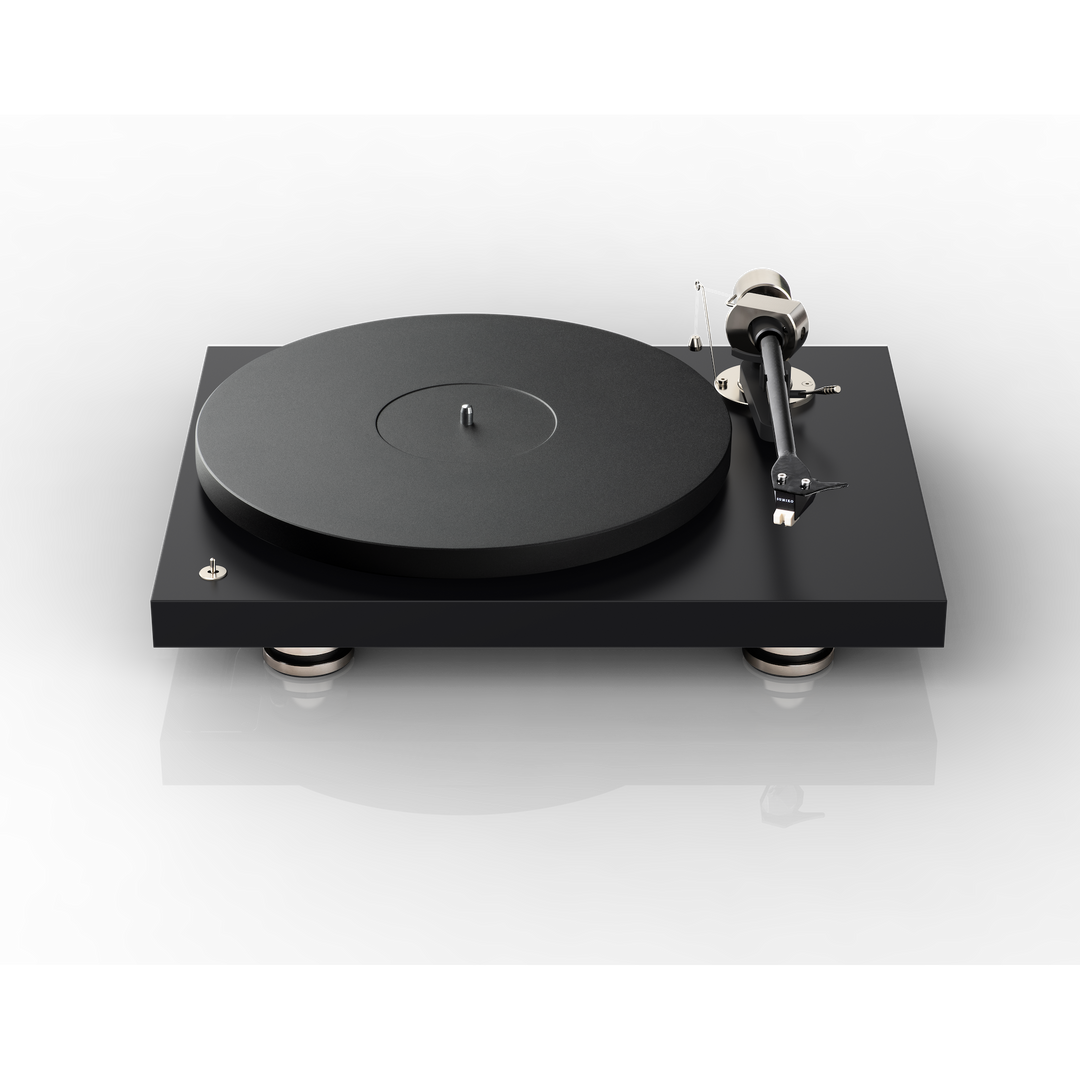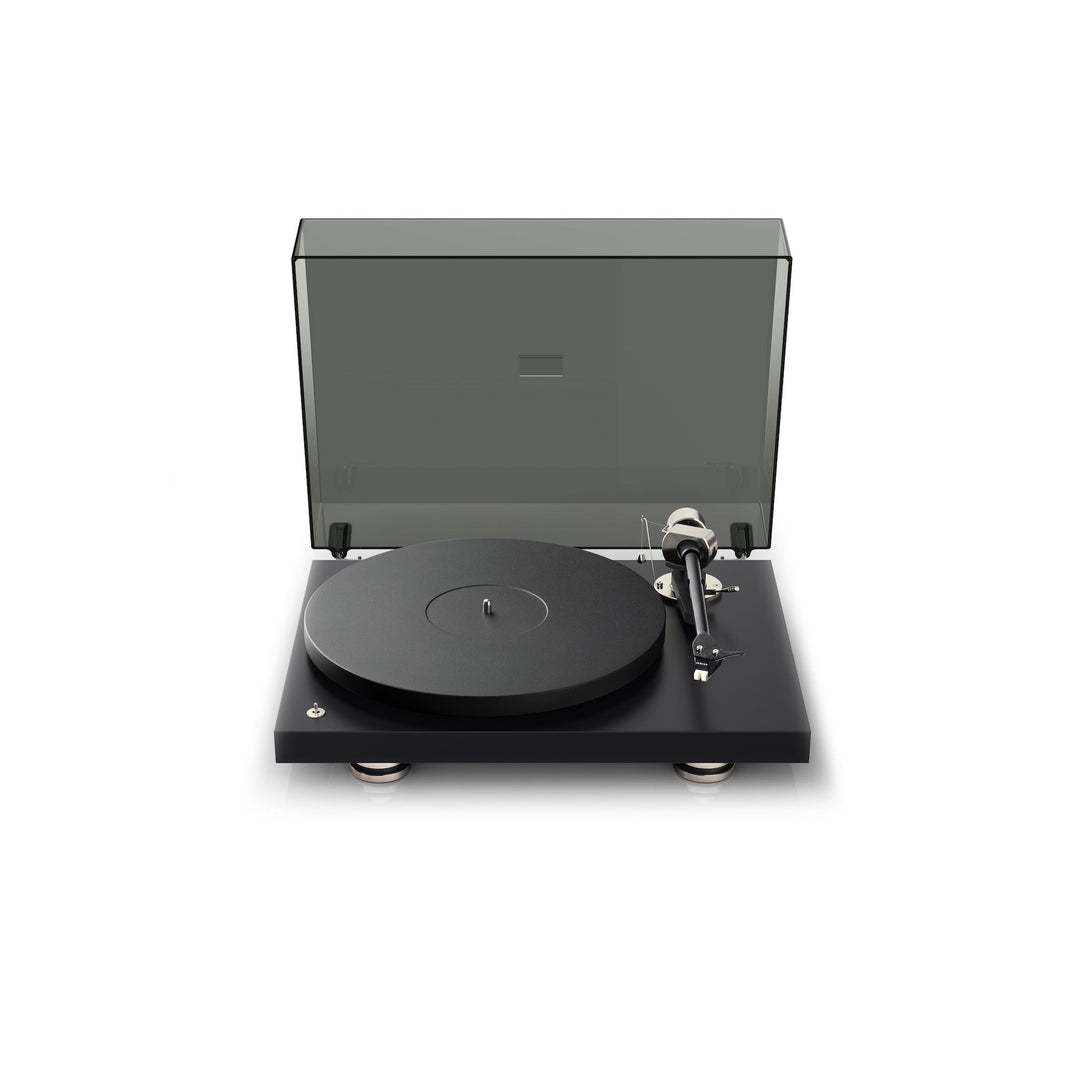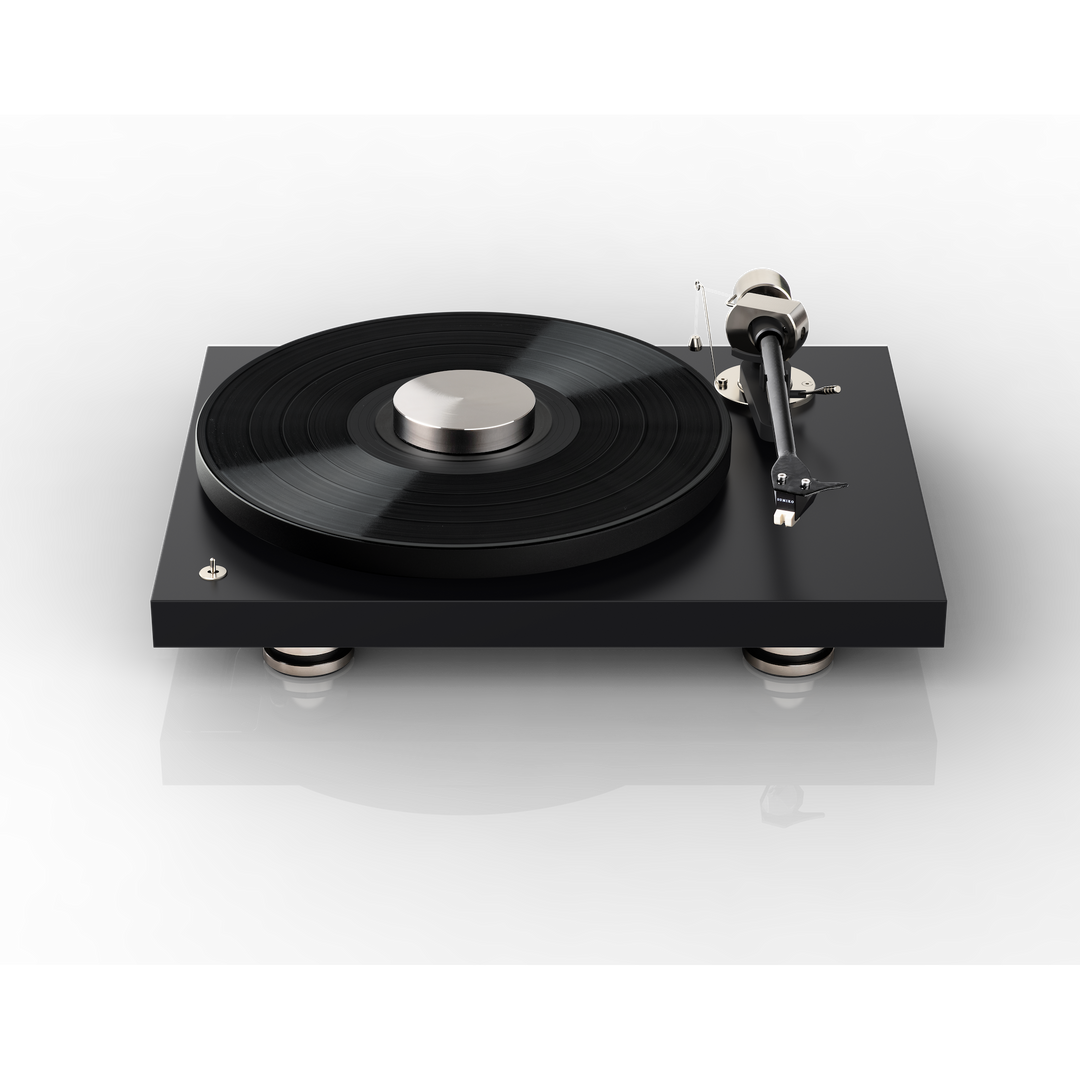 Pro-Ject Debut PRO | Audiophile Turntable
---
Debut PRO Brings Professional Precision to the Debut Series
Debut PRO upgrades the components and design of the Debut series to the next level
Pre-adjusted Sumiko Rainier cartridge
One piece carbon/aluminum tonearm and precision aluminum platter
Handmade in Europe
Available only in Satin Black finish
Debut PRO Keeps Things PRO-fessional
Pro-Ject Audio Systems have more to add to the Debut series – in fact, let's call it a 'statement', a massive upgrade from our first Pro-Ject Debut Carbon. The relatively recent release of Debut Carbon EVO was beyond successful, but Heinz Lichtenegger's wheels were still turning. The performance enhancements for EVO were indeed profound, but there was more to strike while the proverbial iron was hot. The ceaseless pursuit for improvement, attention to detail, advancements in research, development, and manufacturing amount to a Debut turntable for the ages.
Our new Debut PRO turntable is a machine that tackles the range of turntables at a retail price $1000 or less. The Debut PRO turntable does so in several meaningful ways.
The Tonearm
Borrowed from the audiophile-grade X1 & X2 turntables, Debut PRO implements the tried and true one-piece carbon-fiber-wrapped aluminum armtube. This heightens rigidity and mass allowing it to more effectively control more massive phono cartridges at this effective arm length. The composite carbon-fiber tonearm is also more effective at damping armtube resonance, allowing the signal to pass through unencumbered. PRO features a sophisticated tonearm bearing block made of nickel-plated aluminum.
Here again, we see an exercise in rigidity while maintaining the ultra-smooth lateral motion of this high-end tonearm. The icing is the tonearm collar, yielding the first Debut model to offer adjustment of vertical tracking angle. Azimuth is also readily adjustable. Listeners can fine-tune the full range of cartridge adjustment parameters to optimize the sound quality of most any phono cartridge.
The Record Platter
With TPE damping for resonance control and die-cast for hi-fi precision, the platter is made of aluminum and adds a ridged slot on the bottom side to cleanly enclose the TPE ring. The surface of the platter is gorgeously satin-ized in a way that hasn't yet been seen on a Pro-Ject machine. The ridged slot plus the TPE itself adds rotational mass to the platter's periphery, which reduces wow & fluttering while the platter rotates!
The Fit & Finish of the Debut PRO
The satin black finish uses 8 coats hand-painted over MDF – a classy, high-quality job done in-house at the factory in Europe. The brushed metal trimmings for Debut PRO further reinforce a smooth, elegant aesthetic that's sure to remain timeless. Sustainably made and free of plastic, the high-precision aluminum bearing block, dust cover, RCA inputs, arm-board & collar, counterweight & anti-skate, height-adjustable metal feet, an isolated power supply and adapter, and toggle switch exude quality both in sight and sound.
It's paired with the Sumiko Rainier phono cartridge, one of the top performers from the phono cartridge manufacturer.
Pair it with a Phono Box preamp, phono stage, or digital amplifier with the included Connect-It E phono cable to ensure solid and dependable analog playback.
78rpm Records
Debut PRO ships with 2 different drive belts:
Flat 33 / 45rpm belt (installed on top diameter of the motor pulley)
Round 78rpm belt
The 78rpm belt is designed for use with the larger/bottom pulley diameter with the differently-shaped slot. Installing the 78rpm belt incorrectly compromises its integrity and can lead to damage.
Additionally, please note that it's not advisable to play 78rpm records with the Rainier stylus as it will sound poor and cause undue harm to discs or your cartridge. Sumiko has developed a 78 stylus for this very reason - it tracks the grooves properly and reduces the risk of harm to your collection.
Sumiko Stylus Replacement & A Unique Tour of the MM Design
Sumiko Phono Cartridges pair well with Pro-Ject tonearms. Their sonic synergy delivers non-fatiguing music that can be enjoyed for hours with no sacrifice to low-level detail & resolution- the things that make our music reproduction spring to life! Upgrading your stylus is an easy, low-risk path to immediate, audible improvement in your analog experience that only improve with break-in. Cartridge/stylus break-in occurs progressively as you listen. Our listeners notice the greatest degree of improvement in the 20-50 hour range. CLICK HERE to view the video tutorial for replacing and/or upgrading your Sumiko stylus! Also enjoy our gorgeous rendering of a Sumiko moving magnet cartridge in action HERE.
True Balanced – Get Blown Away
Setting us apart from the competition, all Pro-Ject turntables are configured for balanced operation.* Switching to balanced is no subtle upgrade and promises to redefine 'reference' sound quality in your turntable system. What's needed to get there are a) a moving coil cartridge, b) a turntable with balanced phono outputs, c) a phono preamp with balanced phono inputs and d) a balanced cable carrying the phono signal from turntable to phono preamp. Typically a much more costly endeavor, Pro-Ject has changed that landscape by offering products that make the technology attainable to any serious listener.
Debut PRO comes equipped with a balanced RCA/ground phono output and can be run balanced with an RCA > mini XLR phono cable and a balanced phono stage with a mini XLR input (Phono Box S3 B & DS3 B). The turntable ships with an RCA/ground > RCA/ground phono cable for maximum compatibility out of the box (unbalanced dual single-ended RCA/ground is by far the most common connection type in phono). Balanced add-ons are sold separately. Browse options for balanced phono preamps & cables in the reel below!
Specifications
General
Weight: 13.2 lbs
Dimensions: 16.6" × 12.6″ x 4.5" (sans cover)
Turntable
Speed: 33, 45/(78) (electronic speed change)
Drive principle: belt-drive w/ electronic speed control
Platter: 300mm, die-cast aluminum platter with TPE damping and felt mat
Platter bearing: high-precision stainless steel axle in bronze bushing
Wow & flutter: 33: +/-0.16%; 45: +/-0.14%
Speed drift: 33: +/-0.40%; 45: +/-0.50%
Signal to noise: 68dB
Tonearm: 8.6" one-piece carbon/aluminum tonearm
Effective arm length/mass: 218.5mm / 10g
Overhang: 18.5mm
Power consumption: 4W / 0W standby
Cartridge
Sumiko Rainier
Frequency range: 12-25,000Hz
Channel separation: 25dB/1kHz
Output voltage: 5mV
Recommended load impedance: 47kΩ (MM input)
Compliance/stylus type: 10µm/mN – elliptical
Recommended tracking force: 20mN
Weight: 6.5g
In the Box
15V DC / 0.8A power supply
Dustcover
78rpm round belt
7'' singles adapter