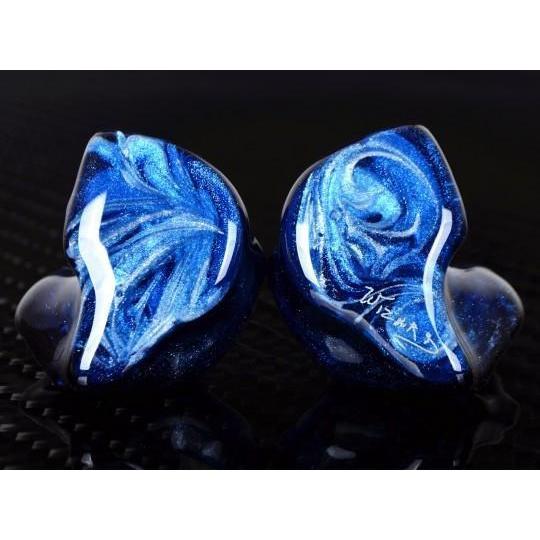 Noble Audio Katana | Balanced Armature Custom IEMs
---
Bespoke custom-fit in-ear monitors made-to-order, a true intersection of art and function. Considered by many to have the perfect combination of balance, artistic beauty, and sharpness in its cutting edge, the Katana sword is by all accounts a precision instrument. As a tribute to the exclusivity and craftsmanship of the finest examples, Wizard's latest design bears the name Katana.
Popularized due to its tremendous speed and versatility, Katana features proprietary Noble drivers throughout in a unique 9-driver per side configuration. With an extended top-end that generates airiness and outstanding imaging, Katana's balance and control are the mark of a master that continues to refine his craft. Combined with a lush mid-range, impactful low-end, and Noble's signature coherency, Katana is a serious tool in anyone's arsenal.
These are CUSTOM earphones from Noble Audio

Current lead time is 6 weeks from the time Noble receives the impressions. You need to visit an audiologist to get your ear impressions made first. For more information about ordering customer IEMs, check out our Custom IEMs Guide or watch our video on Getting Custom IEMs. . We'll provide lifetime support and our white glove service through the every step of the process.
By purchasing from Bloom, you receive our attentive lifetime support. We'll assist during each step of the process. Keep in mind, all custom earphones orders are final. Feel free to Call, Email, or Message us if you have any questions about ordering custom IEMs.

While shipping worldwide is included in the price of all our IEMs and CIEMs, duty, tax, and brokerage charges are not.  The receiver is expected to cover for these charges in the event they are assesed.
Specs
9 proprietary balanced armature drivers manufactured by Knowles® per side
Sensitive enough for use with smartphones as well as portable amps and DAPs
Detachable cable with industry standard 2-pin configuration (0.78 mm diameter)