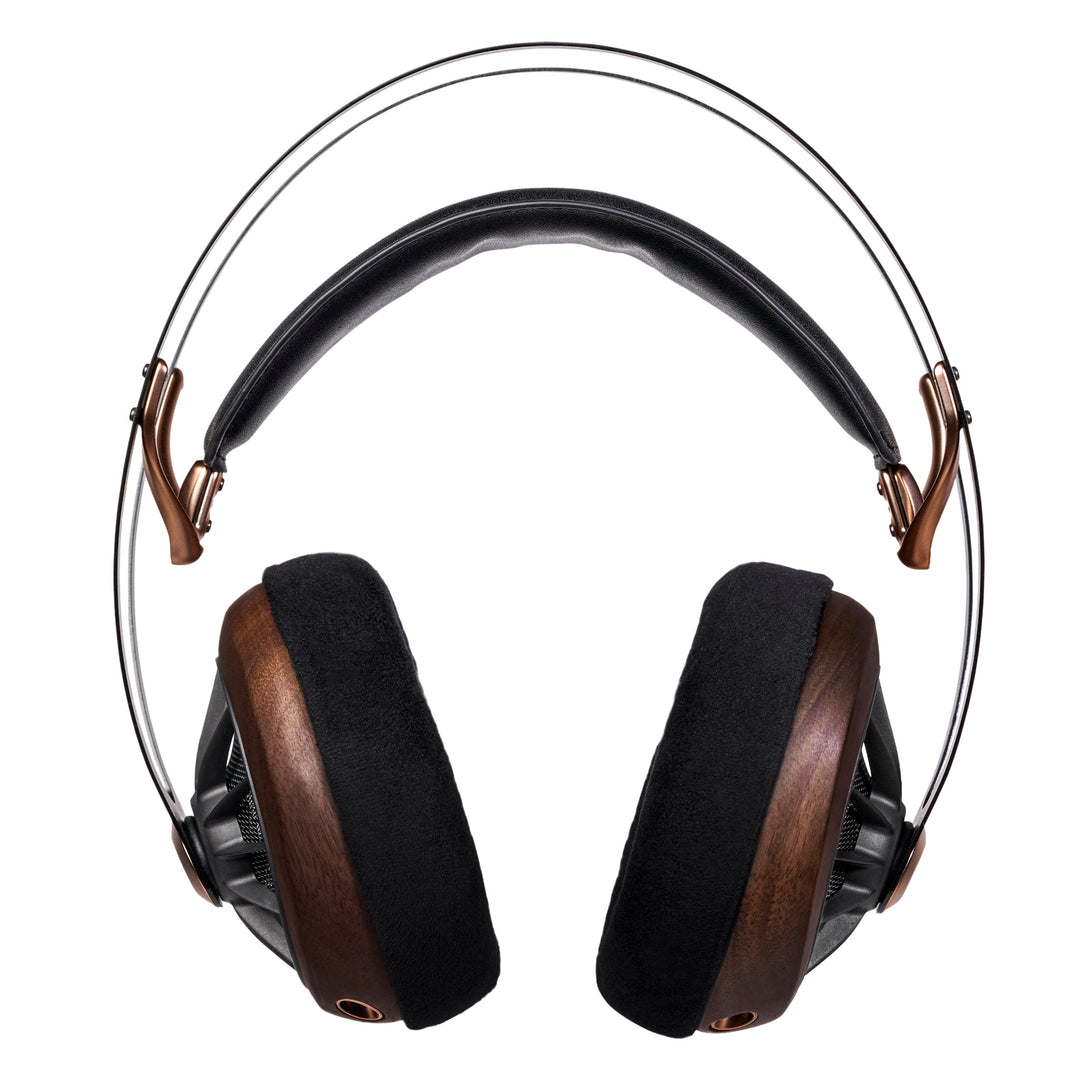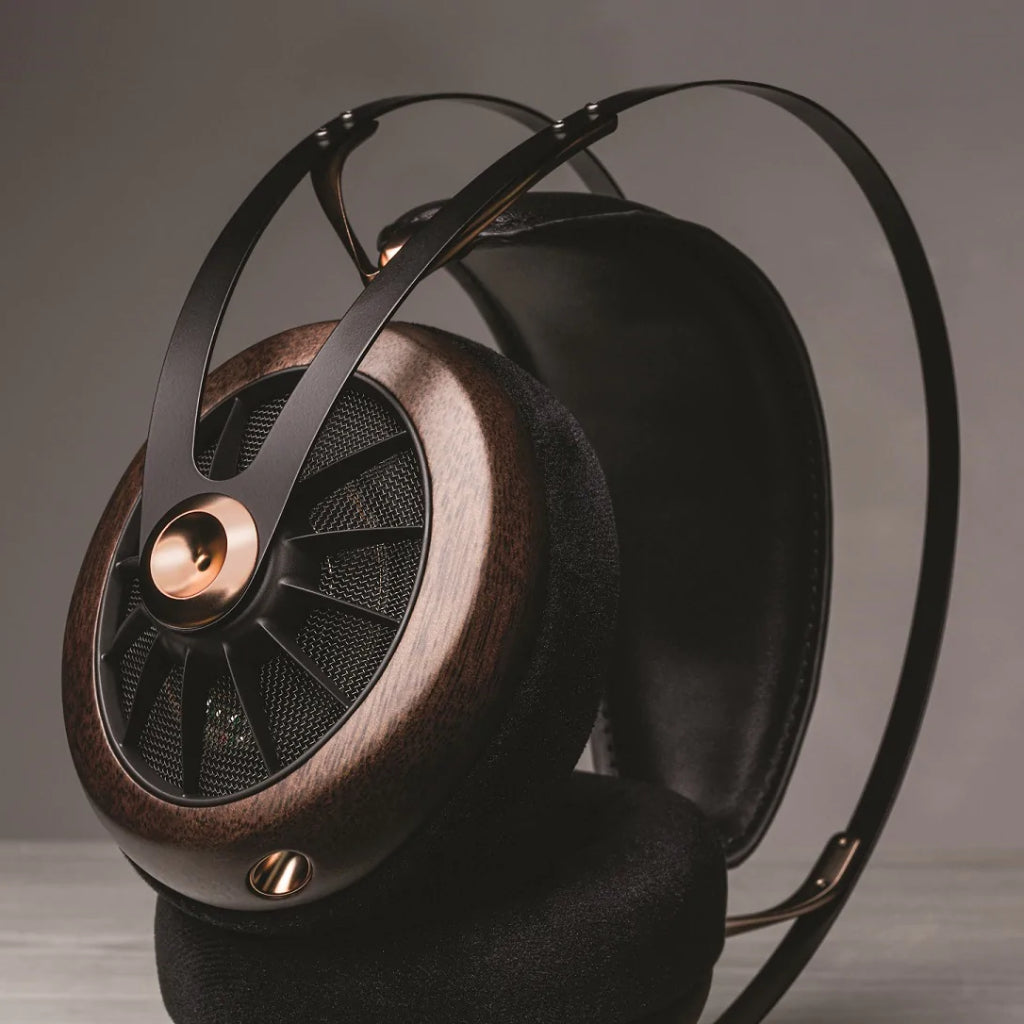 Meze Audio 109 PRO | Open-Back Dynamic Headphones
Regular price
Sale price
$799.00
/
---
Meze Audio Delivers on its Classic Style, Comfort and Performance with the 109 PRO Open-back Headphone
Dual-Composite Diaphragm maximizes sonic capabilities
Carefully tuned for emotionally engaging sound, detail, clarity, and punch
Incredible comfort with velour cushion ear-cups and self-adjusting headband
Sustainably harvested materials and increased longevity
Looking for a unique, artisan's rendition of the 109 PRO? Check out Meze's 109 Pro Primal!
Bloom's Take

Antonio Meze has always been passionate about connecting people with music through headphones. To that end, Meze headphones are typically more emotional and musical as opposed to reference or analytical. With full, impactful bass, detailed and layered mids, and emphasizing, energetic treble, the 109 Pro continues the Meze tradition, balancing warmth and engagement with detail and clarity. And with the beautifully crafted wood finish and extremely comfortable velour pads, the 109 Pro does it with comfort and style second to none. To top it off, and in keeping with Meze tradition, the 109 Pro is sensitive enough to work with almost any desktop or portable device out there.
We've been waiting years for Meze to release a follow-up to the 99 Classics, and the 109 Pro is easily a top recommendation for a sub-$1000 open back headphone.
Exploring New Horizons, Starting with the Basics
The diaphragm is the heart of the headphone, producing the waves our brains ultimately perceive as sound. In order to meet the acoustic goals set for the 109 PRO, Meze Audio focused R&D efforts on materials research, looking for the perfect balance between mass and stiffness that would maximize sonic abilities.
The result was the 109 series Dual-composite Diaphragm: a combination of Beryllium-coated polymer, cellulose-carbon fiber composite, and copper-zinc alloy.
Acoustic Design
Through its open-back design, Meze wanted the 109 PRO to be vivid and exciting. With careful tuning by their in-house engineering team, it offers emotionally engaging sound with great detail, clarity, and just the right amount of punch. Its organic character, paired with superior dynamics, excellent imaging, and full-bodied vocals bring details to life. And the 109 Pro is easy to drive from most devices, portable sources or intricate home setups.
The spider-shaped structure and the acoustically transparent grill inside the ear-cup expose the driver from both sides, creating Meze's most open pattern to date and achieving an ideal anatomical fit.
Built for Comfort
Velour cushions surround the ears, providing a luxuriously comfortable fit while maintaining an optimal seal for natural sound. As velour is far softer and more breathable than leather, it also prevents sweat and overheating during lengthy listening sessions. We agree they are super comfy!
The self-adjusting headband spreads the weight out to deliver even pressure for any head shape and size.
Superior Build Equals Superior Experience
The 109 PRO is all about comfort, from the structural design of the headphone to the choice of materials. Once placed on your head, you should forget they are even there, leaving you with nothing but the music.
With this perspective in mind, a combination of walnut wood, zinc, manganese steel, and vegan leather synergize into a comfortable, lightweight, yet highly durable headphone.
Sustainably Harvested Wood
The black walnut wood chosen and used for Meze headphones comes strictly from sources with a certificate of origin, harvested from mature trees that have reached the end of their life cycle. This is a great way to protect the environment while leaving room for new life, and an opportunity for those old trees to shine once again in the shape of a Meze headphone.
Made With Longevity in Mind
The 109 PRO is crafted for sustainability. Meze Audio is sensitive to the fact that our choices today have a great impact in the world of tomorrow, thus they design products that last. It is their belief that a longer product lifespan means a smaller footprint. Following this philosophy, the 109 PRO can be taken apart and serviced endlessly if needed, extending the life of the product beyond expected limits.
Specifications
Transducer Size: 50mm
Frequency Response: 5Hz - 30KHz
Sensitivity: 112dB SPI at 1KHz, 1mW
Impedance: 40Ω
Weight: 13oz without cable
Ear-Cups: Black Walnut Wood
In the Box
Case: Hard EVA pouch
Included cables: (x1) 1.5m and (x1) 3m soft TPE cable
Headphone termination: 3.5mm TRS jack
Included adapters: 6.3mm gold-plated jack