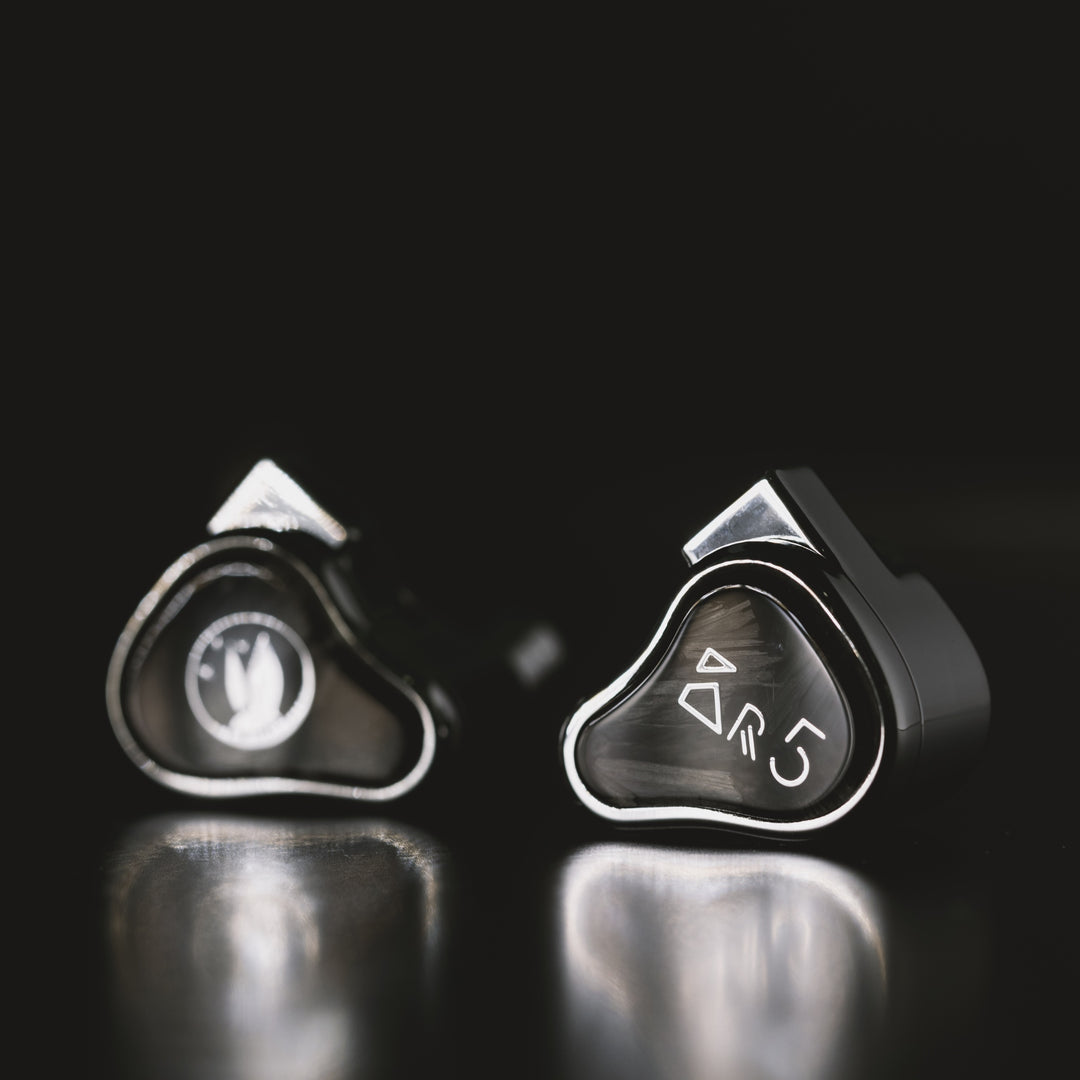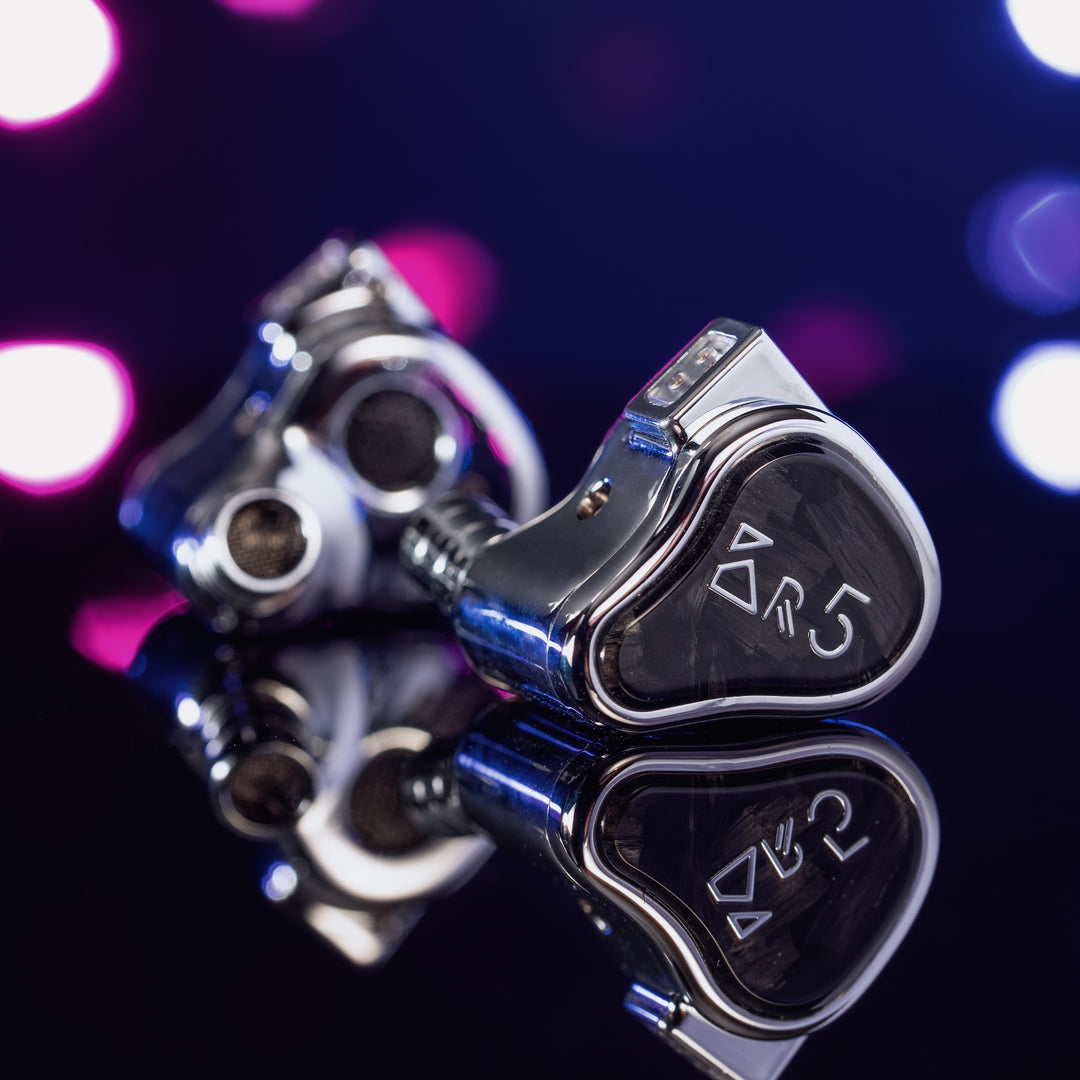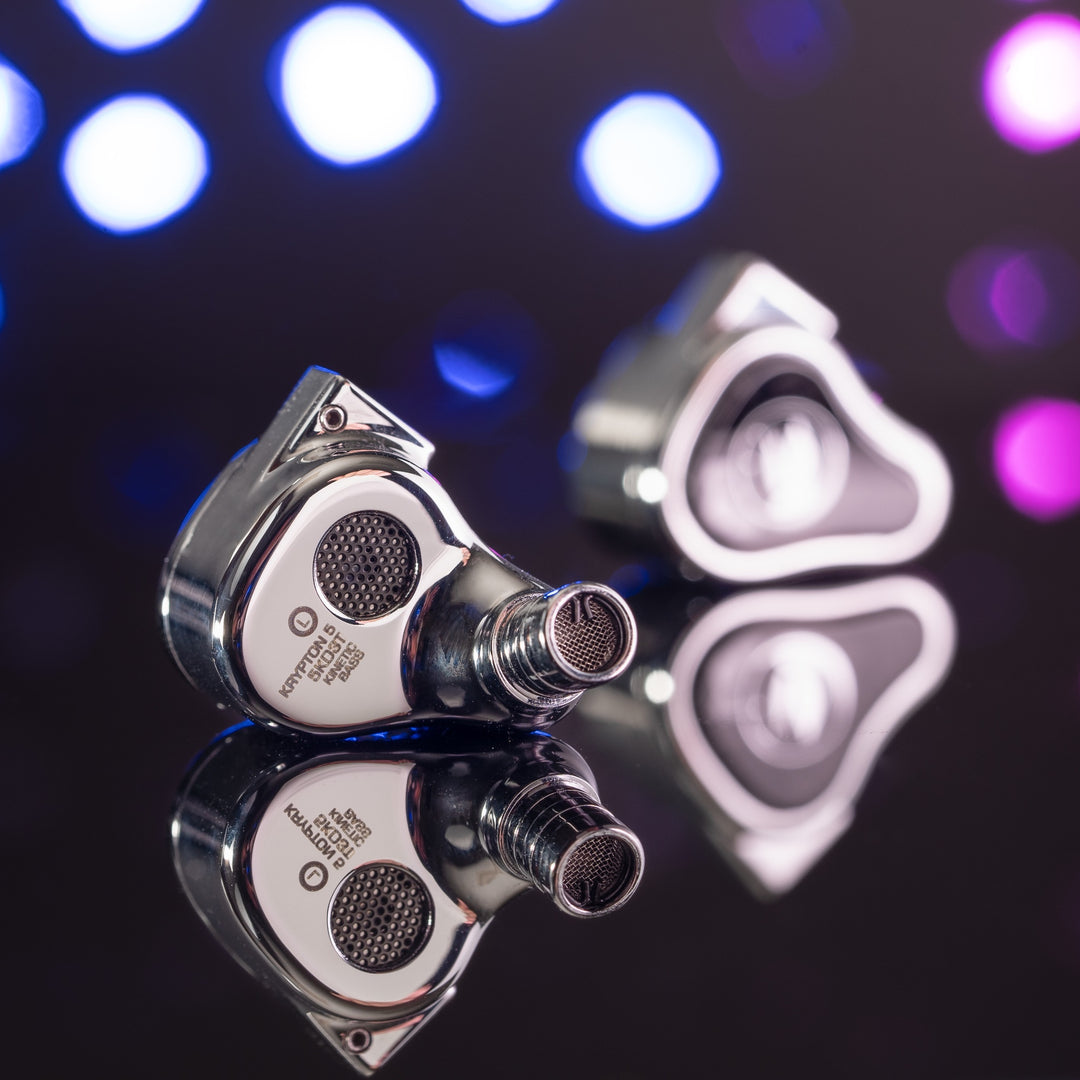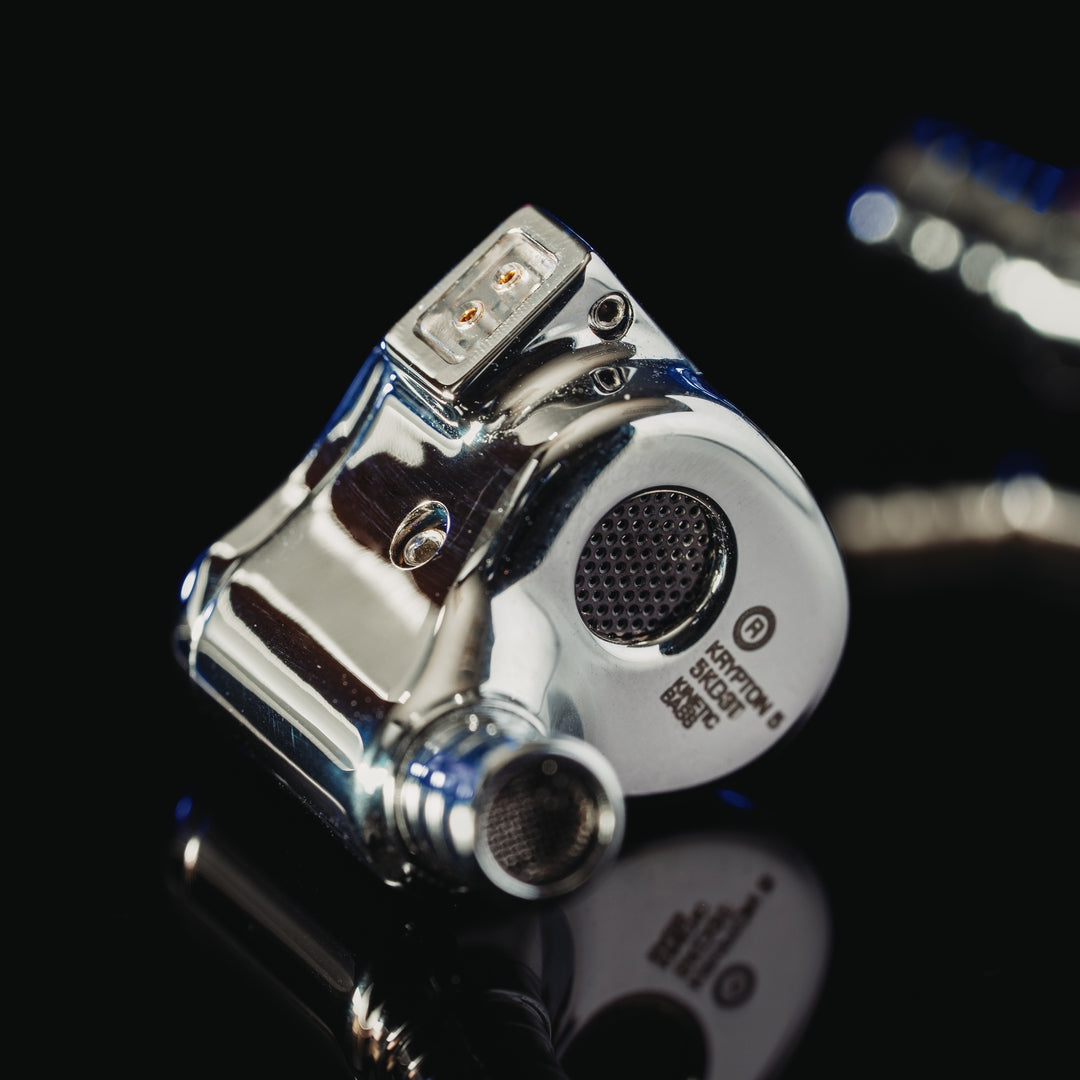 FiR Audio Frontier Series Krypton 5 | Universal Hybrid IEMs
---
Experience the Pinnacle of 5-Driver Sound with FiR Audio's Krypton 5 Hybrid Dynamic and BA Driver Universal IEM
Machined Aluminum shells and Sapphire glass faceplates
ATOM XS interchangeable modules for varying levels of isolation and bass
Includes leather protective case and 4.4mm terminated cable
Krypton 5, from FiR Audio
The pinnacle of 5-driver portable sound, the Krypton 5 is a technical performer with outstanding quality and clarity. It handles each note, instrument, and layer with delicacy and care. Snappy, impactful bass forms the backbone to the Krypton 5's textured presentation, making for a crystal-clear, enjoyable audiophile IEM.
The Krypton 5 features machined aluminum shells and sapphire crystal glass faceplates, and it is outfitted with 4 balanced armature drivers and a 10mm dynamic driver for lows, all fed into FiR Audio's Kinetic Bass port.
Kinetic Bass
Kinetic Bass is a bass you can feel. Traditional IEMs often lack depth and feel because they only provide you with half the sound. When you listen to music in a natural open-ear environment, you hear sound in two ways: air conduction and bone conduction. Air conduction is sound that you hear with your eardrums. Bone conduction is the conduction of sound through the bones in your head as it reaches the inner ear (cochlea). Hybrid conduction is when you can hear with both, air conduction and bone conduction, taking the IEM sound experience to a whole new level.
Kinetic Bass technology features a 10mm dynamic driver that is open and ported in an optimized manner directly facing the outside of the IEM shell. This allows low frequency sound to be transmitted directly to the ear cartilage and surrounding area. These low frequencies are converted to kinetic energy and reach the inner ear via bone conduction. This results in a more immersive sound with increased dimension and an off-the-charts low frequency extension.
ATOM Venting
No more pressure. Just easy listening, safer and longer. With a traditional in-ear, your ear canal is completely sealed. When the diaphragm is moving to create sound, it creates air pressure which has no way to escape, directly impacting your ear drum. This air pressure triggers your ear's acoustic reflex which tightens the ear drum to protect the ear from loud sounds and causes listener fatigue. Triggering this emergency acoustic reflex can lead to hearing loss in the long term.
With the ATOM venting system, your ear drums can stay in their natural relaxed position, and you can listen to music longer and safer without your ears getting tired. The soundstage is wider and feels more natural like an open-ear listening experience but with all the benefits of in-ear monitors. All Frontier Series Universal-fit models come with the super ergonomic and easily swappable ATOM XS modules.
Open Acoustics
Open drivers with no sound tubes for freely flowing sound. Traditional in-ear monitors use a driver with a sound tube that carries the sound to the canal stem. The tube introduces unwanted resonances and results in a closed-in, stuffy sound. The FiR Audio Open Acoustics System consists of three major parts:
Open Drivers
The open drivers use no sound tubes and radiate sound directly into the Sound Reactor which allows the sound to freely flow to the ear canal. This results in a much larger soundstage and a more pure and natural listening experience.
Sound Reactor
The sound reactor is a chamber which shapes the sound that comes directly from the open drivers. The sound reactor uses natural acoustics to shape the sound instead of dampers and filters which are found in most traditional IEMs.
Sound Reflector
Our open high driver is located in the canal stem and features a sound reflector that directs the high frequencies into the ear canal. The results are remarkably smooth and airy highs with great extension.
RIGID Technologies
Rigid 2-Pin
The most durable 2-Pin connection on the market, rated for 1,000 connections without issue. Features revolutionary quadrant socket design and fits any 2-pin standard.
Rigid Snap Screen
An acoustically transparent mesh screen that protects debris from entering the canal stem and is easily replaceable.
Rigid 3D Printed Shell
The most comfortable and most durable CIEMs on the market. FiR uses a proprietary 3D scanning and 3D printing process that yields a fit so good you will forget you're wearing IEMs. Shells are 20% thicker than the industry average which protects the external and internal components from getting damaged.
Specifications
(x1) 10mm Kinetic Bass Dynamic Driver
(x2) OpenDriver Balanced Armature for mids
(x1) OpenDriver Balanced Armature for high-mids
(x1) OpenDriver Balanced Armature for highs (with Sound Reflector)
Frequency Range: 20-20kHz
Impedance: 22Ω
Connector Type: 2-Pin 0.78mm
In the Box
FiR Audio Krypton 5 IEM
4.4mm terminated cable with 2-pin connectors
Leather carrying case
Warranty and Instruction card