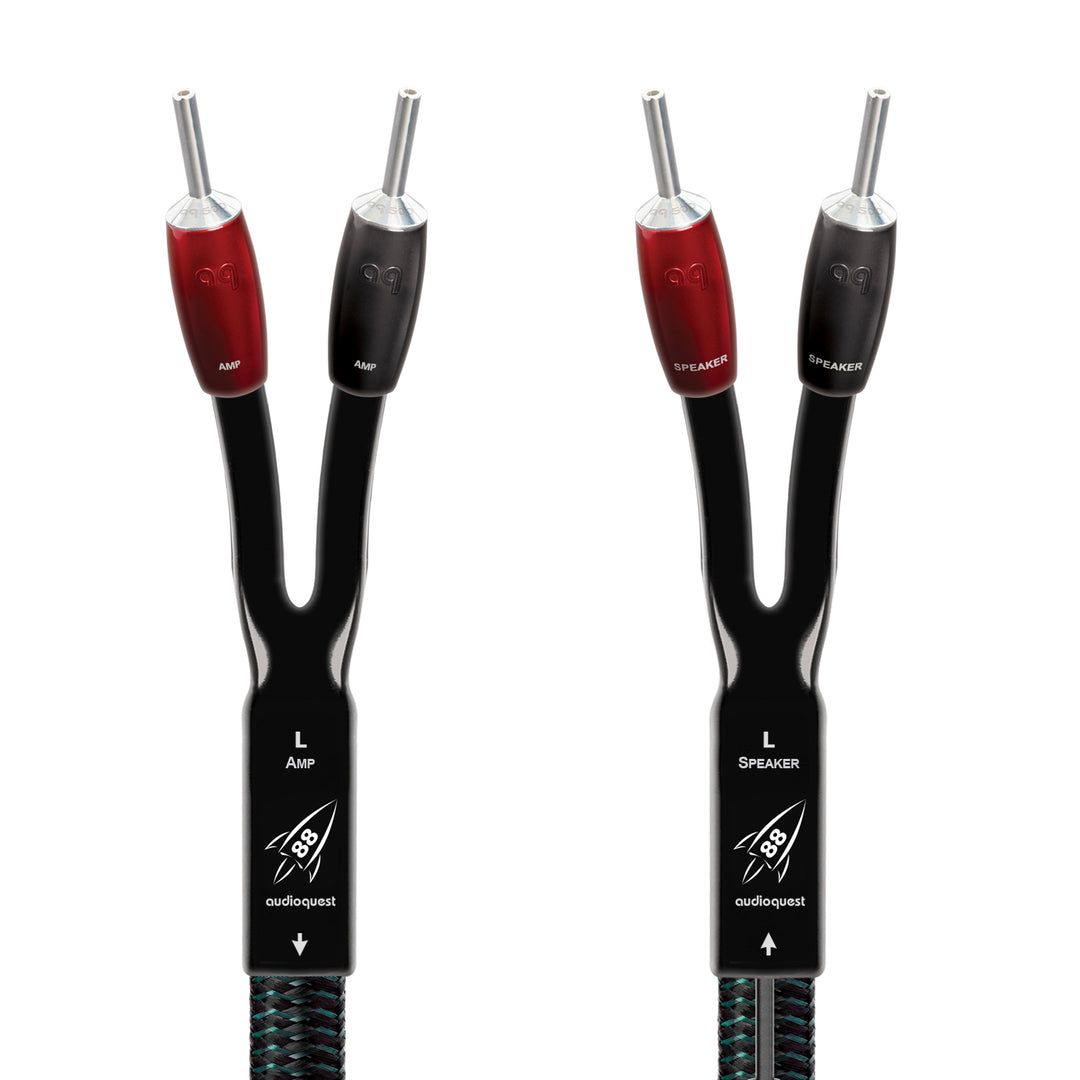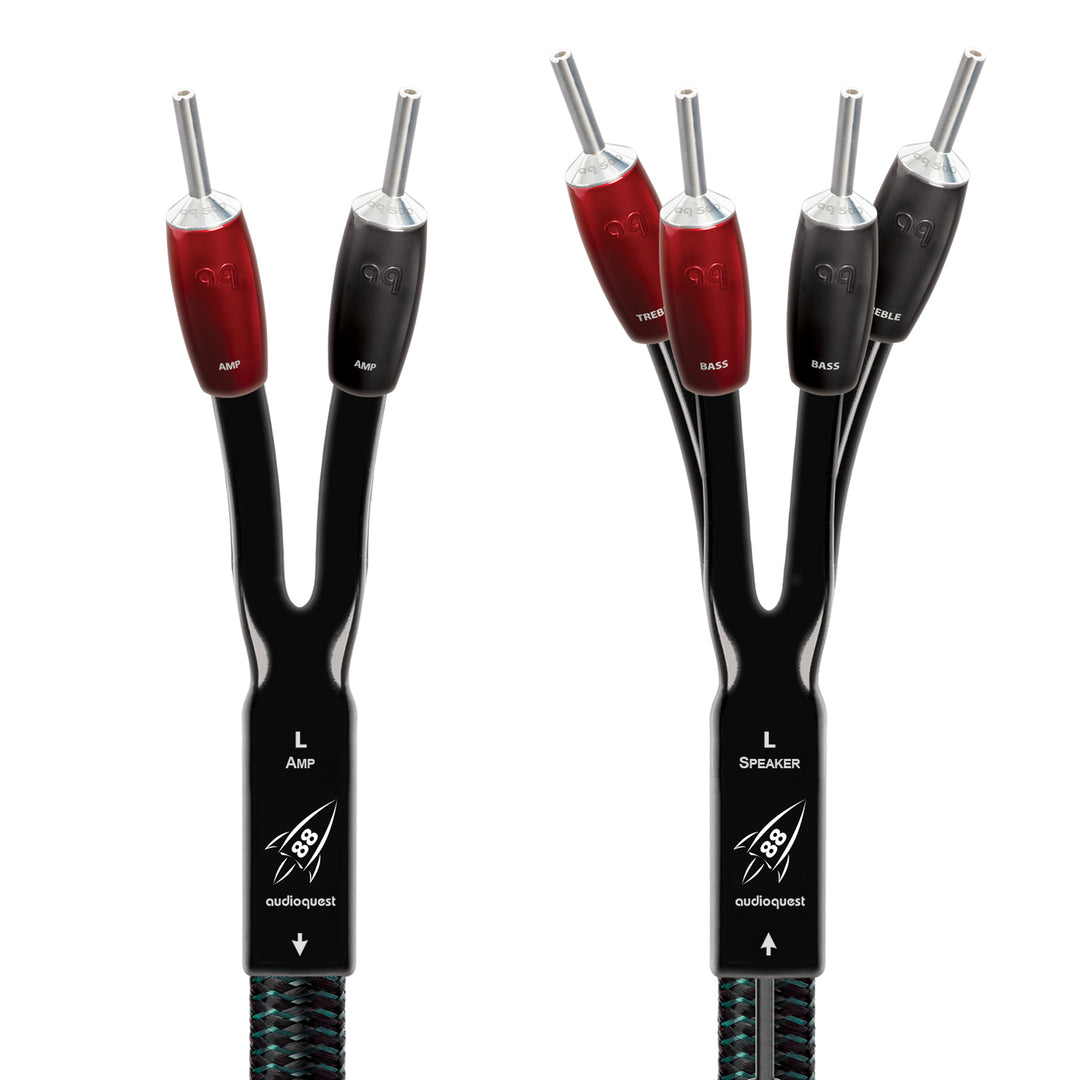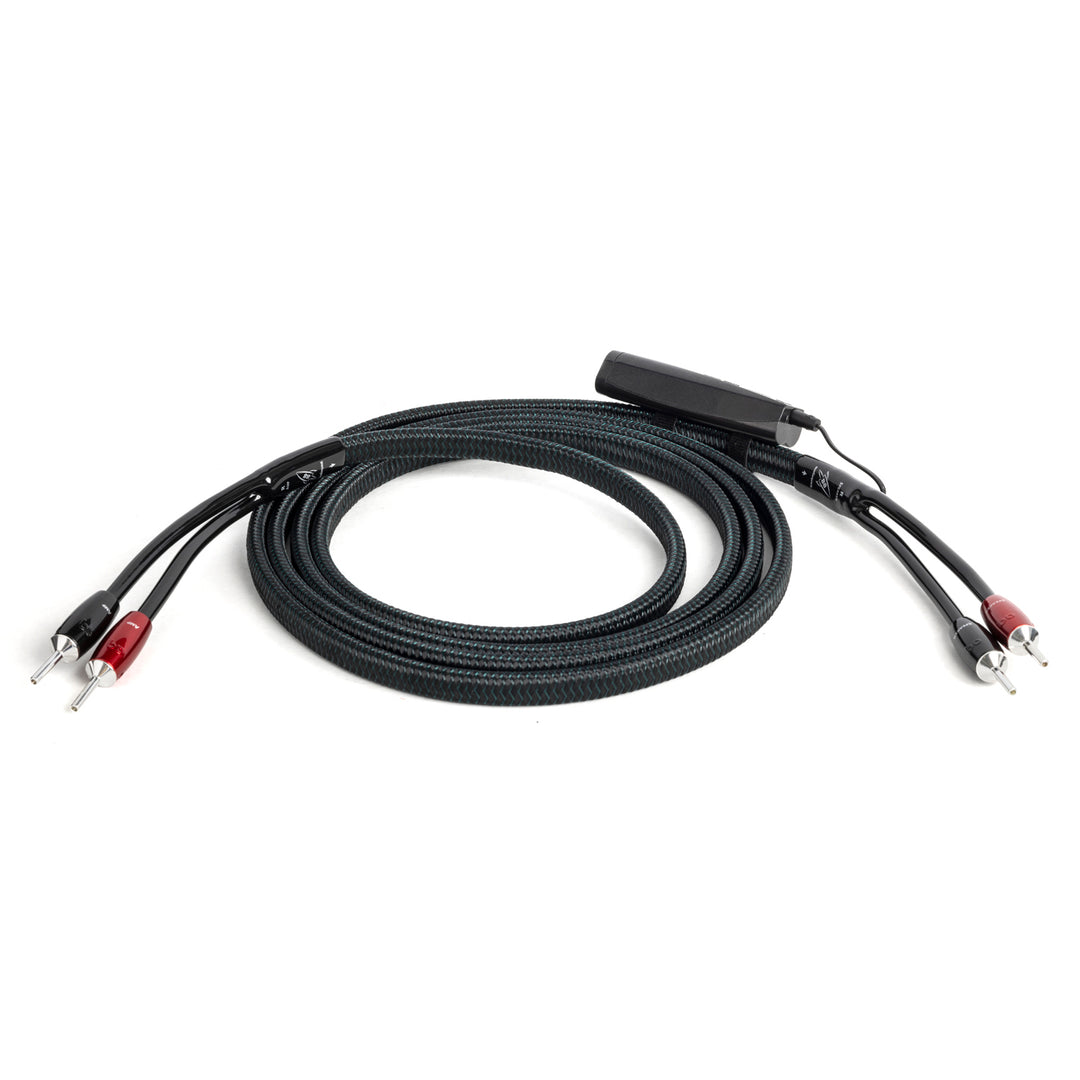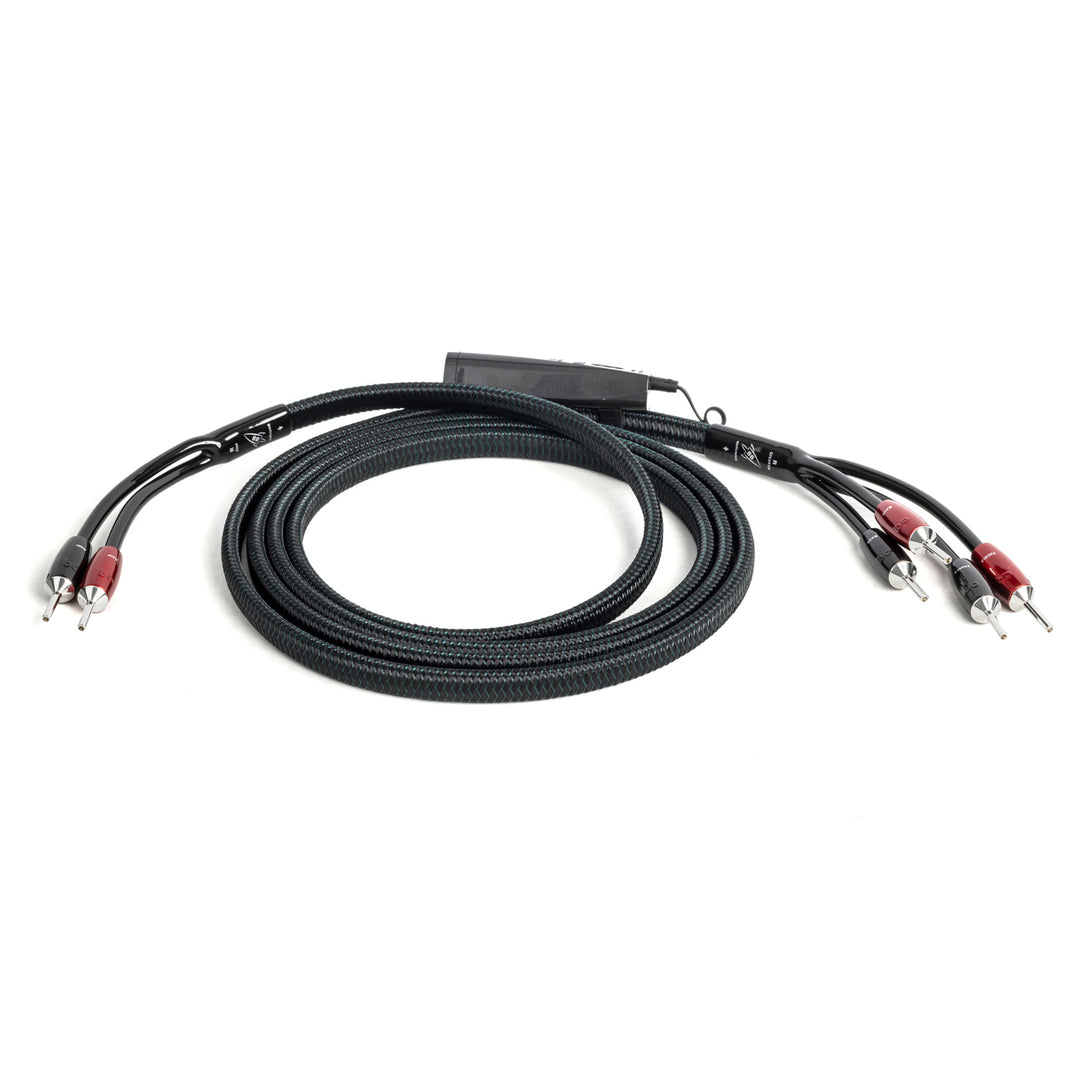 AudioQuest Rocket 88 | Speaker Cable (Pair)
---
Upgrade your Speaker Cables with our AudioQuest ULTIMATE Level
Rocket 88

Cables
Solid Perfect-surface copper plus conductors for maximum RF Noise-dissipation
Double Star-quad geometry for superior clarity and bass-to-treble frequency extension
Incorporates AQ's patented Dielectric-Bias System (DBS) to trap RF noise
Carbon-based material reduces radio-frequency garbage and noise
Premium SureGrip 500 banana type connectors featuring direct Silver over Copper
Includes (x2) Cables
**Special Orders: We can special order any cable in any available length or termination you need from the AudioQuest Retail Catalog. You can call, email, or message us to place a special order. Speaker cables are sold as a pair by default but can also be ordered in single units (EG. center channel etc.)
Bloom's Take

For high-resolution premium-sounding audio, the superiority of the craftsmanship, engineering, and cable terminations matter. AudioQuest has been the most significant cable supplier to the high-end specialist market for years. Their portfolio has sold in several thousand outlets in over sixty countries, and we feel they deliver excellent value and performance to maximize and highlight your listening experience.
The Rocket 88 line represents our Ultimate Level and absolute best upgrade for your speaker cables and is available in Full-Range or Single-BiWire configurations (BiWire allows for separate bass and treble inputs further optimizing system performance.)
Solid Perfect-surface Copper + (PSC+) Conductors
Solid conductors prevent electrical and magnetic strand-interaction. PSC+ Solid-Copper minimizes distortion caused by grain boundaries and maximizes linear RF Noise-Dissipation.
Double Star-quad Geometry
The relationship between conductors defines a cable's most basic electrical values (capacitance and inductance). However, even when those variables are kept in reasonably neutral balance, the particular geometric relationship between conductors greatly affects the sound. Star-Quad geometry is not only vastly superior to conductors run in parallel, but also to the same conductors as two twisted pairs.
Dielectric-Bias System with Radio Frequency Trap
All insulation between two or more conductors is also a dielectric whose properties will affect the integrity of the signal. When the dielectric is unbiased, dielectric-involvement (absorption and non-linear release of energy) causes different amounts of time delay (phase shift) for different frequencies and energy levels, which is a real problem for very time-sensitive multi-octave audio. The inclusion of an RF Trap (developed for AudioQuest's Niagara Series of power products), ensures that radio-frequency noise will not be induced into the signal conductors from the DBS field elements. (DBS, US Pat #s 7,126,055 & 7,872,195 B1)
Carbon-based Noise and Crosstalk-dissipation System
This cable's negative conductors are covered with partially conductive Carbon-Loaded Polyethylene. This remarkable material reduces radio-frequency garbage being fed back into the amplifier. The sonic benefit is exactly the same reduction in "hash" and improved dimensionality that comes whenever RF interference is reduced in an audio circuit. In addition, a carbon layer damps interaction between positive and negative conductors, and an external Carbon-Based Noise-Dissipation System reduces external interference.
Foamed-polyethylene Insulation (For All Positive Conductors)
Any solid material adjacent to a conductor is actually part of an imperfect circuit. Wire insulation and circuit board materials all absorb energy. Some of this energy is stored and then released as distortion. This cable, however, uses air-filled Foamed-Polyethylene Insulation on both conductors. Because air absorbs next to no energy and Polyethylene is low-loss and has a benign distortion profile, Foamed-PE, with its high air content, causes much less of the out-of-focus effect common to other materials.
Ideal for Full-range or Single-BiWire Configurations
Use Rocket 88 as a full-range cable, with red (+) and black (-) conductors grouped together, or, when the speakers provide separate bass and treble inputs, further optimize system performance by bi-wiring.
Specifications
Metal: Solid PSC+
Gauge: 13 AWG
Geometry: Double Star-quad
Dielectric: Foamed-Polyethylene (for all + conductors)
Noise-Dissipation: Carbon-based noise-dissipation
Jacket: Green/Black Braid or PVC
Plugs: Premium SureGrip 500 Silver Banana Type