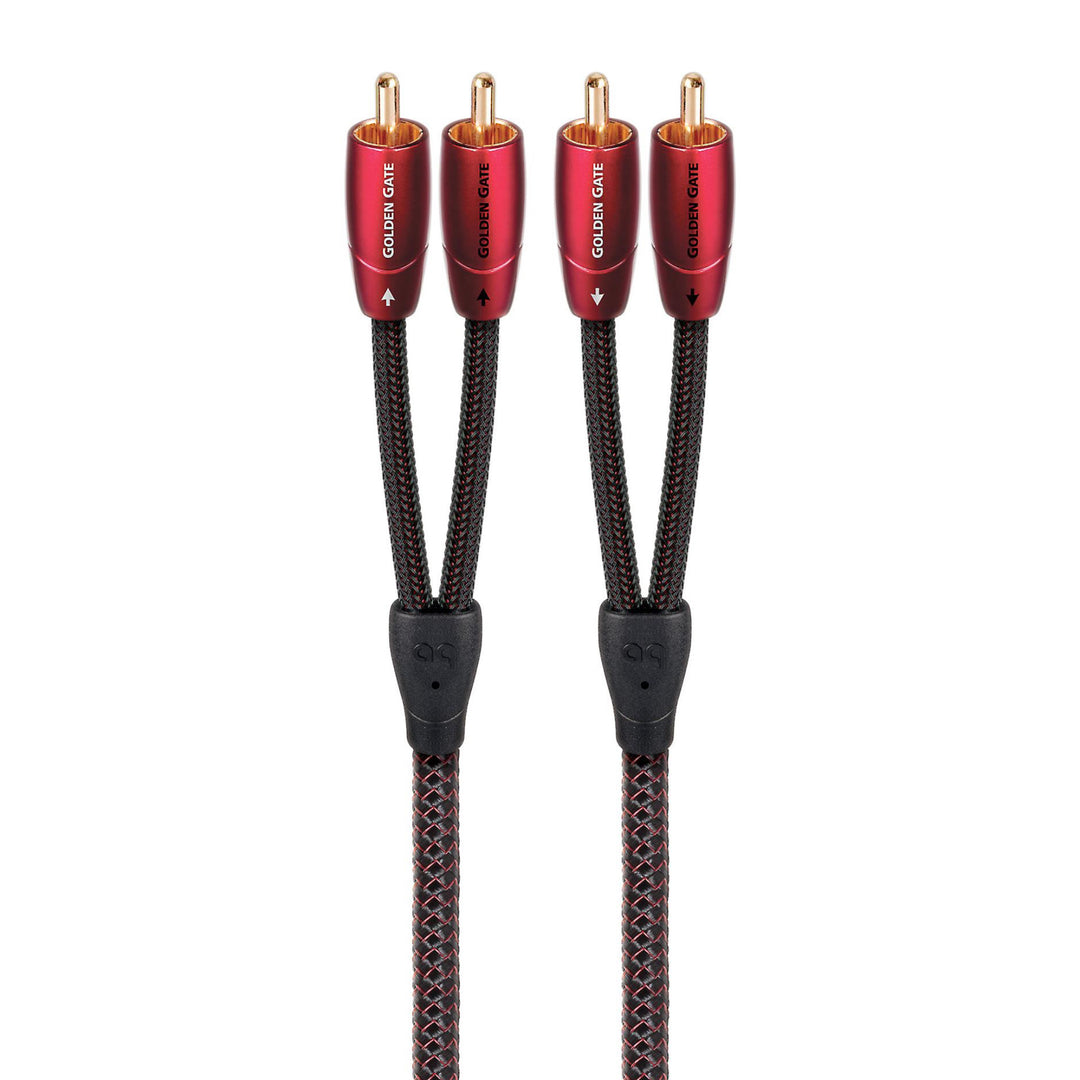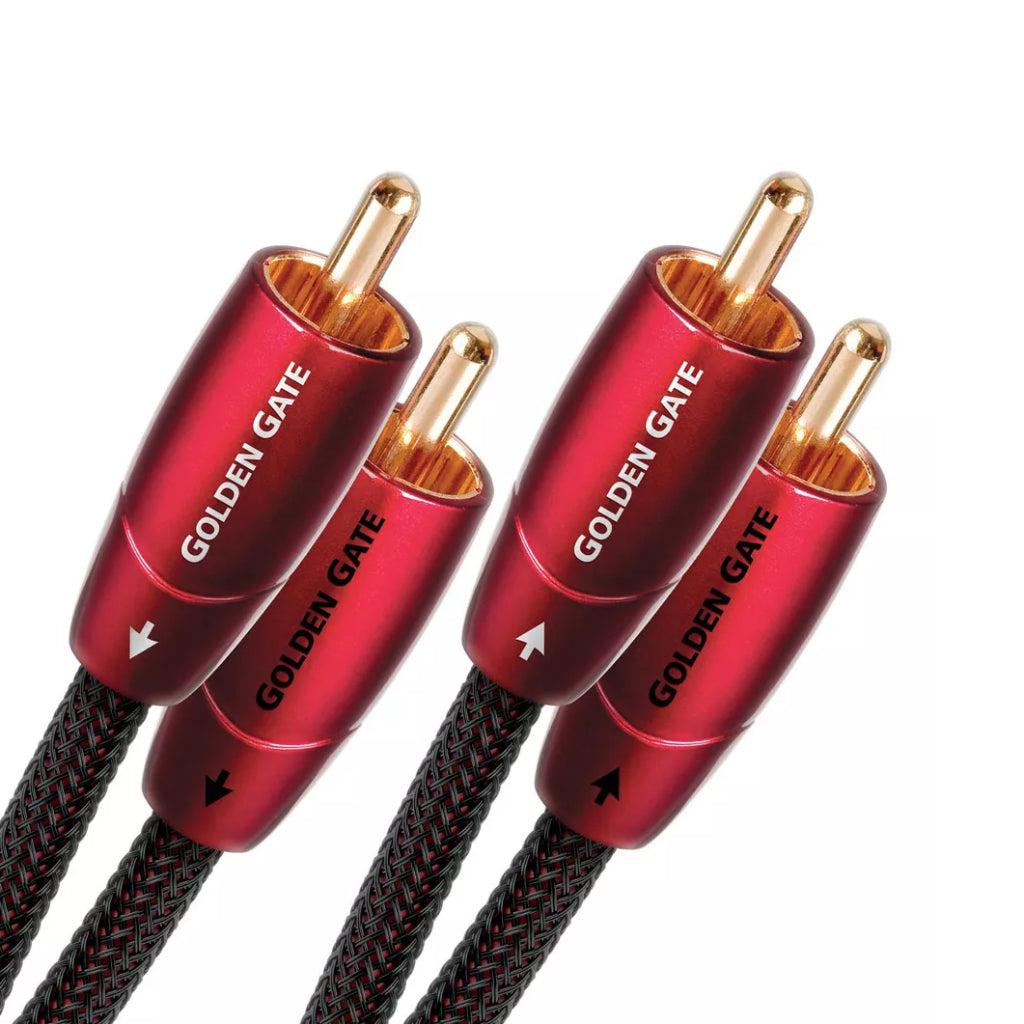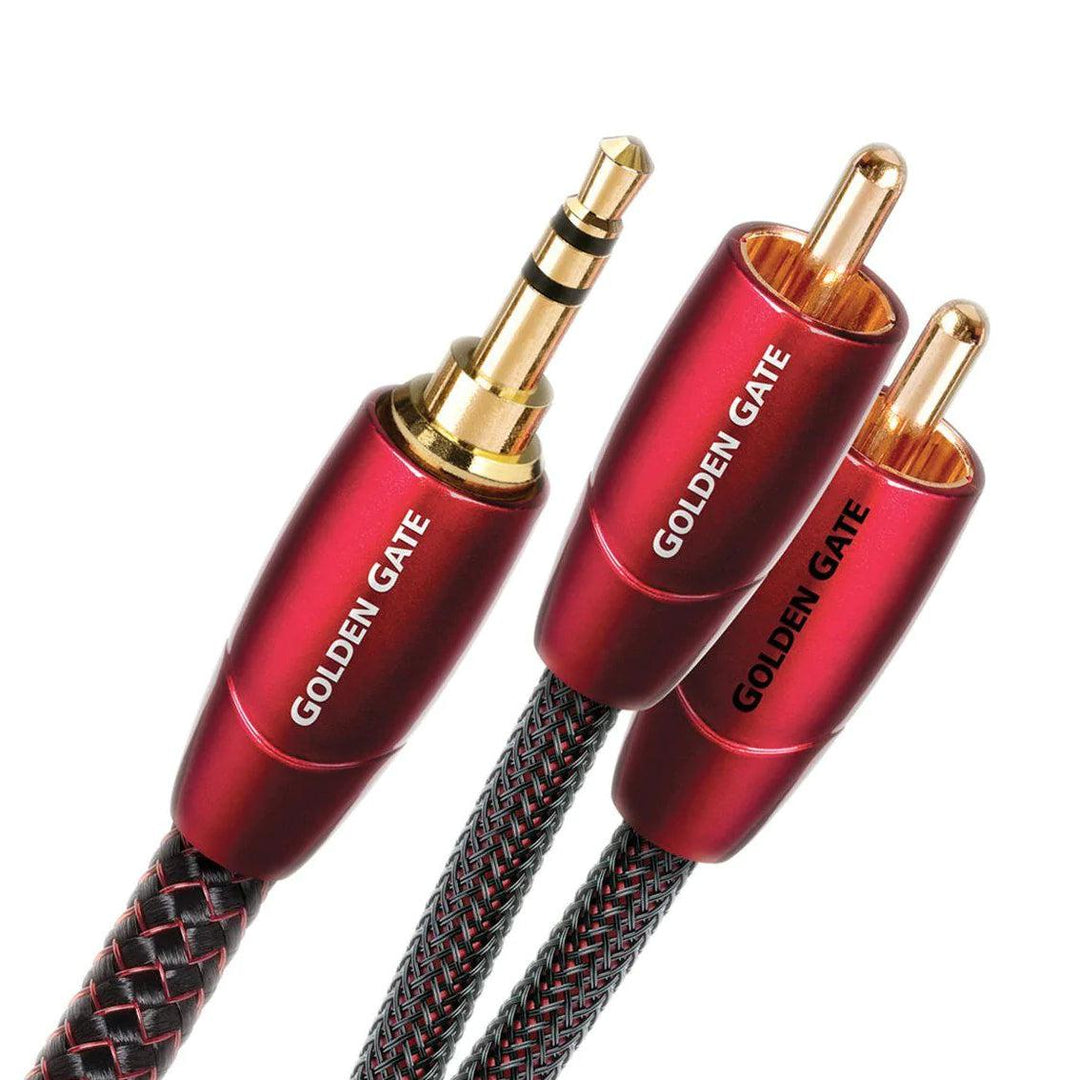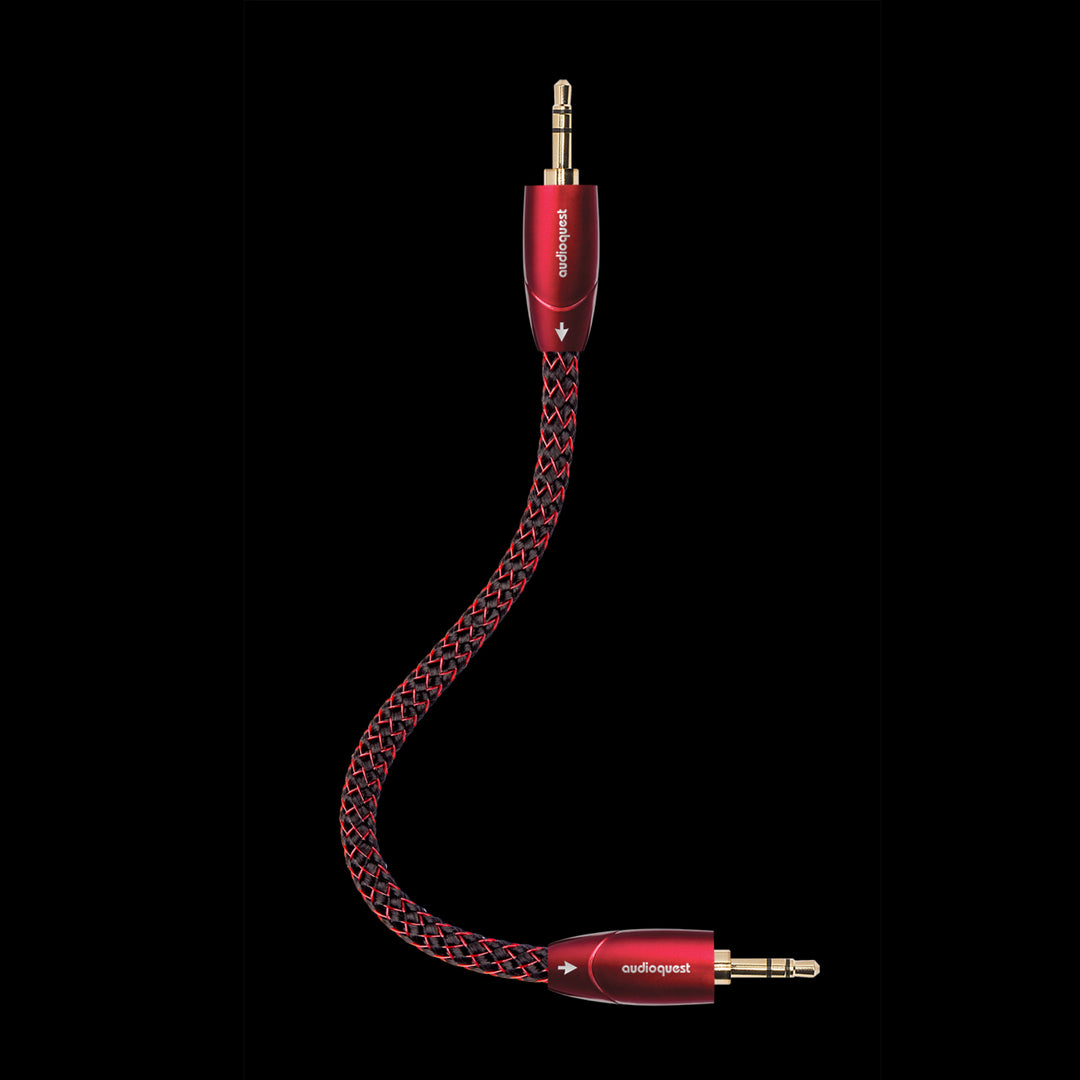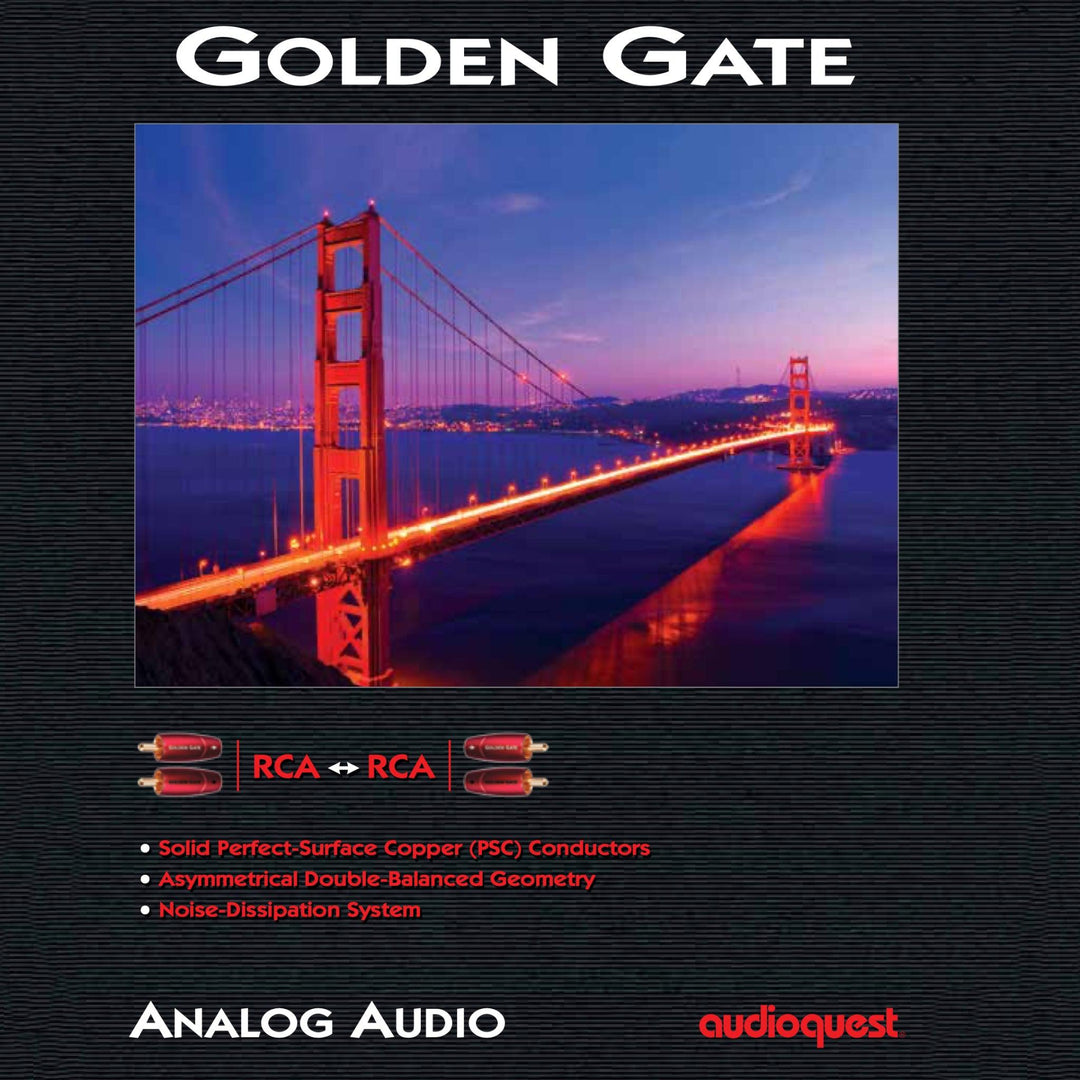 AudioQuest Golden Gate | Analog RCA and 3.5mm Audio Interconnect Cables
---
**Special Orders: We can special order any cable in any length or termination that you need from the AudioQuest Retail Catalog. You can call, email, or message us to place a special order.
Upgrade your analog interconnects with our AudioQuest ELITE Level
Golden Gate

Cables
Premium Solid Perfect-Surface Copper (PSC) vs. OFHC or long grain copper for next-level performance
Double-Balanced Geometry offers lower ground impedance for richer, more-dynamic experience
Metal-Layer Noise-Dissipation design for RFI prevention
Gold-plated, Cold-welded plugs (no solder) for low distortion
Foam Polyethylene reduces distortion and yields less "out-of-focus" effect
Bloom's Take
For high-quality, noise-free audio, the superiority of your interconnects are important, specifically how well they lower distortion & noise and deal with RFI properly. Electrical and magnetic interaction between cable strands is one of the greatest sources of distortion often causing harsh, dirty sound. Solid conductors, high-quality components, noise-dissipation technology, and rigid quality control are required to get it right.
AudioQuest has been the most significant cable supplier to the high-end specialist market for years. Their portfolio has sold in several thousand outlets in over sixty countries, and we feel they deliver excellent value and performance to maximize and highlight your listening experience.
The Golden Gate line represents our Elite Level upgrade for your Analog interconnects.
Check out our Premium Level Evergreen Analog Interconnects.

From AudioQuest
AudioQuest's Golden Gate line is named after the Golden Gate Bridge in San Francisco, once the longest suspension bridge in the world.
In AQ's Bridges & Falls series cables, you'll find better metals and more sophisticated technologies including Air-Tube insulation, Dielectric-Bias System, and the Noise-Dissipation System at reasonable prices.

Note: All cables in the Bridges & Falls Series place their left and right channels in a single jacket, and feature an Asymmetrical Double-Balanced geometry with separate high-quality positive and negative conductors. This design allows for a thin, flexible, and uniquely versatile high-performance cable that can be terminated with a variety of today's connections, including 3.5mm (male or female), DIN, and RCA. Keep in mind, however, that by necessity, the plugs on Bridges & Falls cables are fairly close together.
Asymmetrical Double-Balanced Geometry
Purpose designed for single-ended applications, Asymmetrical Double-Balanced Geometry offers a relatively lower impedance on the ground for a richer, and more dynamic experience. While many single-ended cable designs use a single path for both the ground and the shield, Double-Balanced designs separate the two for cleaner, quieter performance.
Solid Perfect-Surface Copper (PSC) Conductors
Since the beginning, AudioQuest has pioneered the use of superior metals, yet even they were surprised by the huge leap in performance attained through the astonishingly smooth and pure surface of Perfect-Surface Copper (PSC). Proprietary metal-processing technology protects the wire's surface at every stage of drawing and fabrication. When high-purity low-oxide copper is kept as soft, pure, and smooth as possible, it becomes a wonderfully low-distortion conductor. In a conventional cable, electrical and magnetic interaction between strands is one of the greatest sources of distortion, often causing a somewhat harsh, dirty sound. Solid conductors are fundamental toward achieving a very clean, natural sound.
Foamed-Polyethylene Insulation
Any solid material adjacent to a conductor is actually part of an imperfect circuit. Wire insulation and circuit board materials all absorb energy. Some of this energy is stored and then released as distortion. Because air absorbs next to no energy and Polyethylene is low-loss and has a benign distortion profile, Foamed-PE, with its high air content, causes much less of the out-of-focus effect common to other materials.
Metal-Layer Noise-Dissipation System
It's easy to accomplish 100% shield coverage. Preventing captured Radio Frequency Interference (RFI) from modulating the equipment's ground reference requires AQ's Noise-Dissipation System (NDS). Traditional shield systems typically absorb and then drain noise/RF energy to component ground, modulating and distorting the critical "reference" ground plane, which in turn causes a distortion of the signal. NDS "shields the shield," absorbing and reflecting most of this noise/RF energy before it reaches the layer attached to ground.
Cold-Welded, Gold-Plated Terminations
This plug design allows for a connection devoid of solder, which is a common source of distortion. Instead of solder, the process employs a high-pressure technique. Because the ground shells are stamped instead of machined, the metal used can be chosen for low distortion instead of machinability.

Specifications
Metal:

Solid Perfect-Surface Copper (PSC)

Geometry:

 Asymmetrical Double-Balanced (Lower Impedance on Ground, Same Quality + and – Conductors)

Dielectric:

 Foamed

 Polyethylene
Noise-Dissipation:

 

Metal-Layer
Jacket:

 Red

/Black Braid
Terminations:

 

Cold-Welded, Gold-Plated