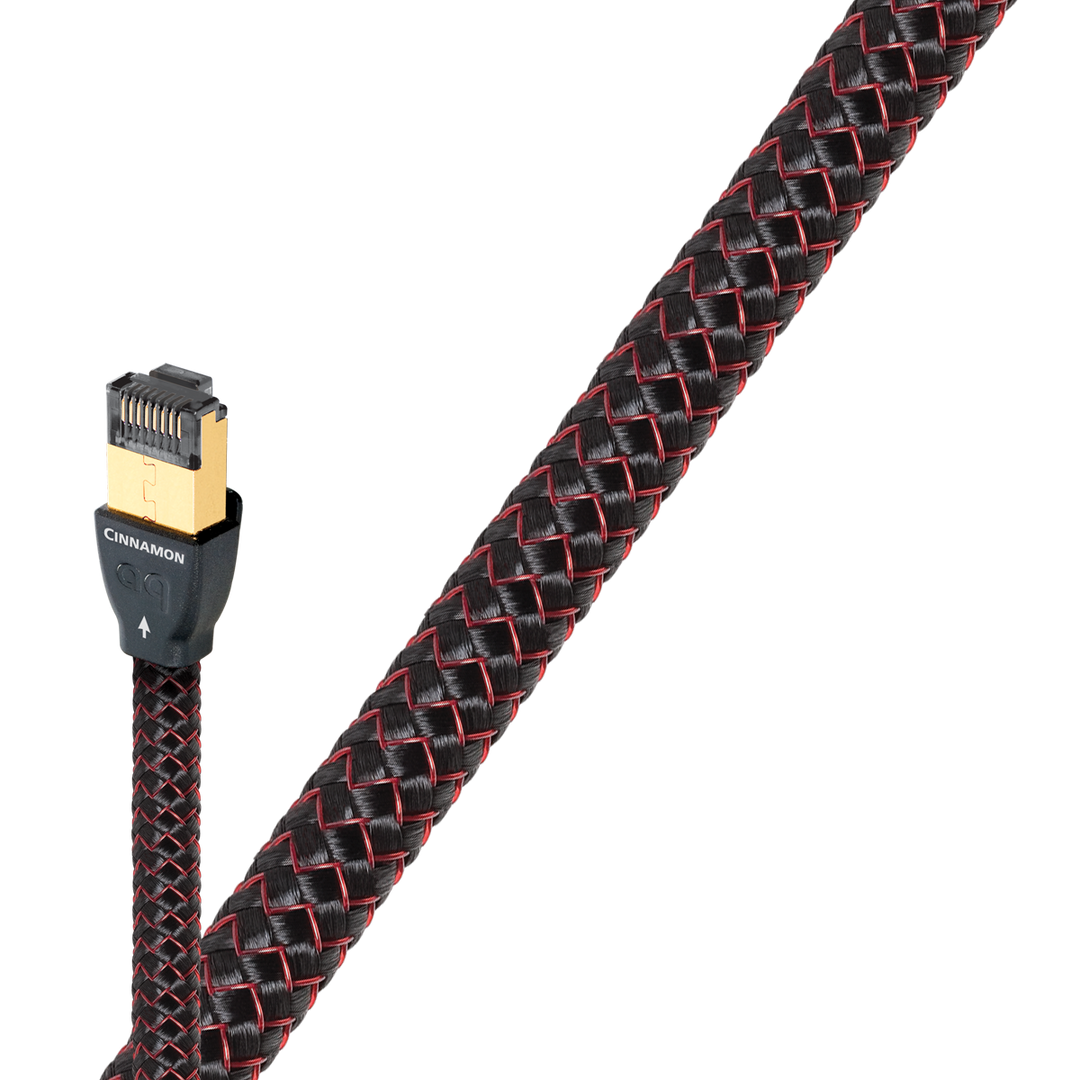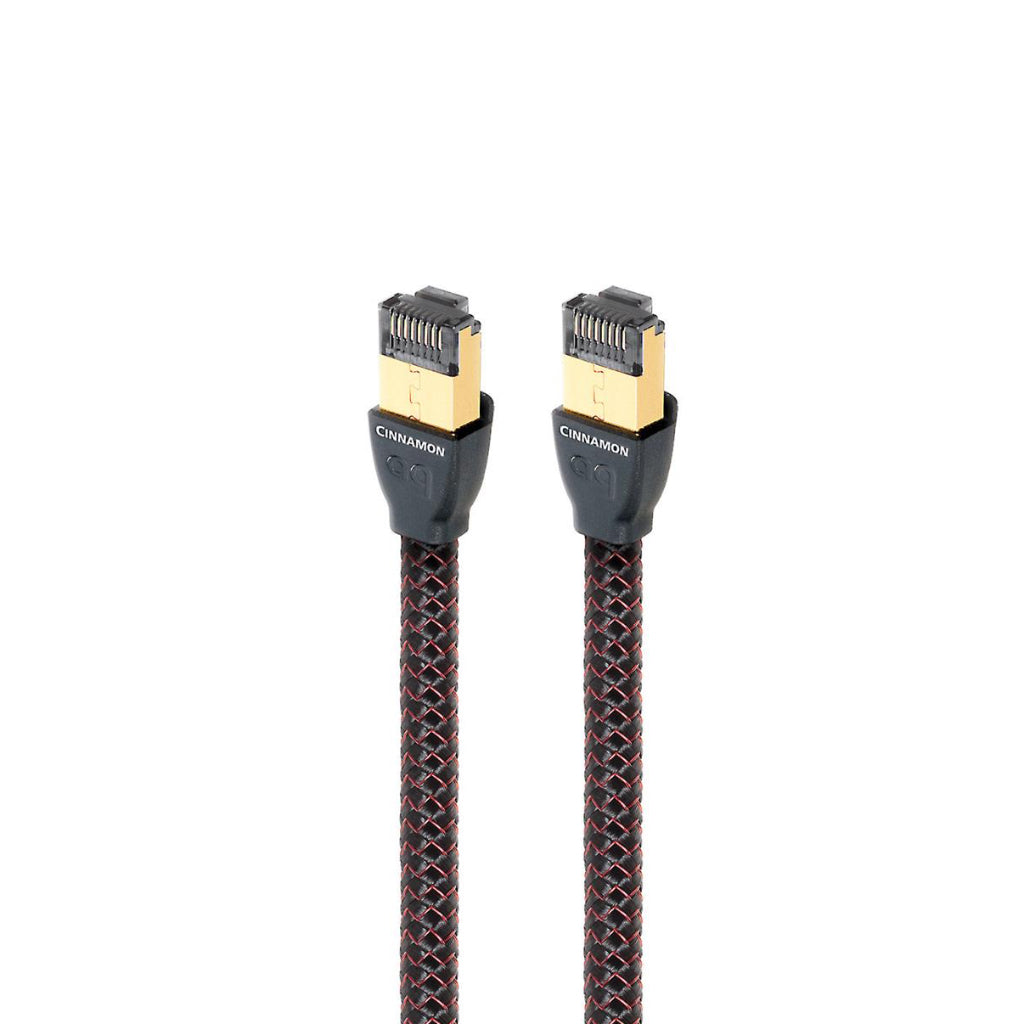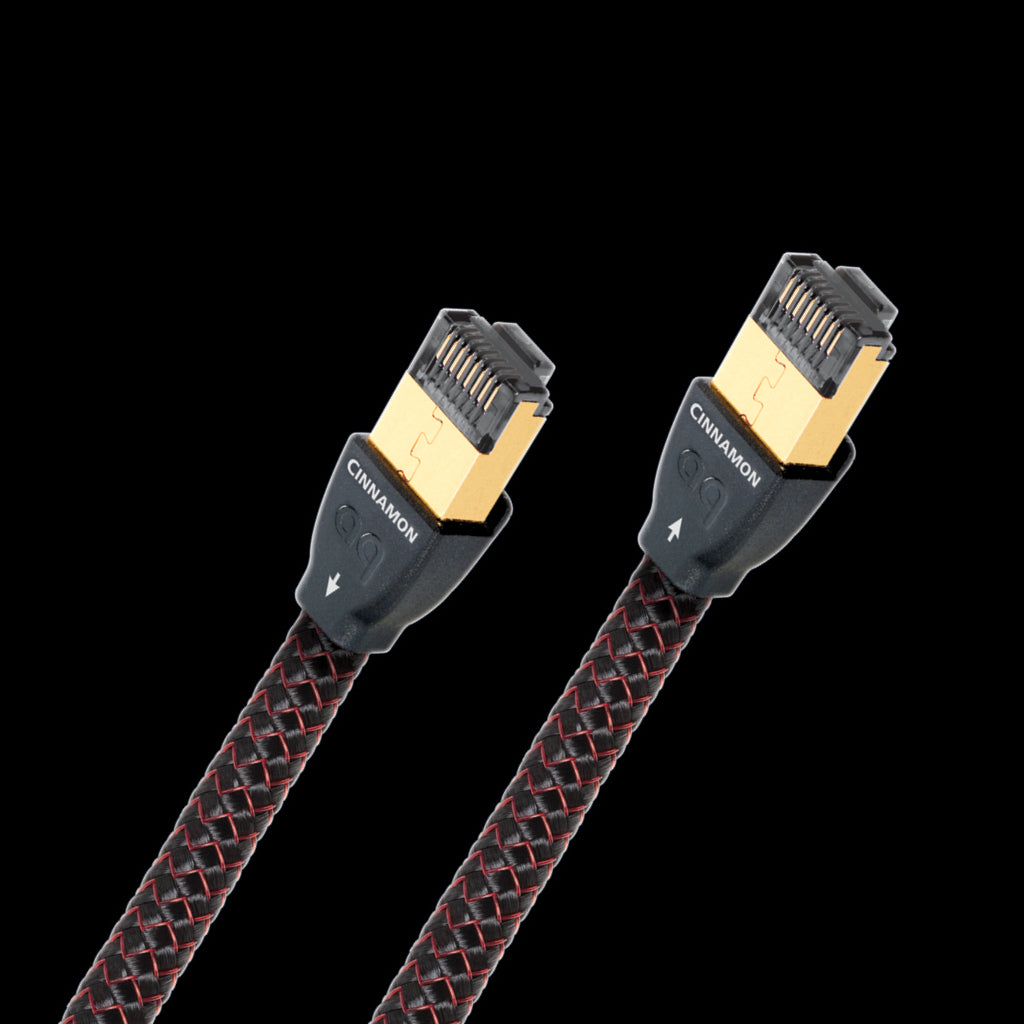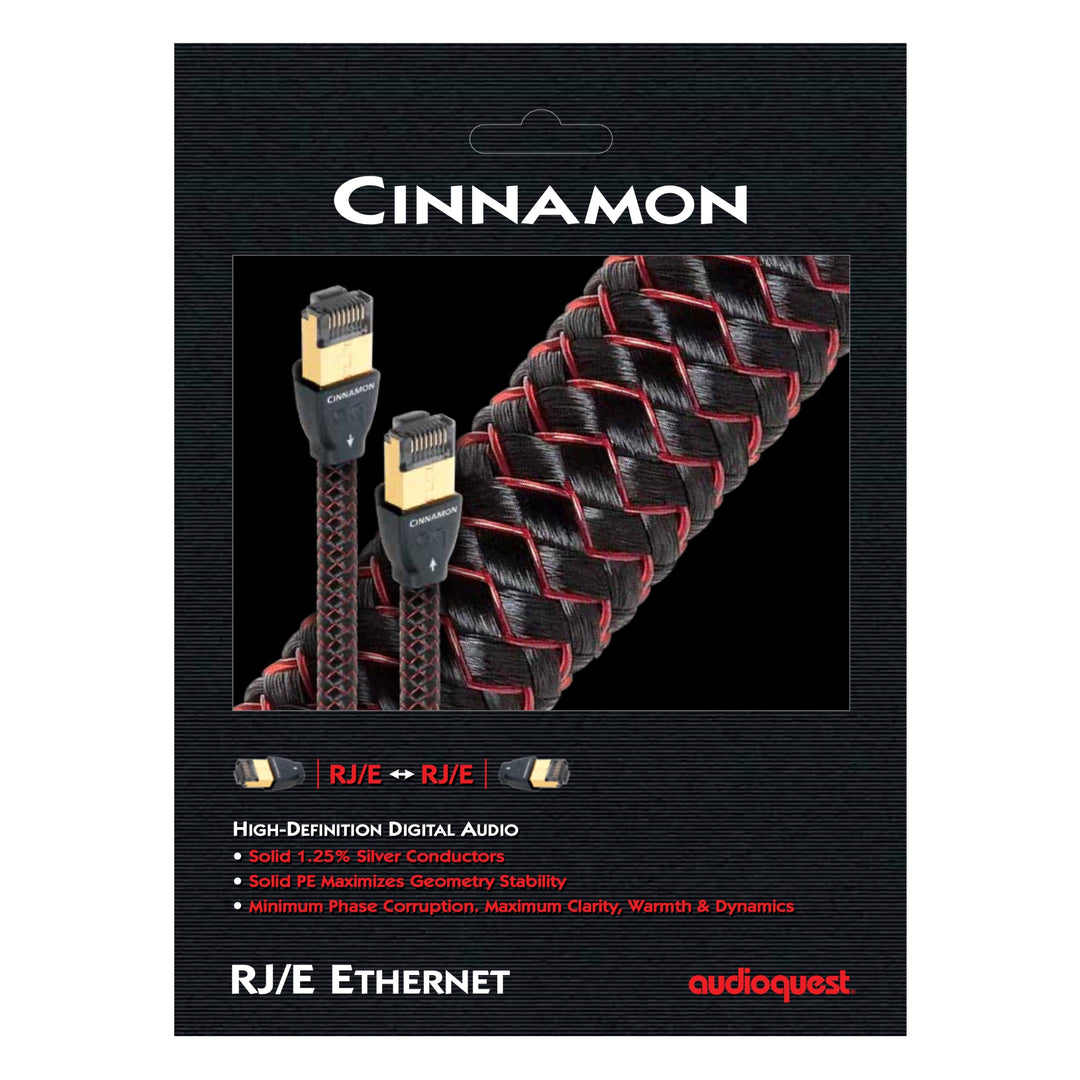 AudioQuest Cinnamon Ethernet | Audiophile Ethernet Cable
---
Lower Jitter and Distortion with AudioQuest's ELITE Level
Cinnamon

Cat 7 Ethernet Cable
Solid 1.25% Silver conductors for improved digital performance
Gold-plated nickel connectors with 100% shield coverage
All conductors controlled for RF Noise Directionality
High-speed data throughput using Cat 7 cable for 10-Gigabit ethernet speeds up to 328'
Bloom's Take

For high-resolution premium-sounding audio, the superiority of the craftsmanship, engineering, and cable terminations matter. AudioQuest has been the most significant cable supplier to the high-end specialist market for years. Their portfolio has sold in several thousand outlets in over sixty countries, and we feel they deliver excellent value and performance to maximize and highlight your listening experience.
The Cinnamon Ethernet Cable represents our Elite Level upgrade for your network interconnect cables.
Higher Quality Matters
RJ/E Cinnamon-prepared Cat 7 Ethernet cables use solid 1.25% Silver conductors which completely eliminate strand interaction, one of the biggest sources of distortion in cables, for clearer, more dynamic and involving sound. Superior conductor metals minimize distortion by having fewer grain boundaries and less impurities (such as oxides) at those boundaries. Solid High-density Polyethylene (PE) insulation helps maintain critical signal-pair geometry. All AudioQuest Ethernet cables honor the directionality inherent in all analog and digital audio cables: arrows on the jackets indicate the direction (from source to destination) for the best audio performance.
Over the past several years, there's been a revolution in the way people store, distribute, and access digital media in real time, including photos, movies, and, of course, music. No longer dependent on physical media, our media is often data that's moved from multiple devices to multiple locations. For audio applications and protocols, audio-over-Ethernet offers the virtues of high-speed, low time delay (latency), significant distance capability (328' without an active booster or repeater), and extremely low-jitter, bit-perfect communication. Who wouldn't want all of these things?
Features
Geometry stabilizing solid high-density Polyethylene (PE) insulation
Gold-plated Nickel connectors with 100% shield coverage
Solid 1.25% Silver conductors for improved digital performance
Solid conductors eliminate strand-interaction distortion and reduce jitter. Solid silver-plated conductors are excellent for very high-frequency applications, like HDMI audio. These signals, being such a high frequency, travel almost exclusively on the surface of the conductor. As the surface is made of high-purity silver, the performance is very close to that of a solid silver cable, but priced much closer to solid copper cable. This is an incredibly cost effective way of manufacturing very high-quality HDMI cables
High-speed data capacity
The Cat 7 cable standard has been created to allow 10-Gigabit Ethernet over 100 m of copper cabling
All conductors controlled for RF noise directionality
Specifications
Metal: Solid 1.25% Silver
Dielectric: Geometry Stabilizing Solid High-Density Polyethylene
Noise-Dissipation: Direction-Controlled Conductors
Jacket: Red/Black Braid
Termination: Gold-Plated Nickel Connectors with 100% Shield Coverage