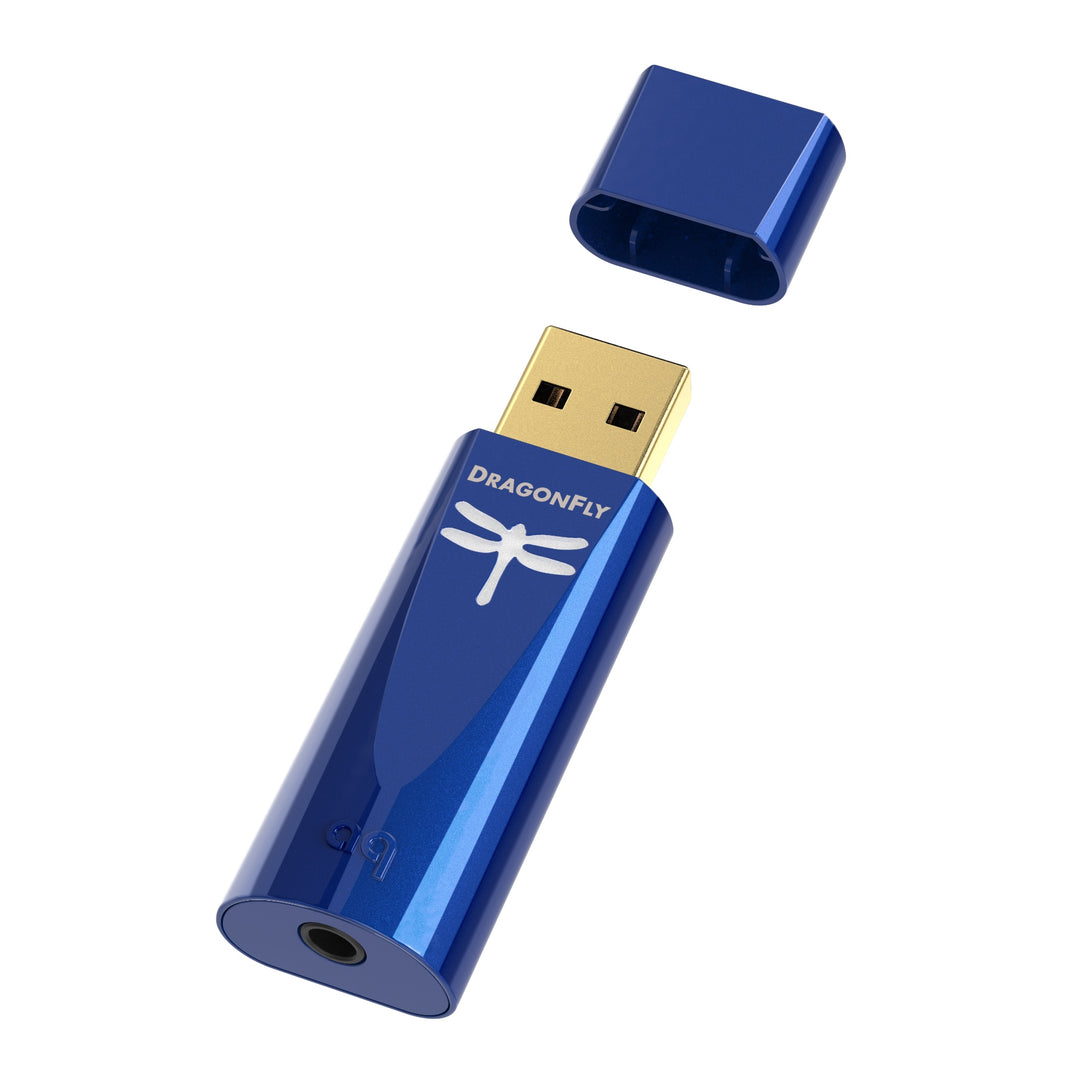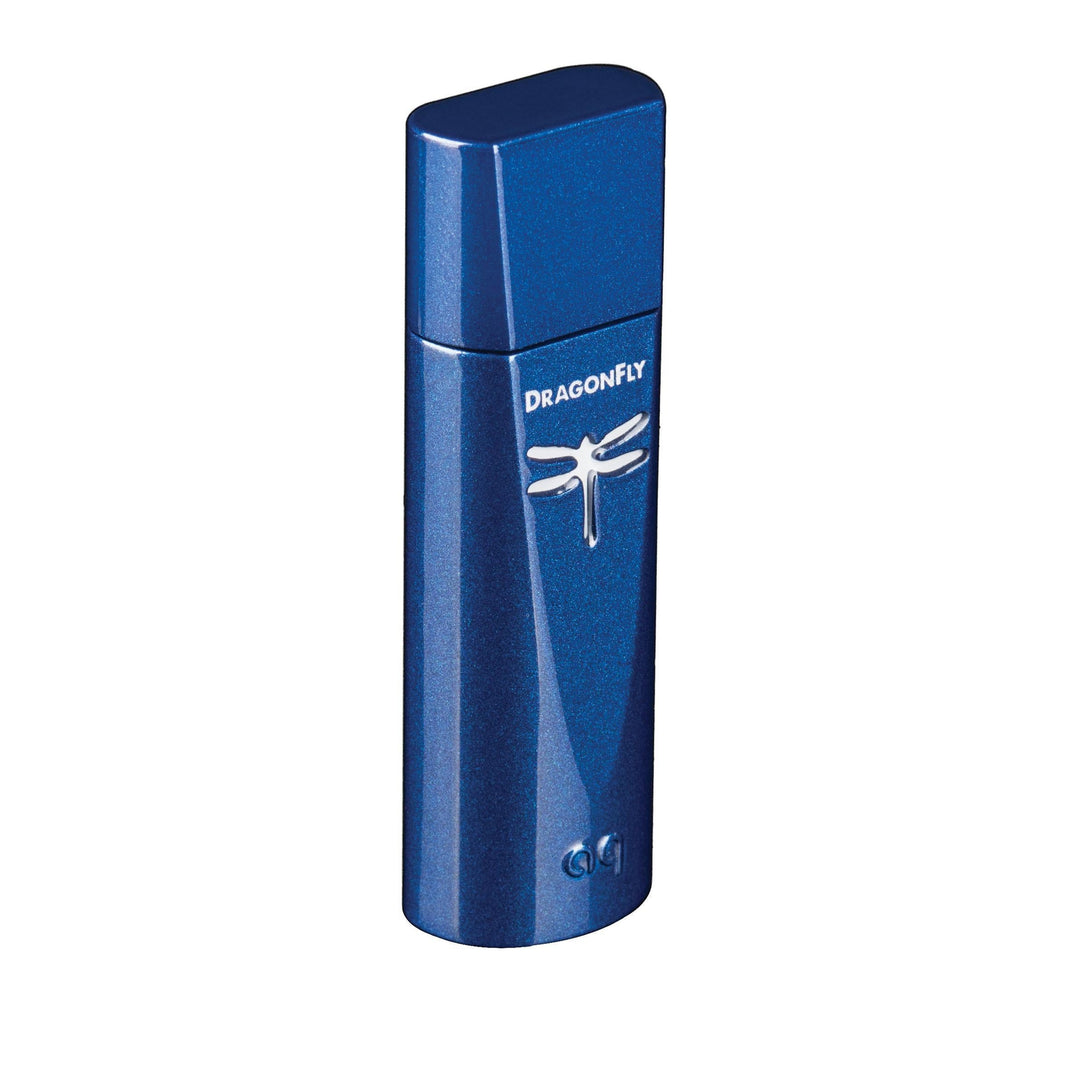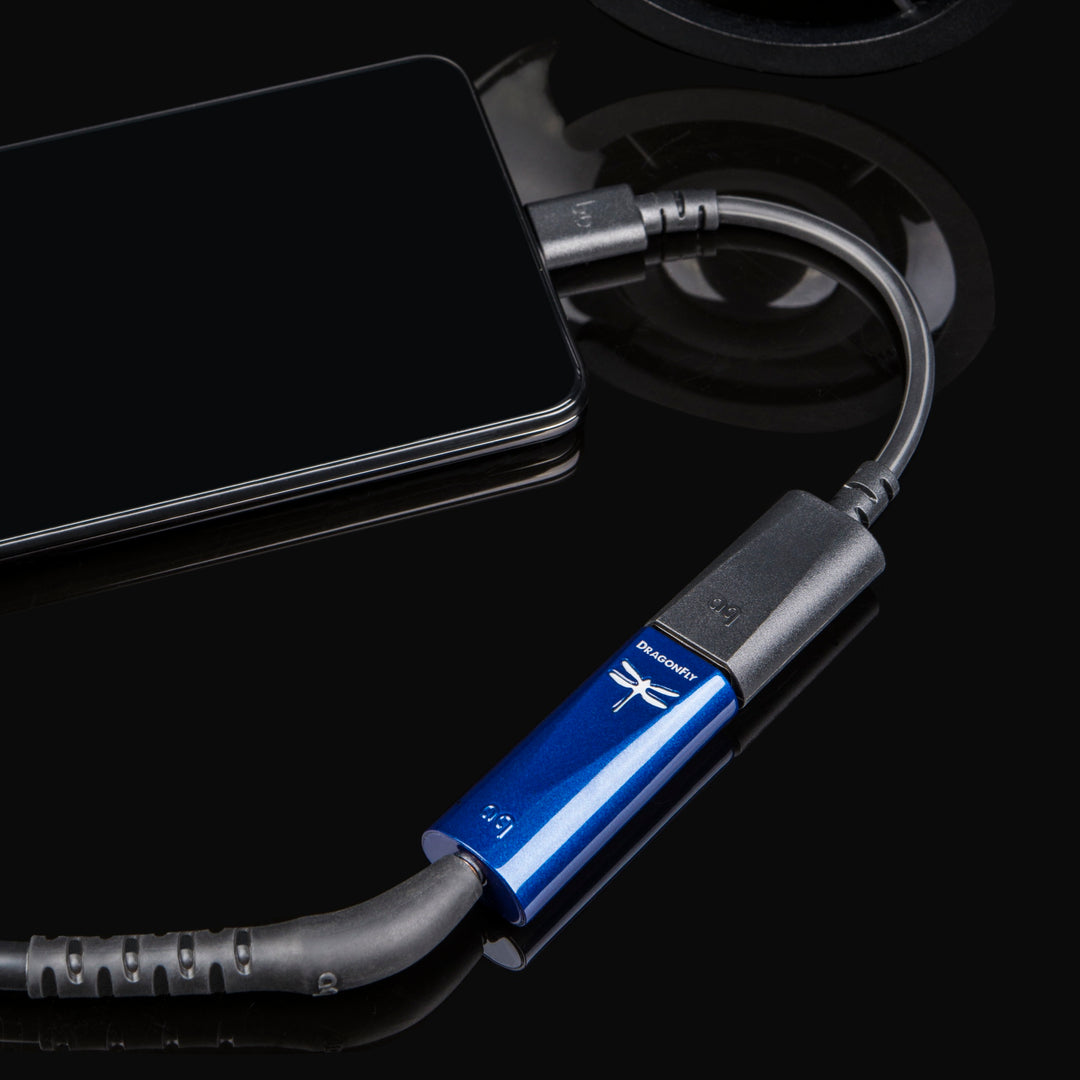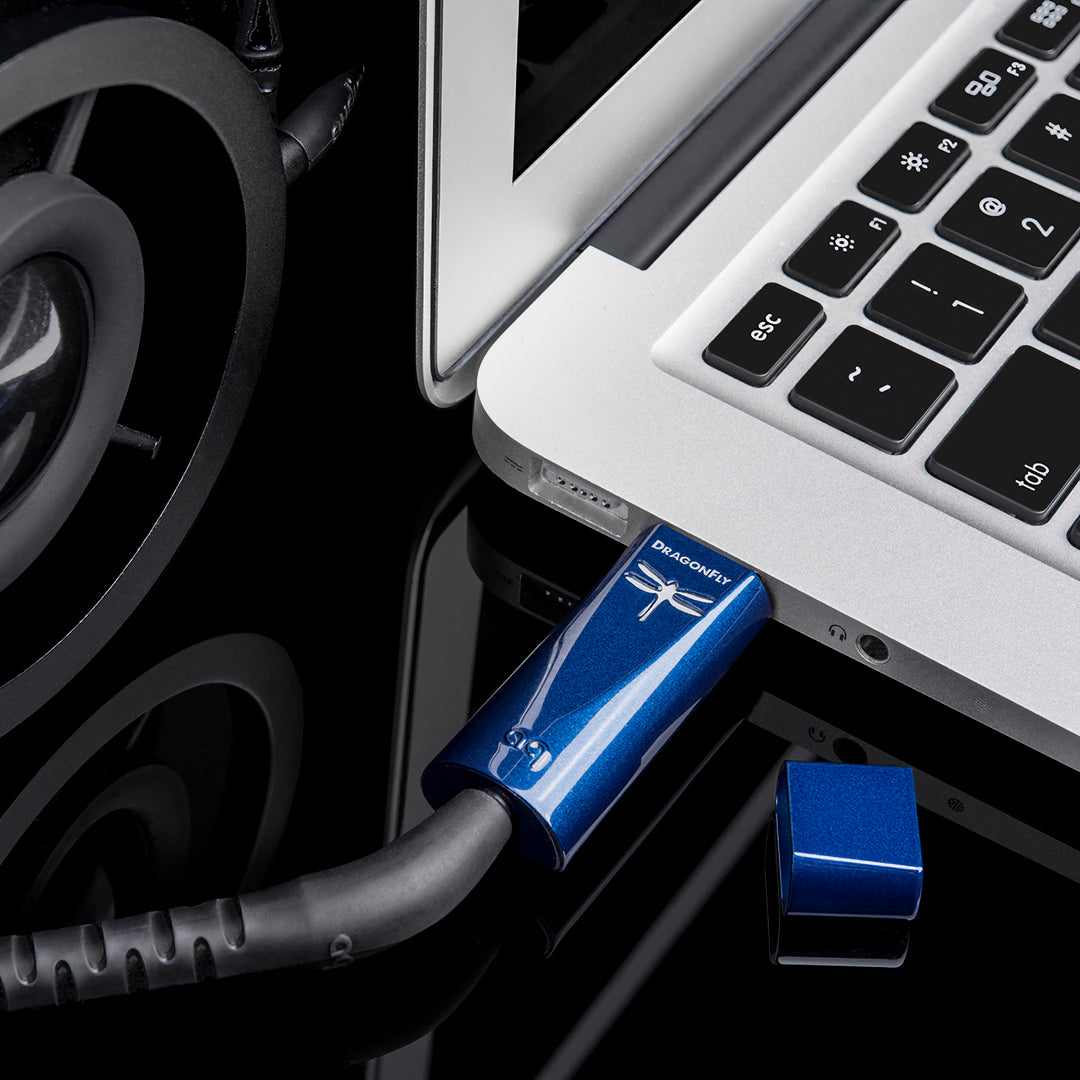 AudioQuest DragonFly Cobalt | Portable DAC and Amp
Regular price
$349.95
Sale price
$299.95
Save 14%
/
---
Get Superior Sound from your Phone, Tablet, or Computer with AudioQuest's DragonFly Cobalt Portable USB DAC
Compelling, immersive sound from MP3s, YouTube, etc.
Audiophile quality from High-Res, MQA, Masters files, Qobuz, etc.
Best-ever DragonFly digital processor and headphone amp
Bit-perfect variable-output drives headphones, IEMs, active speakers, or power amp
Improved power-supply filtering that increases immunity to WiFi, Bluetooth, and cellular noise
**Special Orders: We can special order any cable in any available length or termination you need from the AudioQuest Retail Catalog. You can email or message us to place a special order.
Bloom's Take

If you need portability and ease-of-use above all else in an audiophile quality DAC, the DragonFly Cobalt is what you're looking for. With the right mix of simplicity, extreme portability, and sound quality, the DragonFly Cobalt is a great tool to help you bring out the best in your music wherever you go.
If you're looking for an OTG cable to use the DragonFly with your iPhone, we recommend ddHiFi's OTG lightning cable.
From AudioQuest
DragonFly Cobalt, AQ's flagship DAC, takes what music lovers around the world have come to expect from the multi-award-winning DragonFly family—naturally beautiful, seductive sound—and strips away fuzz and fog that weren't even noticeable until Cobalt removed them.
How is this possible? Like the critically acclaimed DragonFly Red, Cobalt has the robust 2.1-volt output to drive almost any headphone, uses a bit-perfect digital volume control for outstanding signal-to-noise ratio, enables seamless compatibility with Apple and Android devices, and is an exceptionally competent and affordable MQA Renderer.
AudioQuest, Gordon Rankin: A Beautiful Partnership
Like all previous DragonFly models, Cobalt uses Gordon Rankin's precedent-setting StreamLength® asynchronous-transfer USB code. Further, in Gordon's monoClock® technology, a single ultra-low-jitter clock generated from the ESS ES9038Q2M DAC chip runs the ESS chip functions as well as all microcontroller functions. This superior clock enables DragonFly Cobalt to provide greater resolution and clarity than DACs with multiple clocks.
Why the "Slow Roll...?"
Cobalt employs ESS's new flagship ES9038Q2M DAC chip. While the chips used in DragonFlys Black and Red are unbeatable for the price, the minimum-phase slow roll-off filter in the 9038 results in naturally expressive sound that is always emotionally engaging and never fatiguing—a beautiful combination of warmth and detail that we find equally exciting and soothing.
Killing the Noise
In Cobalt, AQ took what was learned from their recent R&D in noise dissipation to employ power-supply filtering specifically designed to dramatically reduce the increasingly prevalent noise from WiFi, Bluetooth, and cellular signals. Successfully combating this noise is absolutely crucial to the preservation of the lowest-level musical details, particularly when it comes to high-res audio, and especially when applied to a portable-audio device such as DragonFly.
Bit-Perfect Volume Control and 2.1-Volt Output
Cobalt features the same ESS Sabre 9601 headphone amp and bit-perfect volume control that give DragonFly Red its unique combination of power and grip over the music. This solution ensures maximum fidelity, thrilling dynamic contrast, and excellent signal-to-noise ratio. The 2.1-volt output makes Cobalt and Red compatible with a wide range of headphones, including power-hungry, low-efficiency models.
Beautiful Sound in a Smaller Package...and now with a Tail
All this goodness is packed into a sleek new case that measures just 2.26" x 0.73" x 0.47" (57.5mm x 18.6mm x 11.9mm), making the latest DragonFly 10% smaller and even a bit more pocket-friendly. Finally, to easily accommodate the increasing number of electronic devices that feature USB-C ports, DragonFly Cobalt comes with AudioQuest's USB-A to USB-C adaptor.

Specifications
2.1v Output
Compatible with Apple and Android devices
Dimensions: 2.26" x 0.73" x 0.47"
Advanced ESS ES9038Q2M DAC chip with minimum-phase slow roll-off filter
ESS Sabre 9601 headphone amp
Microchip's PIC32MX274 microprocessor
Built with AQ Carbon-level USB cabling
Firmware upgradeable via AQ free Desktop Device Manager