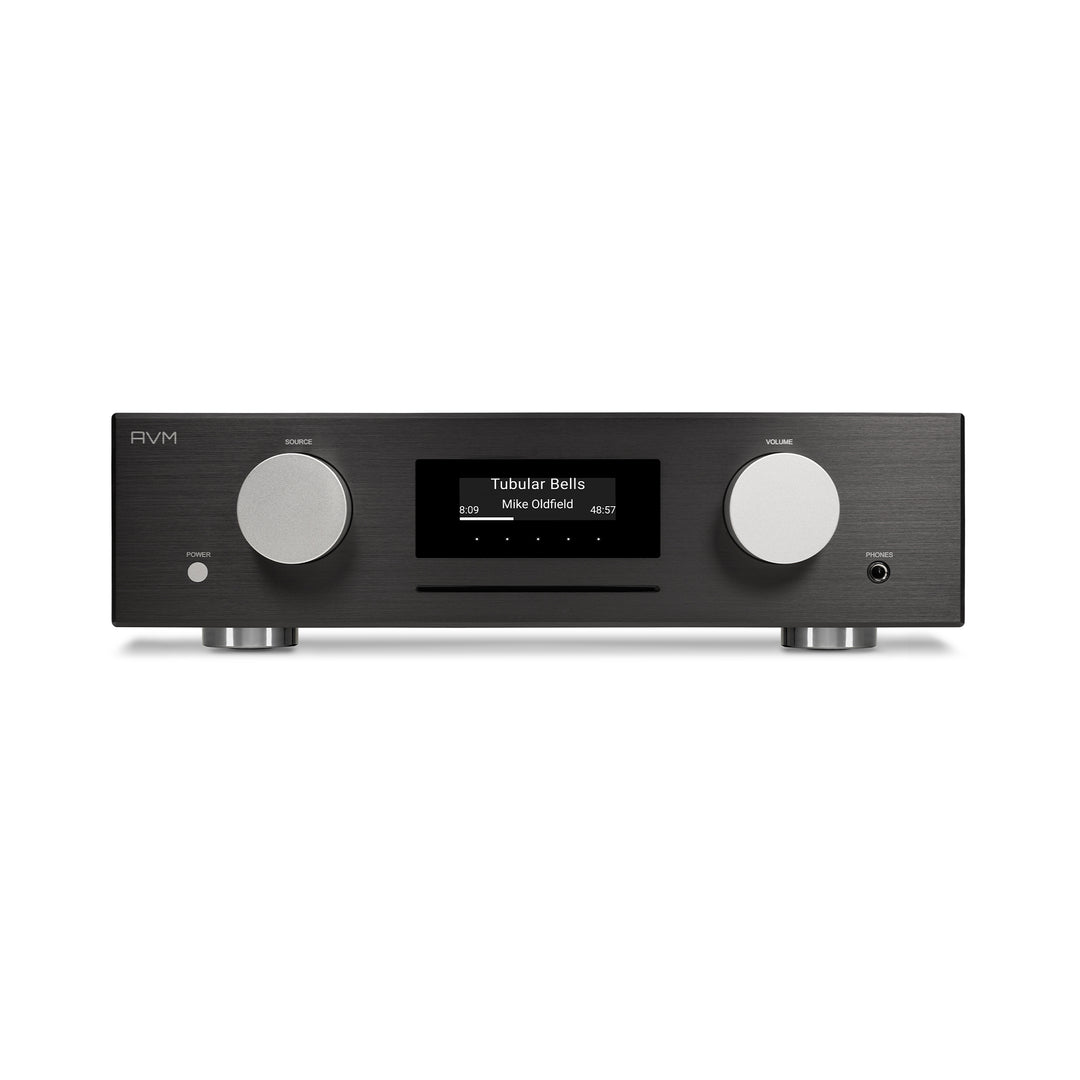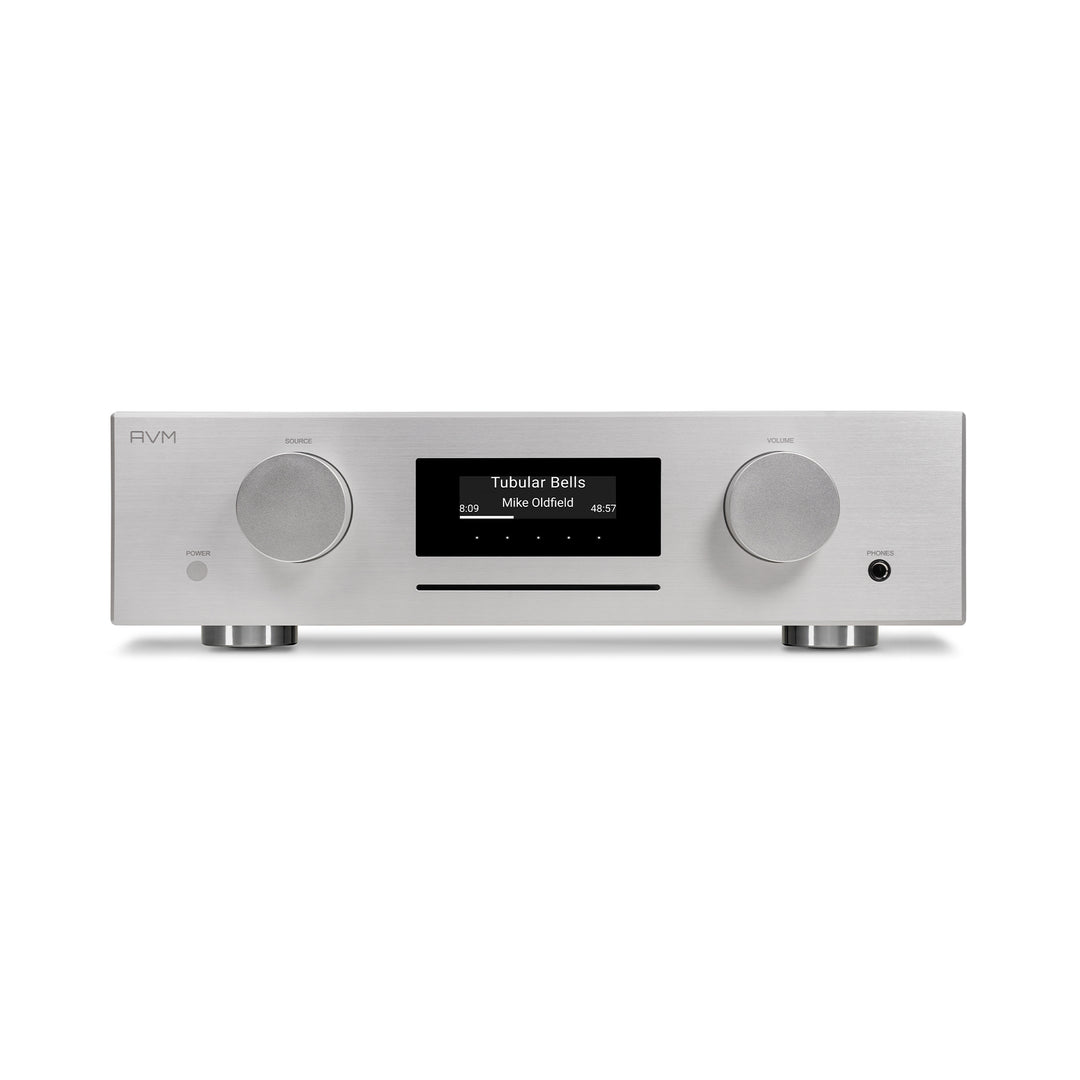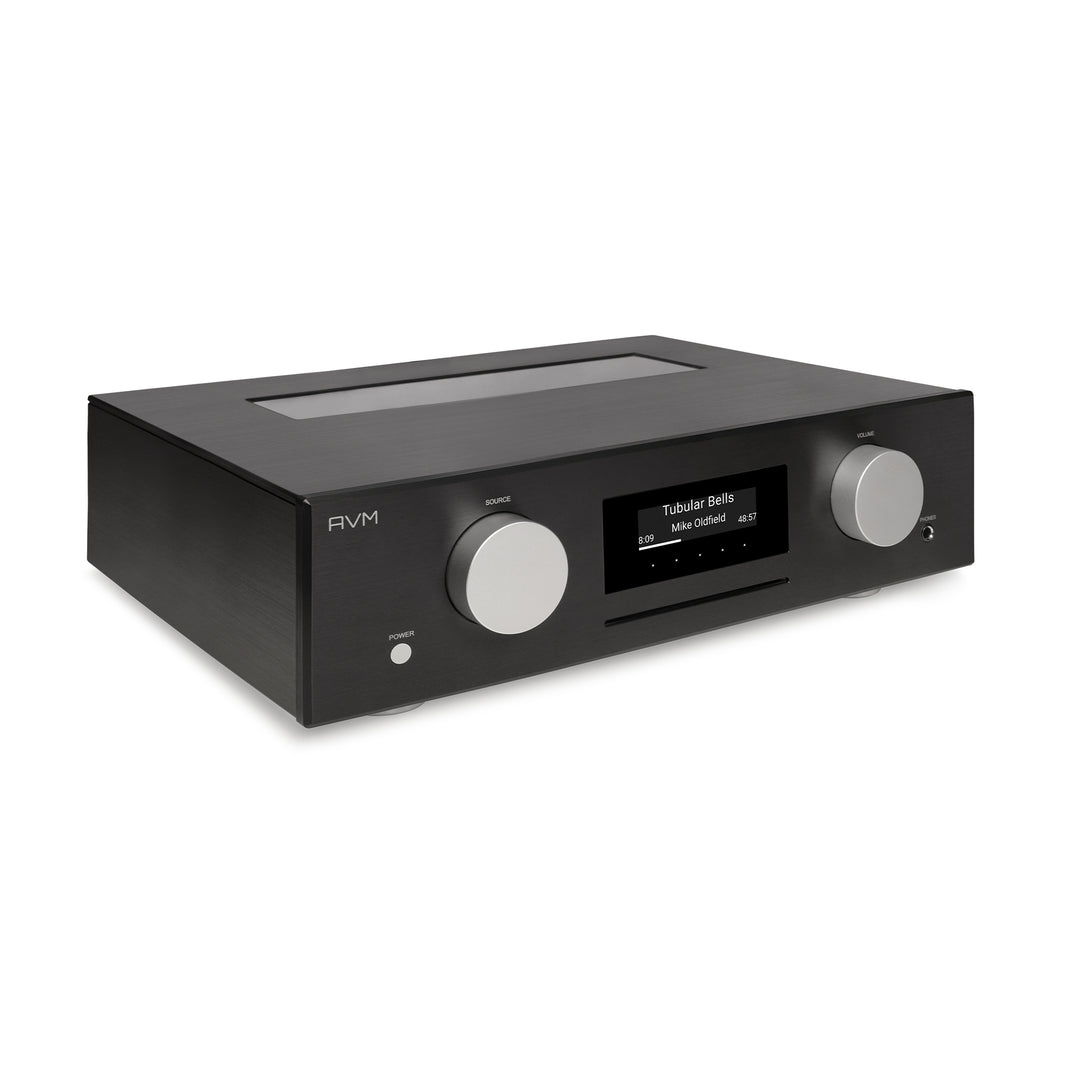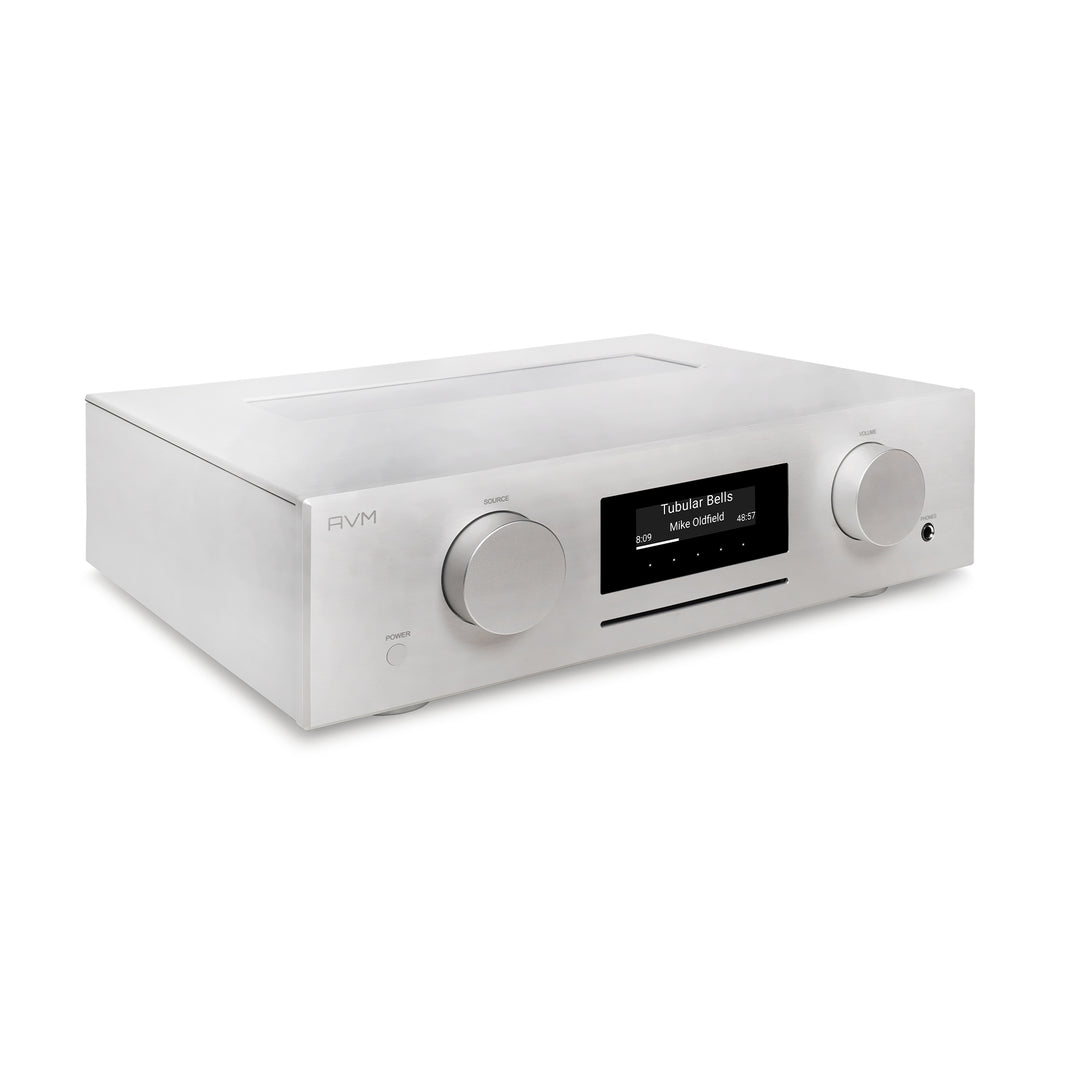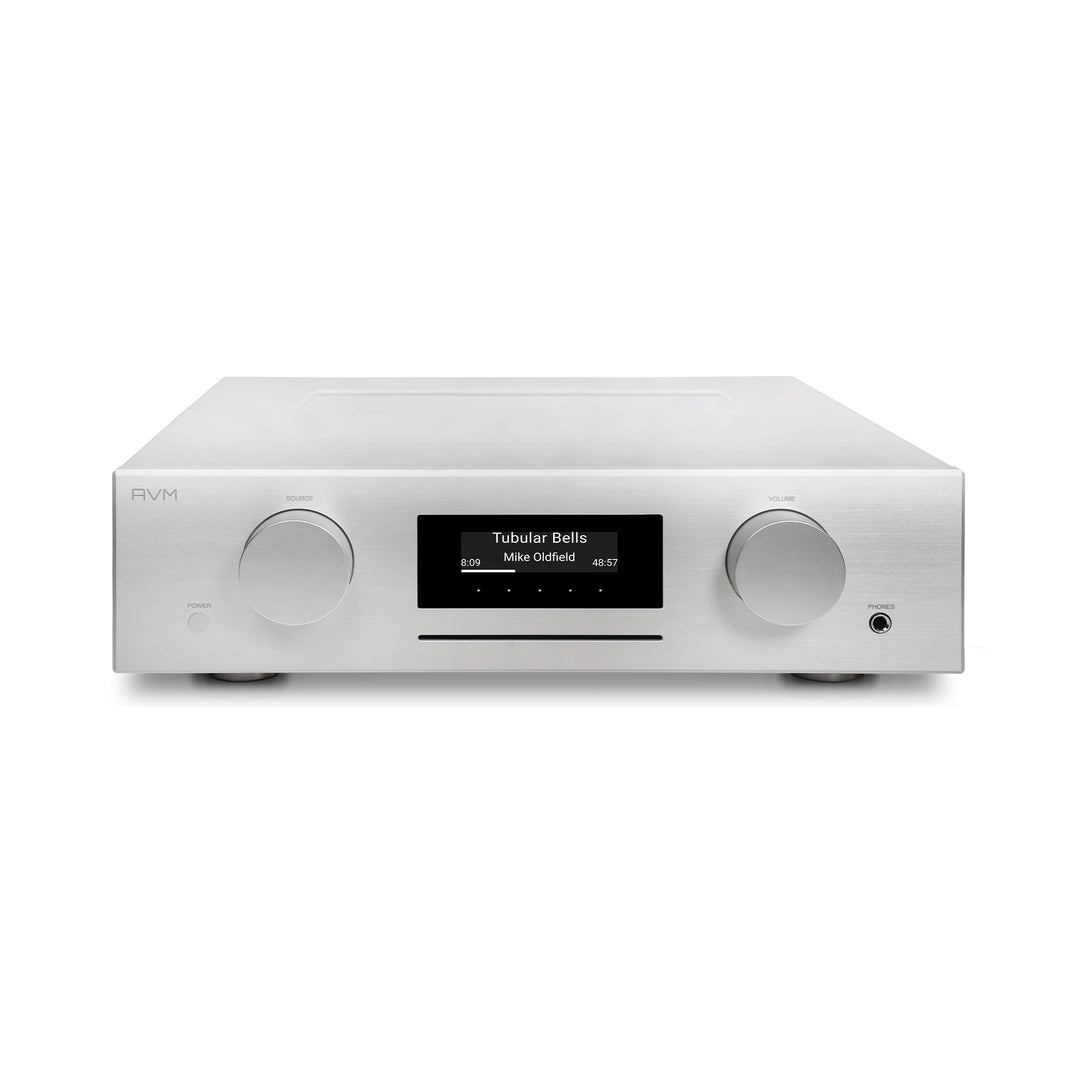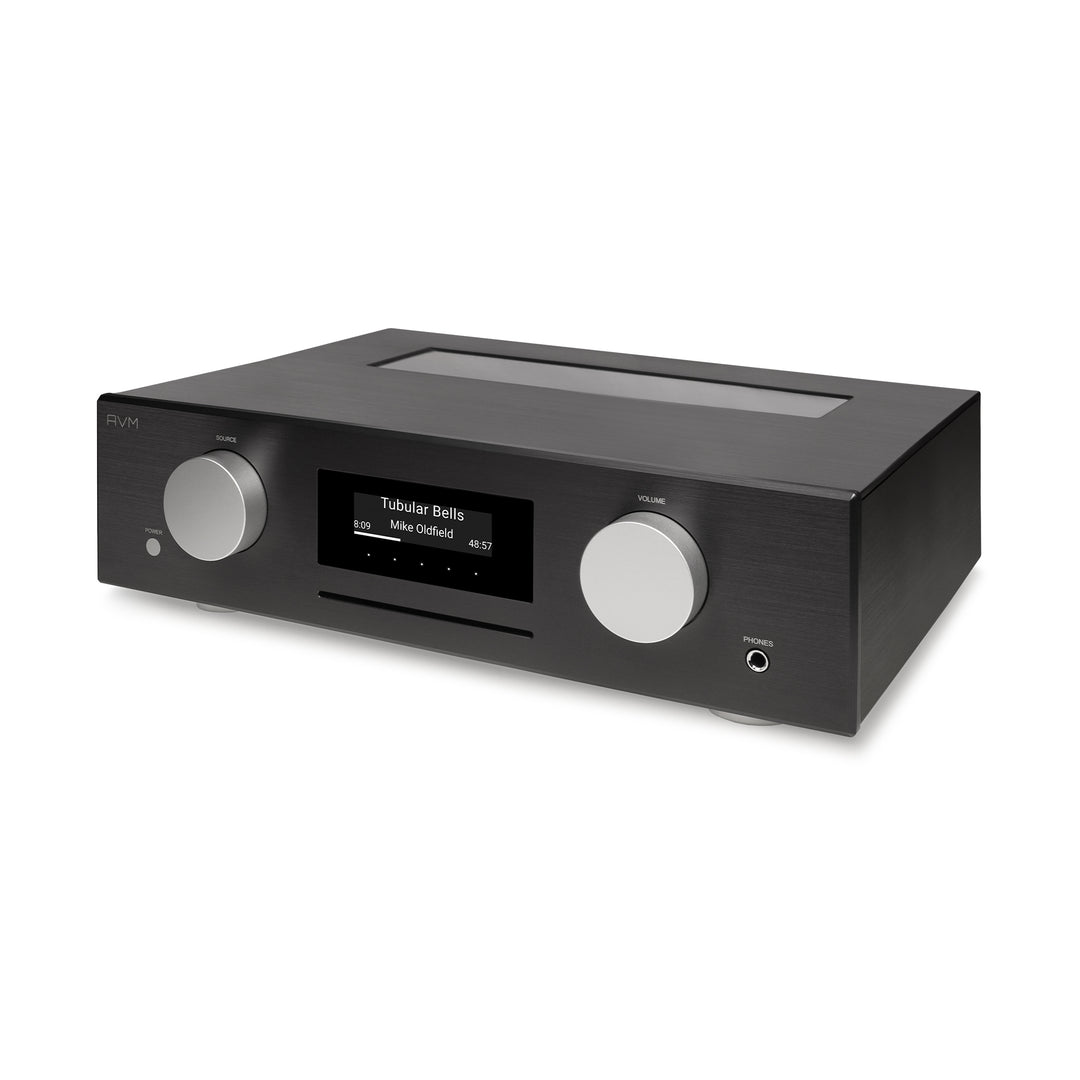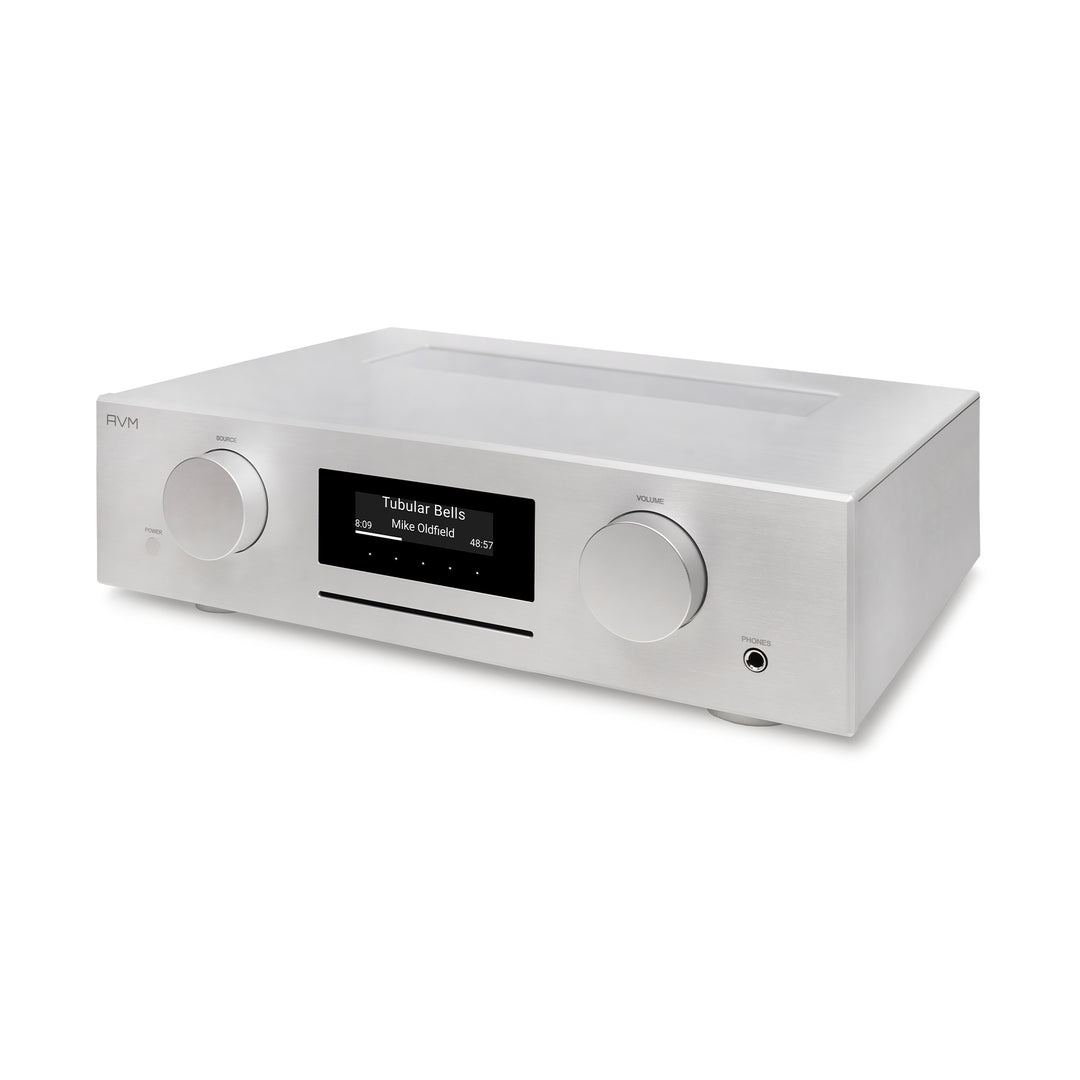 AVM CS 5.3 | All-In-One Streamer and CD Receiver
Regular price
$11,995.00
/
---
AVM CS 5.3 takes all-in-one streaming to the next level
All-in-one streamer and DAC with 350 Watts of speaker output power
Listen to streams at the highest resolution and upsample your existing collection to up to 192kHz/24bit
Tube Line Stage adds a new dimension to your sound
Connect an external hard drive, listen to CDs, or connect to Spotify, Qobuz, or TIDAL for the largest collection of music in the world.
A long tradition of performance

AVM looks back on a decade-long tradition of developing All-in-One devices with a real high-end sound quality since the 1990s. A new high-performance generation of our EVOLUTION All-in-One CS devices was created based on the AVM X-Stream Engine®. With CS 5.3, stacks of audio equipment and overflowing cable clutter become a thing of the past. All modern connections are available, so that, for example, both a record player and a TV can be connected via HDMI ARC. In order to achieve our goal of constructing the best-sounding all-in-one devices on the world market, we borrowed from our flagship CS 8.3. The EVOLUTION CS devices now spark a aluminium precision housing without any visible screws that is only 43 cm wide and impress with a minimalist elegance and symmetrical design.
Modernized APP Control
The simplest, intuitively learnable operation as well as a clear and attractively designed user interface make managing even large music collections a child's play. This makes you want to go on journeys of discovery for new music on numerous streaming platforms. The supplied selection of Spotify, TIDAL Connect, QOBUZ, and HighResAudio can easily be expanded in the future. The AVM RC X APP is available for iOS (Apple) or Android-controlled devices.
The new AVM X-Stream Engine® can stream all high-resolution formats up to resolutions of 384/32, including DSD (256). This streaming engine is a complete AVM in-house development and is completely software based. It can therefore be updated online in a future-proof manner. An HDMI (ARC) interface is also on board, as is the modern Bluetooth 5.0 connection, further digital inputs and a USB A interface are standard. A completely newly developed high-performance phono input stage enables the connection of MM and MC systems. As a special feature, all adjustments to the selected pickup system can be selected directly and conveniently in the APP. This ensures perfect analog sound, especially in combination with our rotation turntables. Completely new are the digital outputs, the volume of which can now also be controlled if desired, as well as the signal-sensitive inputs that switch on the CS 3.3/5.3 as soon as a signal is fed to these inputs.
Digital Innovation
The digital section was completely renewed in the course of the entirely new development. This crucial part is based on the selected ESS9028 PRO Double-Quad DAC. Also a clear gain in terms of sound, which goes hand in hand with a large amount of new digital circuit designs, 4 DACs per channel work in parallel here. This effort benefits all digital sources in terms of sound quality, so that all high-resolution formats can be reproduced perfectly and as close as possible to the original.

Repeated, intensive quality controls during all production steps and a break-in period of several days for each individual device secure our promise of maximum reliability in the long term and we grant a transferable guarantee of 2 years, with online registration 2 additional years (Warranties may differ in territories).
Features:
All-in-One Streaming CD Receiver with 2 x 350 W and Speaker A & B
X-Stream Engine® for HiRes streaming incl. DSD, controllable over RC X APP
Prepared for Spotify, QOBUZ, TIDAL Connect, Webradio (upgradeable)
High performance phono input and switchable with complete adjustment possibilities MM & MC in the personal set-up menu (CS HMI or with the RC X APP)
HDMI (ARC) Input
Digital inputs (SPDIF coax & opt.)
USB A for external harddrives (NTFS & FAT)
Analog inputs: 3 RCA + 1 XLR line inputs, switchable as signal sensitive inputs, switchable as Hometheatre Thruput
Bluetooth 5.0, Airplay 2/1, ROON ready
AVM multiroom function
Digital outputs (SPDIF, opt.), also switchable to variable volume
Headphone output 6,3mm on the front panel with dedicated headphone amp
Pure CD Drive with Slot-in (Red-Book)
Digital signal conversion with selected Double-Quad DAC for max. 384/32 PCM (ESS 9028PRO) and/or DSD 256
Tone control and parametric loudness with bypass-function (also over RC X APP)
Minimal stand-by power consumption (APD)

Compact size: 43mm x 12mm x 350mm (WHD)
Trigger in, ext. IR Sensor, 2 x Trigger out
Specifications
Power Amp
Gain Factor: 30
THD: < 0,005%
SNR: > 95dB
Input Sensitivity: (2x350W, 4Ω) 1,2V
Frequency Range: (-3dB) < 5Hz to > 35kHz
Rated Output Power: 2 x 350W [4 Ω] / 2 x 180W [8 Ω]
⚠ ATTENTION: When using the A and B speaker outputs simultaneously, the speaker impedance for each speaker must not fall below 8 ohms.
Pre Amp (Analog)
Input Impedance (RCA) 50 kΩ
Input Impedance (XLR) 40 kΩ
Output Impedance (PRE, LINE) 47 kΩ
Output Impedance (XLR) 94 kΩ
Gain Factor: 1
THD: < 0,001%
SNR: > 100dB
Crosstalk (channels) > 94dB
Crosstalk (inputs) > 85dB
Max. Input Voltage (1% THD) 8,6V
Max. Output Voltage (1% THD) 8,4V
Headphone Amp
Output Impedance: 24 Ω
Gain Factor: 3,2
THD: < 0,001%
SNR: > 100dB
Max. Output Voltage: 1% THD 7V
Pre Amp (Phono)
Deemphasis: RIAA (20Hz-20kHz) +/- 0,3dB
Gain MM: 40dB/ 50dB
SNR MM: > 84dB(A)
Gain MC: 60dB / 70dB
SNR MC: > 75dB(A)
Max. Input Voltage MM: (1% THD, 40dB) 76 mV
Max. Input Voltage MC: (1% THD, 60dB) 7,4 mV
Frequency Range (Line-Out): 11Hz – 100kHz
Adjustable Load MC (in Ω): 100; 180; 220; 330; 660; 1k; 2k
Adjustable Load MM (in pF): 47; 100; 150; 200; 270; 310; 410
CD Player
Playable Formats: CD Audio, CDR (according to Red-Book-Standard)
Frequency Range: < 20 - 20 kHz
Network
LAN: (hot-pluggable) 100 Mbit/s
Supported WLAN/ WiFi Standards: 2,4/ 5GHz/ 802.11a/b/g/n/ac
Antennas: 2
WPS: Yes
Streaming
Max. Sample Rates: DSD256, 32 Bit/ 384 kHz PCM
Streaming Services: Airplay, Qobuz, Roon, Spotify, TIDAL Connect, HighResAudio
Supported Data Formats: WAV, MP3, WM, AAC, FLAC, ALAC, DSD, Ogg, AIFF
Bluetooth
Bluetooth Standard: 5.0
Supported Bluetooth Profiles: AVRCP 1.5 AD2P
USB Input (Rear Panel)
USB Standard: USB 2.0
Max. Feed Current For Connected Devices: 500 mA
Supported Formats: FAT16, FAT32, NTFS
⚠ ATTENTION: The USB input is only intended for use of hard drives and USB sticks!