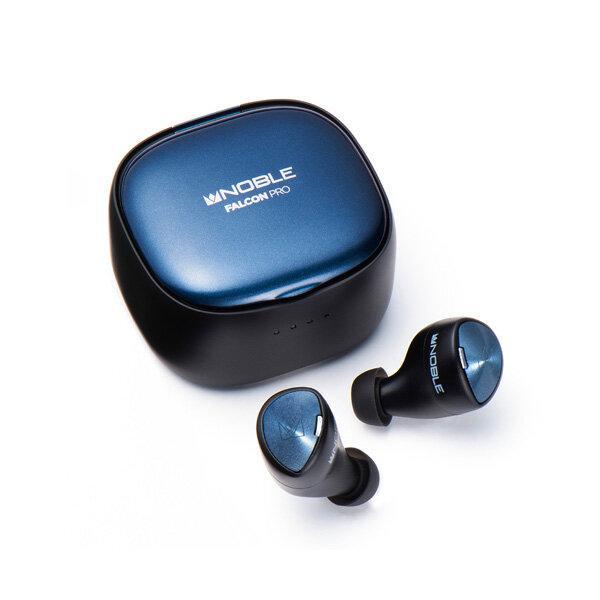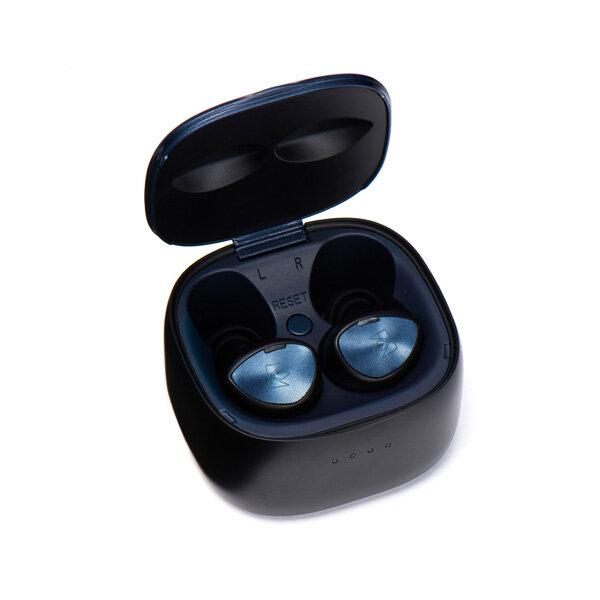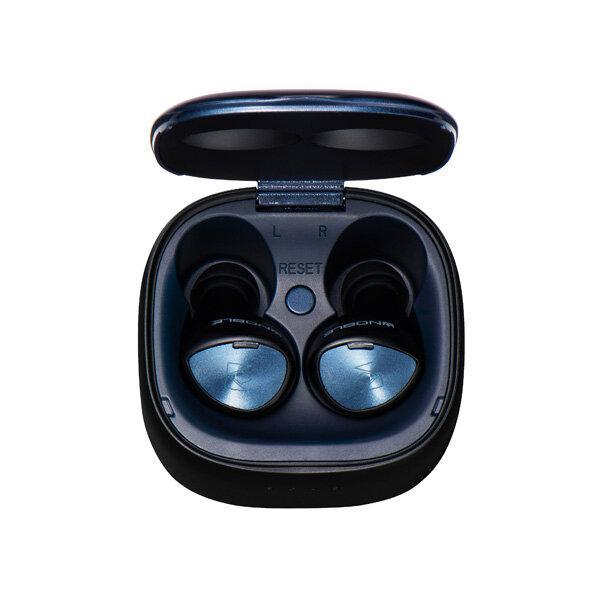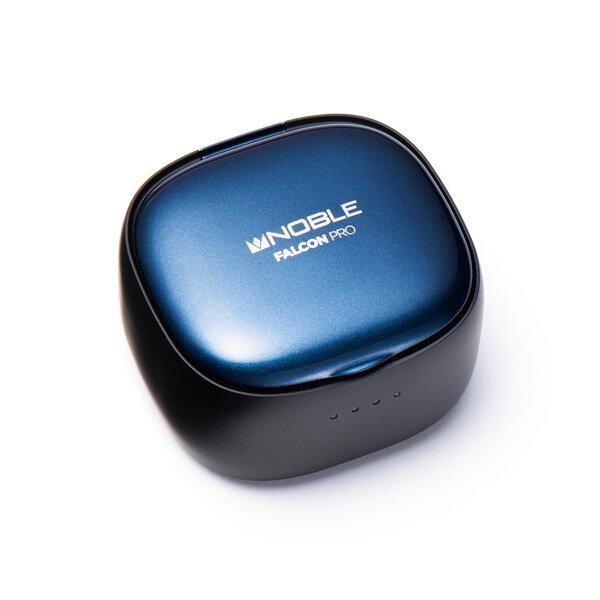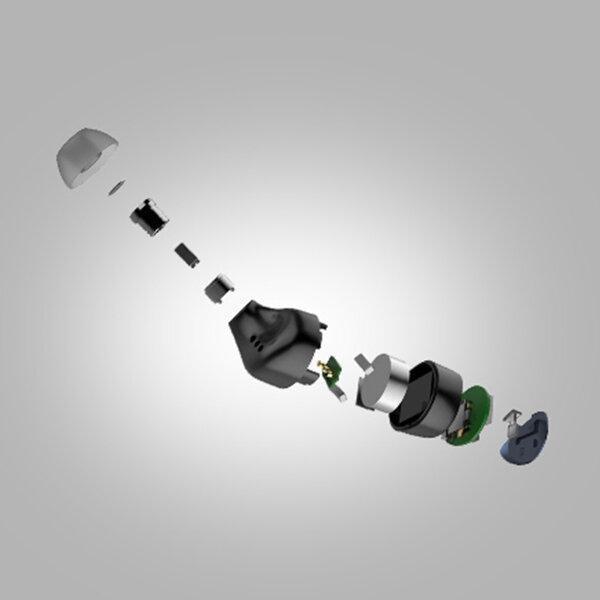 Noble Falcon Pro | True Wireless Hi-Fi Earphones
---
Our Take
The Noble Falcon Pro is an all around solid, well tuned earphone, with good technical performance. It backs up the technical performance with a sleek design, comfortable fit, and a level of convenience that comes close to – even if it can't quite match – the usability of popular mainstream brands. With all that said, if sound quality is your top priority, the Noble Falcon Pro should be at the top of your TWS list.
From Noble Audio
The flagship model of the FALCON series, utilizing a hybrid driver configuration featuring a 6mm titanium coated driver for impactful sub-bass and bass, and two Knowles BA drivers for mid and high frequencies. The Falcon Pro was born from Noble's uncompromising pursuit of sound quality.

Tuned by "Wizard" John Moulton. John Moulton, who worked on tuning the FALCON series, has a doctorate in audiology. Utilizing his extensive knowledge of auditory science, Dr. John is able to bring an impressive level of sound quality through meticulous tuning.
Both iPhone and Android supported codecs with excellent sound quality
The Falcon Pro utilizes the QUALCOMM SoC "QCC3040". The QCC3040 chip supports not only general SBC but also AAC with excellent sound quality and aptX Adaptive which is the latest audio codec. Not only can you enjoy high-quality music by connecting to an iOS device or Android device, but you can also enjoy a wide range of content such as videos and games with impressive sound quality.
"System-on-a-chip"
Integrated circuitry designed to integrate circuits with various functions on a single chip and increase functionality by working as a system in cooperation with each other.

Hybrid Design
Achieves overwhelming high-quality sound by adopting a hybrid configuration of 2BA + 1DD The Falcon Pro is equipped with the latest generation BA driver "SRDD" made by US KnowlesTM along with a 6mm Tri-layered Titanium-coated Dynamic Driver (TLT Driver). The mix of BA and dynamic drivers allow the Falcon Pro to achieve a sonic excellence not otherwise found in totally wireless headphones. The "SRDD" is Knowles' latest generation dual configuration BA drivers, and the two drivers bring rich high frequency expression, a vast sound field, and paradoxically, pinpoint focus. In addition, the "TLT Driver" is highly rigid, yet light weight, enabling low-frequency expression with a rich sense of scale.
Hear-through Function
Equipped with a "hear-through function" that allows you to check the surrounding sounds without removing the earphones from your ears. You can use the FALCON series comfortably in any scene without removing the earphones because you can capture the surrounding sounds and voices while wearing the earphones while playing music or stopping music.
Ergonomic design & earpiece that does not easily fall off your ears
The shape of the earphone adopts an ergonomic design that reduces the burden on the ear, assuming that it will be worn for a long time or while commuting to work or school. In addition, the eartips for the Falcon Pros are shipped with ePro eartips, which utilize patented technology to fit tightly to the ear, preventing the earphones falling from your ears, even during exercise.
Easy connection, auto pairing
Compatible with Bluetooth 5.2. Once paired with the player, the next time you open the charging case lid and take your Falcons out, they will automatically enter pairing mode.
Waterproof design that can withstand submersion.
A waterproof design that can be used without worrying about breakdowns even if you sweat on a rainy day or when you sweat during sports.
Achieves outstanding connection stability High Precision Connect2 Technology
Compatible with Bluetooth 5.2, which provides a stable connection under most conditions.
Equipped with master swap function
With left and right master swap function, each time the power is turned on, the one with the most remaining battery power is automatically switched to the master earphone to prevent the battery from running out, enabling longer playback time. In addition, the QUALCOMM SoC "QCC3040" and the high-performance battery built into the earphone body enable continuous playback for up to 10 hours.
Supports the latest audio codec aptX Adaptive
"AptX Adaptive" automatically adjusts the optimum sound quality and delay so that you can enjoy a wide range of content such as music, videos, and games in various places without stress. The bit rate is automatically adjusted between 279kbps and 420kbps according to the communication environment to ensure connection stability. In addition, by adopting a variable bit rate method using a new compression algorithm, it is possible to transmit 24bit / 48kHz, which is equivalent to aptX HD, at the highest quality.
State-of-the-art True Wireless ™ Mirroring support
The FALCON series uses Qualcomm's latest generation chip, the QCC3040, to achieve even higher performance and lower power consumption. It also supports "True Wireless Mirroring," which transmits data to the left and right earphones. Since "TrueWireless Mirroring" shares one Bluetooth address on the left and right, it is displayed as one connection destination on the connection source device when pairing, and you can use it simply by pairing only one side. It also supports the roll swapping function of the left and right earphones to prevent the battery from running out. Compatible with all smartphones and tablets.
Specs
Chipset: Qualcomm QCC3040 (TrueWireless Mirroring)
Driver: Knowles SRDD BA Drivers & Φ6mm Tri-layered Titanium-coated Driver (TLT Driver)
Playback frequency: band20Hz-24,000HzMicrophoneOmnidirectional / Qualcomm CVC8.0 with noise canceling Bluetooth specificationsVersion5.2 / Class2 / Multi-pairing support Bluetooth profileA2DP, AVRCP, HSP, HFPSupported codecsSBC, AAC, aptX, aptX AdaptivePower supplyBody: DC3.7V 60mAh lithium polymer rechargeable battery (built-in type)
Charging case: DC3.7V 400mAh lithium polymer rechargeable battery (built-in type)
Continuous playback time (maximum): 5.5 hours (at maximum volume) / 10 hours (at 70% volume)
Continuous talk time (maximum): 11 hours (at 70% volume)
Charging time: Earphone about 1 hour / Charging case about 1.5 hours
Operating temperature range Celsius: 10 to 60 degrees (no condensation)
Water resistance: IPX5
In the Box
Charging case
Pouch
Earpiece (ePro: S / M / L)
USB cable
User's Guide