Upgrade your cable with the Eletech Prudence with miniXLR connections for Audeze headphones.
From Audeze
The beautifully handcrafted LCD-2, the planar magnetic headphone that put Audeze on the high-end map, delivers audiophile quality, low-distortion sound that articulates the power and nuance of your favorite music. The LCD-2 is the most forgiving of poor recordings in the LCD Collection with a beautiful, musically rich presentation that communicates the warmth, power and glory of music.
Acoustically engineered for beautiful sound
Audeze's innovative planar magnetic technology delivers an astonishingly lifelike sound. We use space-age materials in a near weightless diaphragm that's four times larger than typical headphones for fast response times, dramatically reduced distortion, higher resolution and improved imaging. Double-sided magnet arrays delivers a uniform driving force across the entire diaphragm for near zero distortion. Patented Fazor™ Elements guide internal headphone soundwaves to avoid resonance producing a more accurate waveform.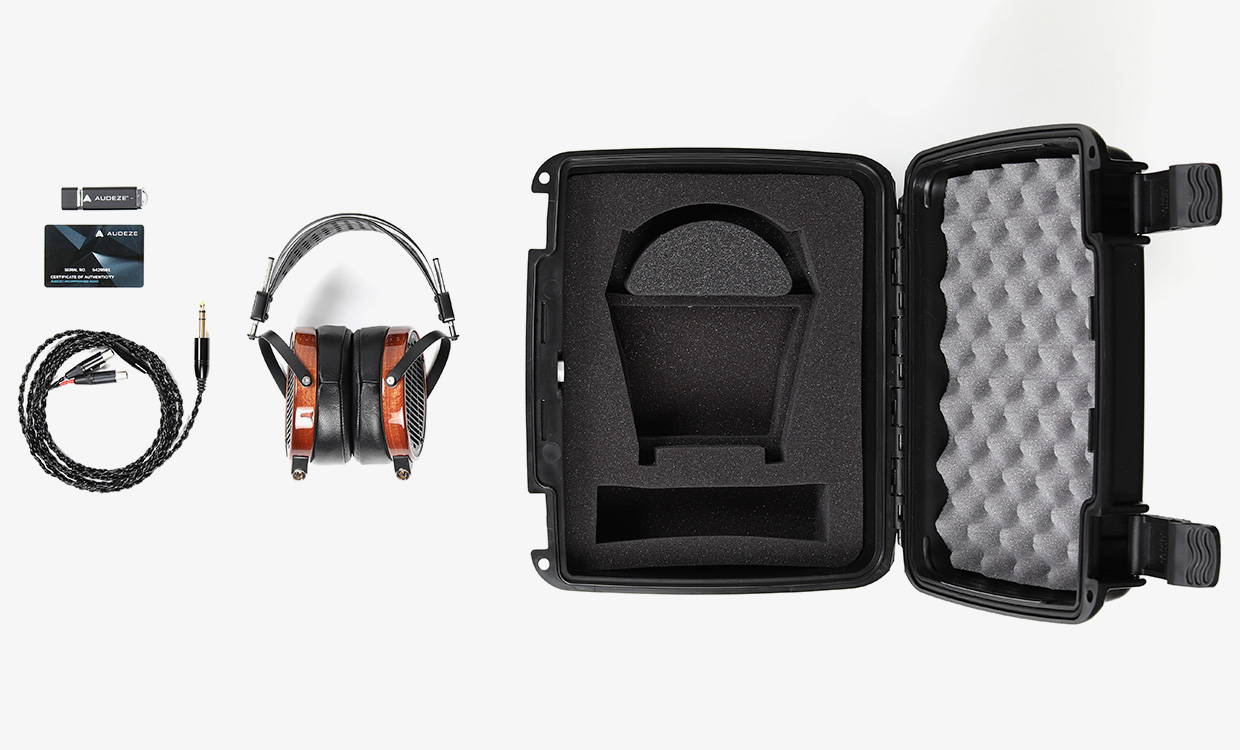 Engineered and Handcrafted in the USA
The LCD-2 is thoroughly engineered for long-term comfort and beautiful sound. We closely match our planar transducers, and match our beautiful factory-made wood rings by grain and color. We also match the earpads by leather texture and color. Lambskin leather headbands and earcups that are filled with foam carefully selected for best sound and contribute to the level of comfort during long listening sessions. Pair the LCD-2 with a quality headphone amplifier or integrated amp for best sound.
Industrial design by Audeze
You'll be proud of how the LCD-2 sounds and it's also imbued with sophisticated looks and beautiful hand-made rings. The quality of the entire structure guarantees years of trouble-free listening. Our cutting-edge designs and circuit technologies have created an astonishingly beautiful sounding headphone.

Specs
| | |
| --- | --- |
| Style | Over-ear, open-back |
| Transducer type | Planar magnetic |
| Magnetic structure | Proprietary magnet array |
| Phase management | FAZOR |
| Magnet type | Neodymium N50 |
| Diaphragm type | Ultra-thin |
| Transducer size | 106 mm |
| Maximum power handling | 5W RMS |
| Maximum SPL | >130dB |
| Frequency response | 10Hz – 50kHz |
| THD | <0.1% @ 100dB |
| Impedance | 70 ohms |
| Sensitivity | 101dB/1mw (at Drum Reference Point) |
| Minimum power requirement | >100mW |
| Recommended power level | >250mW |
In the Box

1.9m 1/4in to dual 4-pin mini-XLR cable
Professional travel case
HEADPHONES MADE WITH MAGICAL UNICORN DUST
Wanna make your music sound like someone poured honey in your ears? Buy the LCD-2's. I thought I had heard my music before... I was wrong. These things are amazing. I love them.
Fantastic headphones and great service.
Firstly bloom was fantastic to work with. I inquired initially through discord then through email and he helped answer all my questions. Shipping was fast and well packed.
The first couple things about the LCD-2 that struck me when listening to them is the combination of how smooth they are with how much power they have in the low end. Bass is well textured with a pretty strong impact while being extremely smooth and pleasant. The mid range is crisp and realistic but not perfect in the upper mids. It can be improved with some light EQ around the 3-4k area. I personally added a few dB sub 100hz and at 3-4k. This cleans up the mid range helping with female vocals and makes the most of the lows. The highs are great with just enough air. I personally am sensitive to bright headphones and these lie in the perfect spot that I can listen for hours while still sounding great. The soundstage is very good but not as wide as an HD800 or similar. The imaging is great although certain directions aren't perfect. Its more than good enough for gaming though, it feels like cheating in R6 Siege. Separation is great as well. I have never before actually heard the distance between instruments and been able to focus on individual sounds so distinctly. They have held up well for almost a year as my daily drivers. I had a very minor issue with the leather headband but Audeze support handled it perfectly. I would highly recommend the LCD-2 as long as you like a fairly warm sound signature. These are by far the best sounding headphones I have heard and impress me each time I listen to them.